With quiet weather, I wanted to take a second to address some viral weather news. We've gotten several messages or comments from folks concerned regarding a hurricane outlook that's being widely shared on social media, particularly Facebook. If you haven't seen it, the gist of it is what you'd expect from a hurricane outlook in March that's widely shared on Facebook: Gloom and doom.
I did some digging on the source for the viral post, and while they have over 70,000 Facebook followers, if you try and find out who they actually are, you hit a dead end. I have no idea if the owner of the site sharing this outlook is a degreed meteorologist who created this forecast or is sharing someone else's with their followers or some guy in Kansas who just likes spinny things. Typically, if I cannot determine who an information source really is, I instantly treat them with a healthy dose of skepticism. And you should too. If it's any comfort, Eric and I don't see anything alarming about the upcoming season at this point. That may change — or it may not. It's still quite early after all. I can tell you personally, as someone who has created a number of hurricane season outlooks for work, there is very little skill in March at predicting where storms will make landfall during the season. Believe me, I've tried. And failed every time.
Meanwhile, the actual experts on seasonal hurricane outlooks reside at Colorado State University. They have a good track record historically, and they back their thinking up with a lot of good data. Their early outlook is slated to be released on April 5th. It may be similar to the outlook you're seeing shared on Facebook. Or it could be entirely different. I honestly don't know. I do know that even the Colorado State experts will tell you to treat all seasonal hurricane outlooks cautiously.
More importantly, rather than focusing too much on the specifics of an outlook this far in advance, use this time as an opportunity to reset yourself now that we're months past Harvey. We live in a very hurricane-prone part of the world. I wish we could tell you we're good for a few years, but we don't have that luxury in Texas. This is a good chance for you to rehash your evacuation plans, make plans to develop your emergency kit as we get closer to June, and learn more about the risks that may exist in your neighborhood. The time you spend now preparing will help you a lot if a storm threatens us again this season. And if we have nothing to worry about this year? Awesome! We hope that's what we're saying in October.
Anyway. We wanted to clear the air on that. On to the weather.
Today & Wednesday
As expected, a pair of stellar days is ahead. Yes, we may have some passing high clouds at times today and tomorrow, but for the most part, sunshine will dominate. A chilly start to today (even some 30s up north!) will warm into the upper 60s this afternoon.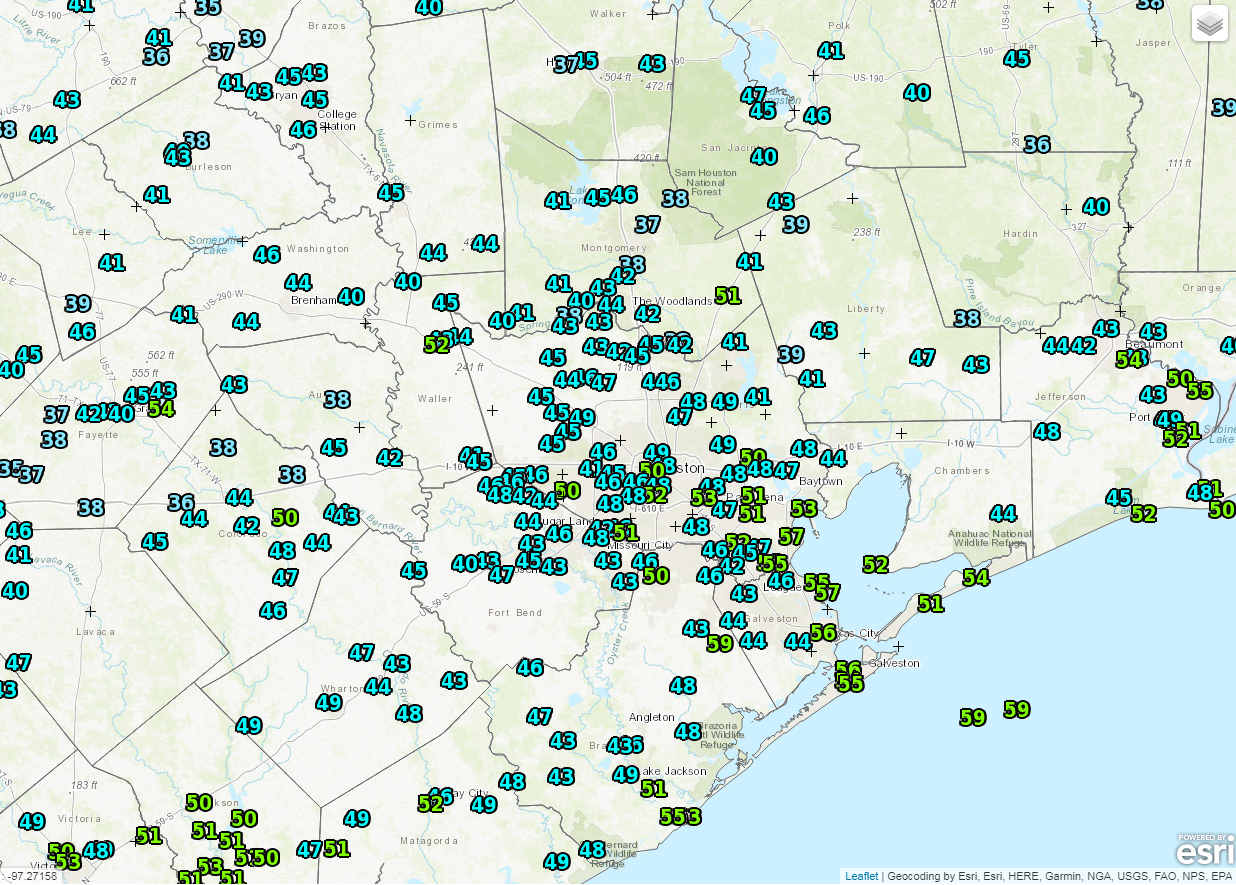 We'll drop back into the 40s again tonight before we approach 70 degrees on Wednesday. Perhaps a bit cool for the beach, but beautiful nonetheless.

Thursday & Friday
No big changes to the forecast here. Thursday should see clouds increase through the day. It will be warmer and noticeably more humid. Expect highs to max out in the mid-70s. Friday should see showers around and a good deal of clouds. I don't see it as a total washout right now, but if you have Friday plans, it's worth keeping an eye on the forecast. Friday will again be warm and humid, with temps maxing out in the upper 70s to around 80 degrees, depending on if we see some sunshine.
Weekend
A more unsettled pattern is possible this weekend with warm temperatures and high humidity. Expect temperatures in the 60s at night and 80s during the day. Shower chances look highest on Sunday for now, but there is still a large degree of uncertainty surrounding details of this forecast. Timing of disturbances, etc. could impact which day has the best rain chances. Right now, my weekend ranking is Saturday over Sunday. Still looking for a cold front perhaps again next week to cool us off. We will keep you posted.