We've had quite a week. I guess if you want to grumble about the weather you'd be in Galveston wishing it were a few degrees warmer. But no one can deny it's been flat out pretty this week. We've got one more winner of a day before some changes begin.
Today & Thursday
Today should be close to a repeat of the last couple. Another cool start in the 40s for many today will lead to a mild finish. We should sneak above 70 degrees this afternoon. We'll see sunshine and a few high clouds around. Those clouds will increase on Thursday. I think it'll be a mainly dry, quiet day, but it won't be nearly as pretty as the current stretch of weather.
That said, we could see a few sprinkles or a shower, primarily southwest of Houston near Wharton or Jackson Counties down toward Matagorda. Look for morning lows Thursday to be in the lower or middle 50s, warming into the lower or middle 70s Thursday afternoon.
Friday
Things get a little trickier Friday. We should see clouds and a chance of sprinkles or a shower Friday morning. Temperatures will start much warmer than in prior days, with AM lows in the middle 60s. As a disturbance approaches Friday afternoon, that should help set off a slightly more robust area of showers and perhaps a few thunderstorms as well.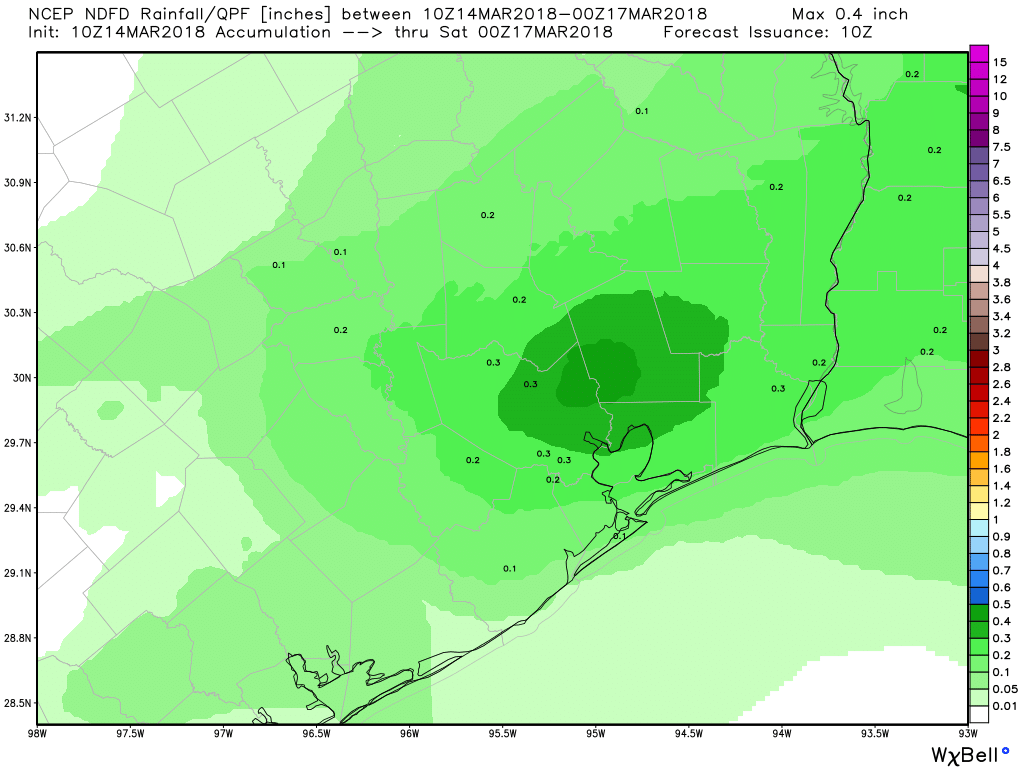 Weather models are still not fully in agreement on details here, but Friday afternoon will be our best chance of showers this week. One similarity I can find among the models is that they seem to favor areas east of I-45 for the most persistent showers. So the east side of Houston may be more likely see some pollen-cleansing showers than the west side. We will update this tomorrow as hopefully there's slightly better agreement on details.

Weekend
So the question now is: When is our next cold front? Well, probably not this weekend. Front #1 makes it just west of I-35 and Austin on Friday, then retreats west. So that one is out. Front #2 will make it a little closer on Sunday, perhaps east of I-35 and closer to College Station. Yesterday it looked like it could get as close as even Huntsville, but that chance has since faded. To me, this adds up to a weekend with shower chances both days, but nothing that should interfere too much with any of your plans. In other words, I don't foresee anything worse than a couple brief periods here and there where it rains for a little bit. More on this tomorrow.
Look for warm and humid weather this weekend, with high temperatures in the low 80s and lows in the mid or upper 60s, but perhaps a little cooler north and west of the metro area.
Next Week
A quick word about next week: Front #3 will make an attempt to cross the region on Monday or early Tuesday it appears right now. That should be able to get offshore and east of Houston, delivering cooler, drier air for us into next week. As of now, rain risk looks minimal with the front, so its passage may be noted as just a wind shift, with cooler temperatures and lower humidity. We'll keep you posted.