Just a quick update on Sunday morning to note the Christmas-tree like appearance of the National Hurricane Center's Five-day tropical outlook. In the wake of Hurricane Laura this map may cause some anxiety, but the message we want to leave with you is that none of these systems—for the time being at least—really appear to be a big threat to the Texas coast.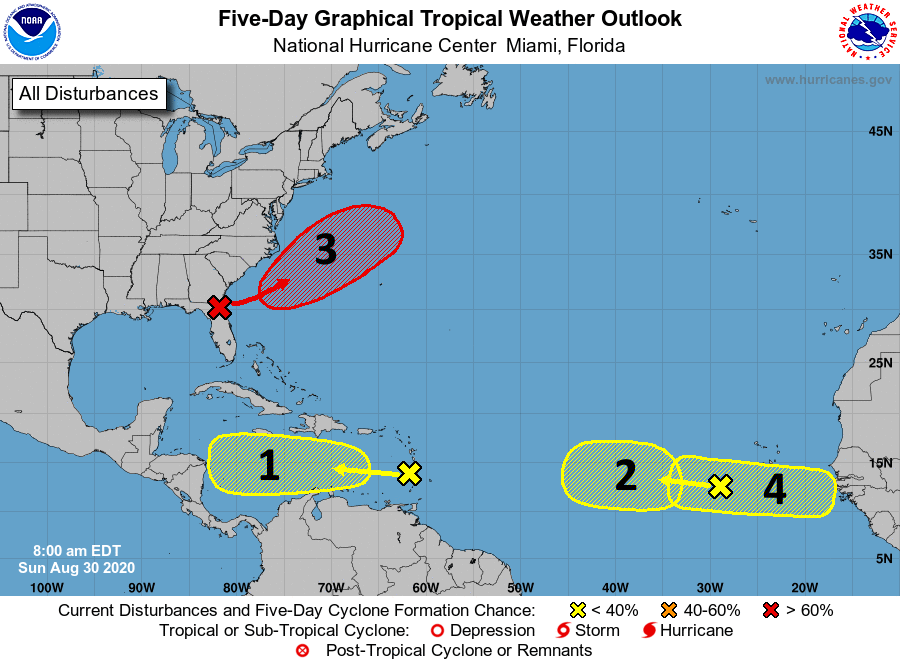 Let's quickly run through them.
System One: On the face of it, this tropical wave moving through the Caribbean Sea would appear to be the biggest threat as it is closest, and we often see these systems turn pole-ward as they approach Central America. However for this tropical system we're not convinced it will develop at all, and even if it does it most likely will continue plowing westward into Belize or Honduras. Here is the European ensemble forecast for the track of this system: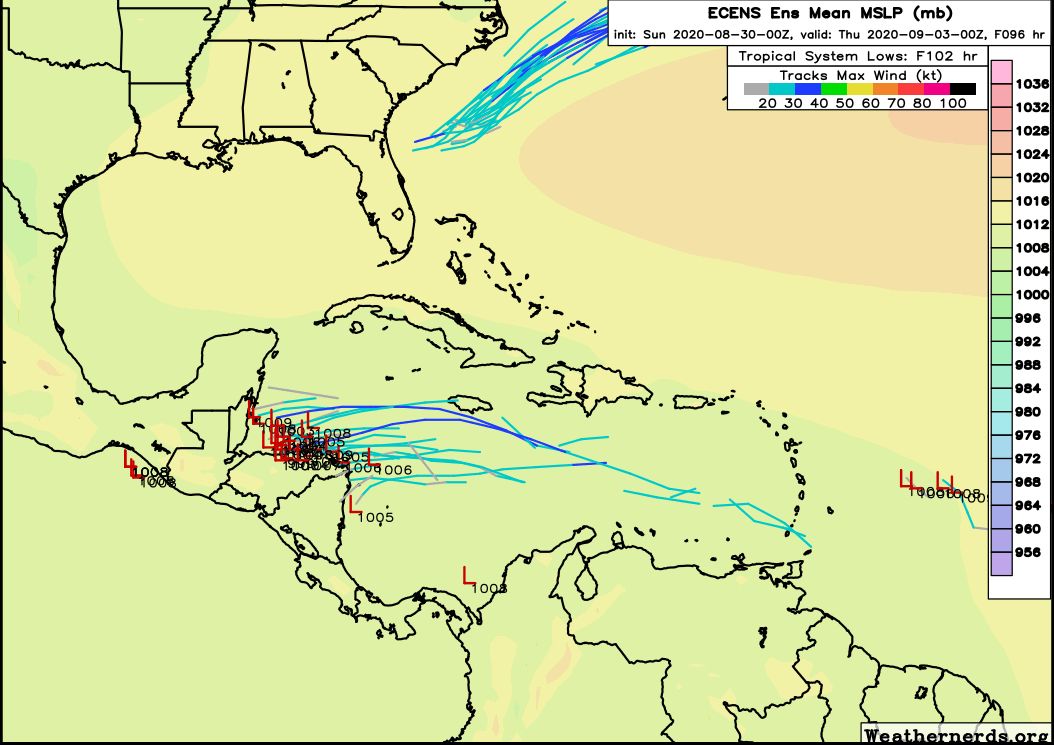 System Two: It is difficult to say whether this wave will develop, although its certainly possible. None of the forecast models are overly excited about this one, however.
System Three: This low-pressure system originated in the northwest Gulf of Mexico late last week, and is now crossing Florida. It probably will become a named storm (Nana is the next name) in the Atlantic, moving away from the United States. It will not threaten any major landmasses.
System Four: The forecast models are more bullish on this becoming a pretty well defined tropical system in about a week or so over the open Atlantic. It's difficult to say where it would go after that, but most of the available evidence suggests it probably will not move toward the Gulf of Mexico. But as always, confidence in forecasts drops off after about 7 days.
Other threats: The peak of the Atlantic hurricane season comes in about 10 days from now, and we are seeing indications that several more potent tropical waves will move off of Africa into the Atlantic Ocean over the next couple of weeks. All of these will have to be watched. There is also the potential for something to develop in the Bay of Campeche (southern Gulf of Mexico) around 8 to 10 days from now that is worth watching. However any mischief there moving north is far from guaranteed—in fact a greater likelihood at this time is that our first fall front may be moving toward the region at that time. Cross your fingers!
So please: Be watchful of the tropics, and be wary. But at this time you should not be overly worried.