Eric's post from yesterday covered most of what's about to unfold over Houston for the next week or so (and, really, the next couple months for that matter). Summer is here for real. So just some details here.
Friday Through Tuesday
No big changes to speak of here. We should see a few showers in the area today, but almost certainly nothing like we've seen the last several days.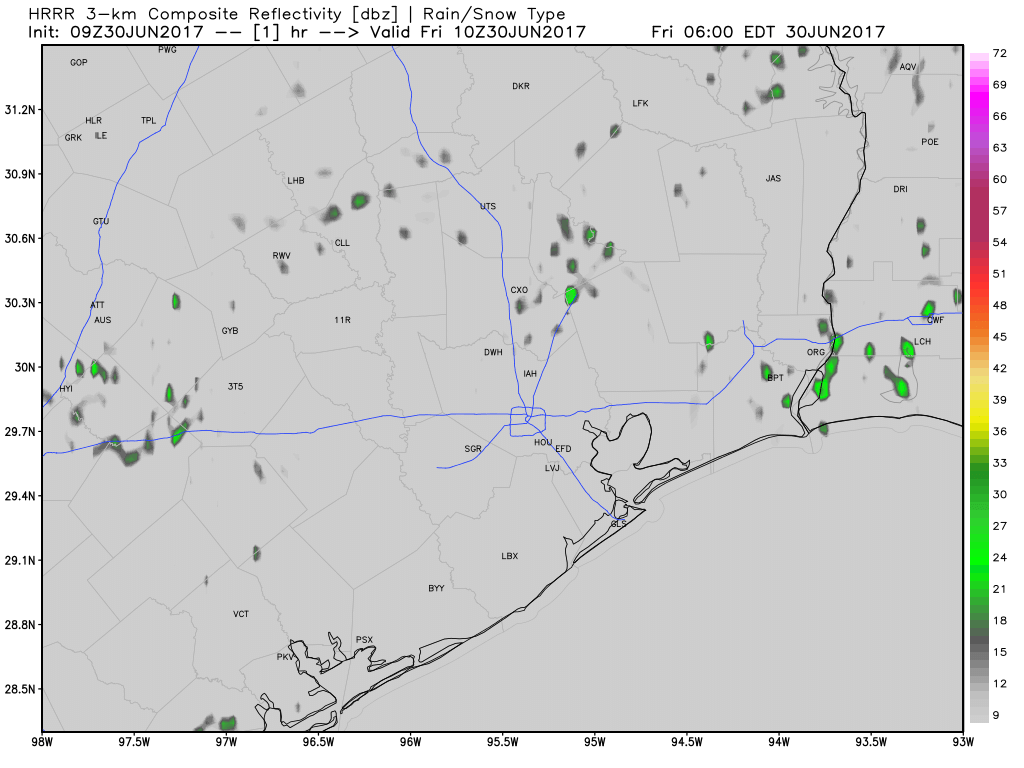 It should be more like a smattering of small afternoon downpours in spots than the numerous scattered thunderstorms like we've been dealing with. The rain chance drops off a cliff Saturday though. Basically, Saturday through Tuesday look to be about the same: Partly to mostly sunny, hot, humid. I wouldn't completely rule out a downpour on any of those days (particularly Monday or Tuesday), but the chances are so small, it really isn't even worth discussing right now.
The rinse and repeat pattern Eric mentioned yesterday also applies for forecast temperatures. Houston should top off around 93-95° each afternoon, with morning lows generally in the mid to upper 70s. If you're heading to Galveston, a similar story of consistency, with roughly 89-91° each day and lows a bit warmer thanks to the warm Gulf, coming in around 80° each morning.
Beyond Wednesday
Agree with Eric yesterday: Not much change is in store. The pattern looks pretty stable over Texas at least. Expect pretty persistent temperatures. Rain chances may go from like 10% early next week to 20% each afternoon later next week, but I don't see things getting much worse than that even out toward next weekend at this point. We're in a quiet period now.
The tropics look quiet in the Gulf and Caribbean as well.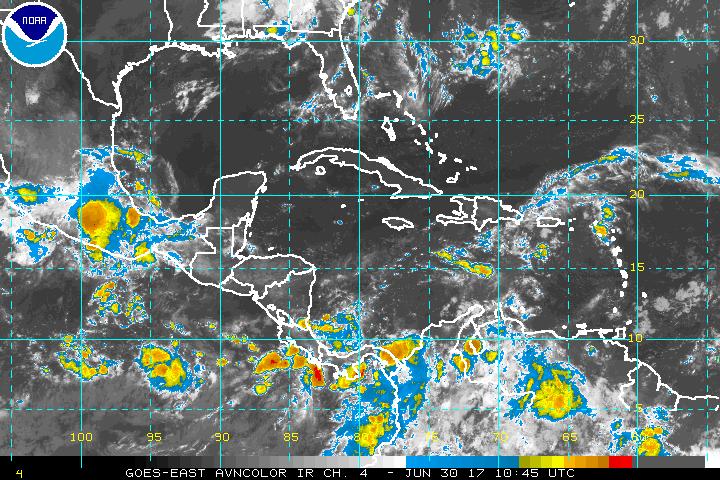 No real signs of anything worth discussing over the next 7-10 days or longer. The eastern Atlantic has seen some aggressive tropical waves early this season, but at this point it's still a bit early for anything to get moving. If we continue to see these sorts of waves in a month, it will be something to monitor. But for now, breathe easy and enjoy a hot (but quiet) Fourth of July weekend!
Posted at 6:30 AM by Matt