The rains are over for now, but the cold weather is just beginning. Cold air pushing into the Houston region on Thursday will be amplified by gusty winds, especially along the coast. Already this morning, Galveston has recorded a gust of 46mph, while inland areas are generally seeing gusts in the 20s. In terms of temperatures, much of Houston could see record lows on Thursday night.
Thursday
As a deep layer of cold, dry air moves into Houston this morning we are already seeing clearing skies across the region. But despite ample sunshine, high temperatures Thursday will only get into the low- to mid-50s. As a result, this will probably be the coldest Halloween day since 1925. Winds should begin to die down late this afternoon or early evening, about the time when the sun goes down. Temperatures during trick-or-treating, will likely fall into the upper 40s, on their way down to the mid-30s overnight for much of the area. Will it freeze in Houston? Probably not as our relatively wet grounds should help moderate our temperatures just a bit. But it will be pretty close.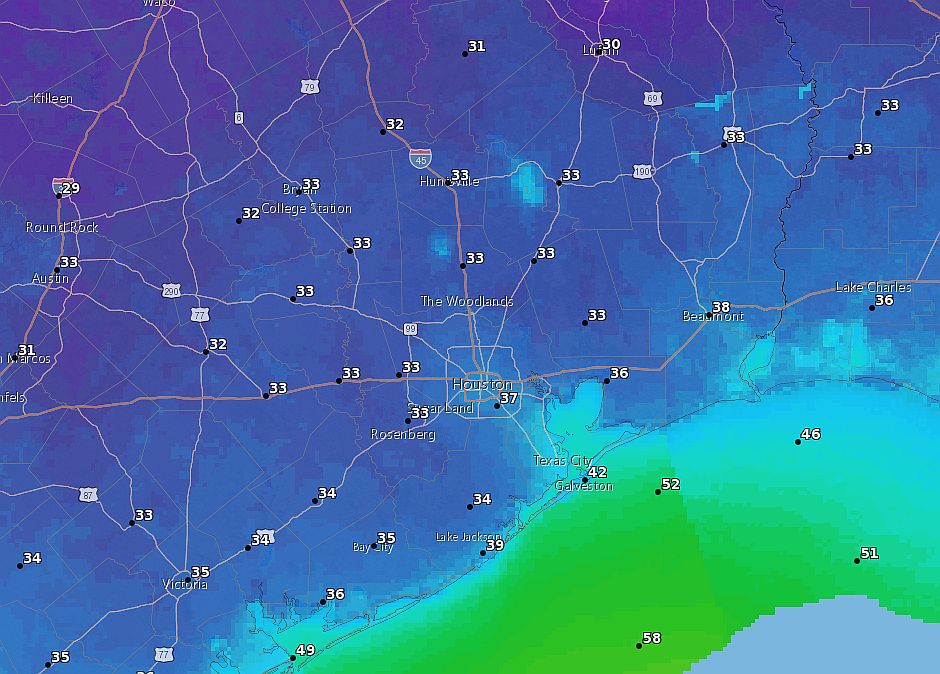 Friday
After a cold and frosty start—Houston's record low for this date is 35 degrees, and we may tie or beat that—sunshine will help push Friday's highs up to around 60 degrees. The absence of winds should help this feel quite a bit warmer than Thursday. Low temperatures Friday night, too, should be 5 to 10 degrees warmer than Thursday night.