Good morning, and it's a cool one again across the area. We have mostly 40s and some low-50s peppered in everywhere.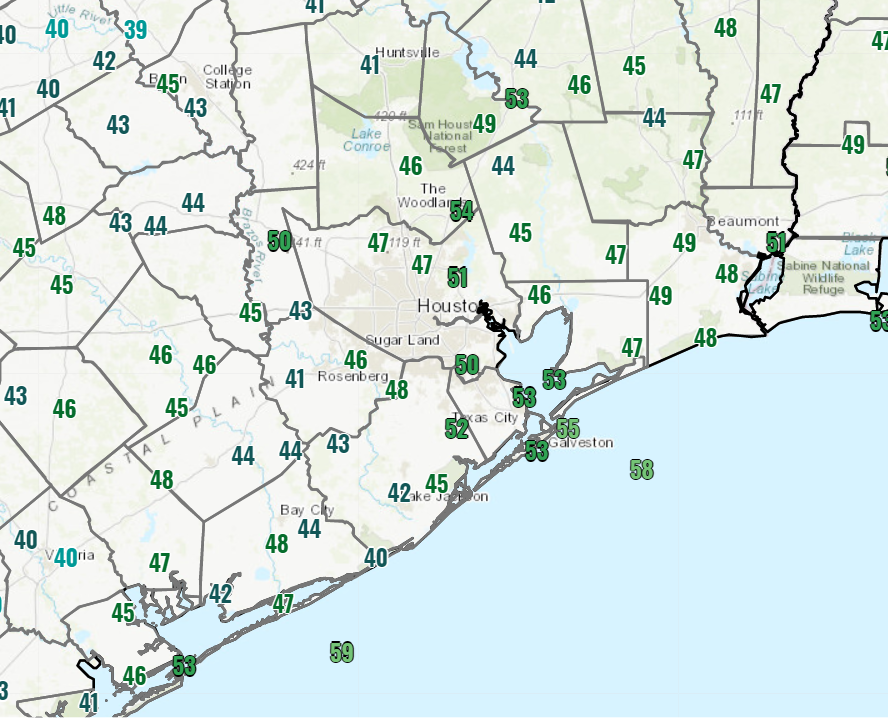 Yesterday began one of the coolest but nicest stretches of weather for us in a long while that will continue through the weekend.
Today & weekend
Look for simply spectacular autumn weather all weekend long. We'll top off in the upper-60s today with wall to wall sunshine. Look for low-70s tomorrow and mid-70s on Sunday. Morning lows will generally be in the mid-40s to mid-50s through Sunday. Winds should be lighter than they've been the last couple days.
For trick or treating, look for comfortable weather this year. Expect upper-50s to low-60s north and mid to upper-60s or a tick or two warmer in the city of Houston and points south.
Early next week
A reinforcing shot of drier, cooler air will arrive Sunday evening, so you'll notice offshore winds kick up again later Sunday and on Monday. Look for cooler temperatures again Monday with highs in the 60s for most of us. Tuesday should see low-70s with lighter winds, and Wednesday likely sees mid-70s. Morning lows look cool on Monday and especially Tuesday. Look for upper-40s or low-50s Monday morning and mostly 40s on Tuesday morning.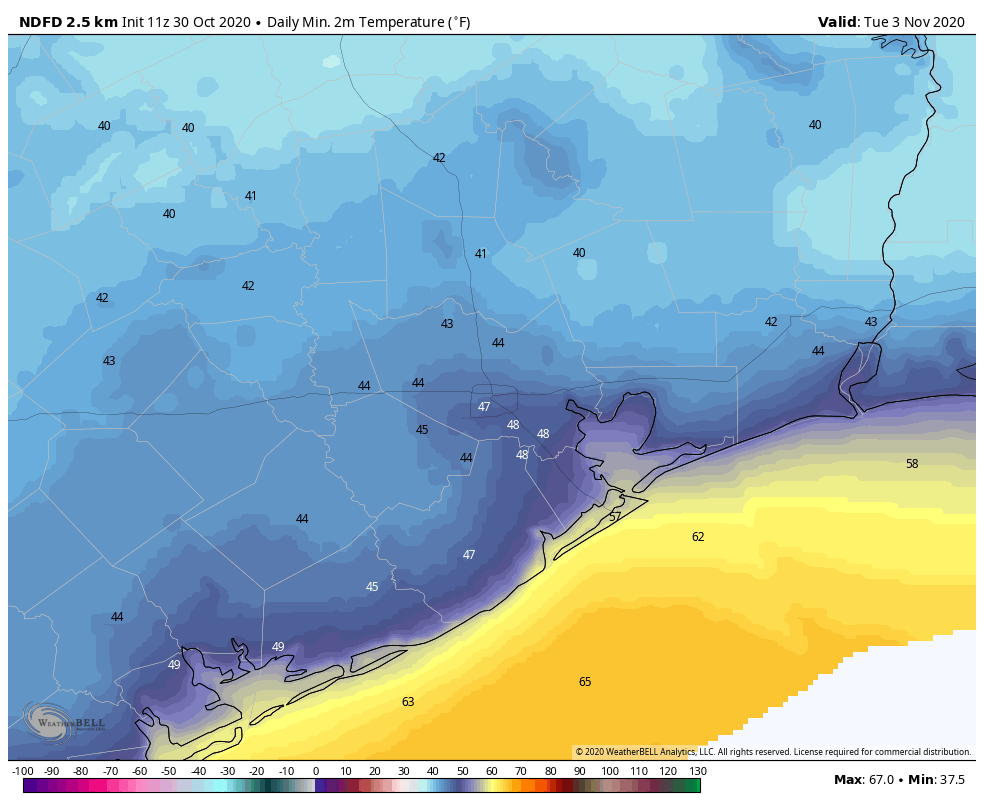 Look for some high clouds and warmer temps to return on Wednesday, and that heralds a pretty substantial and possibly lengthy warm-up that may linger through next weekend and into the following week.
Tropics
We knew 2020 was going to be an active hurricane season, but the absurdity of it all has still been surprising. It's really been non-stop in the Gulf, either dealing with a threat or looking ahead to the next one since Hanna struck South Texas back in late July. Hurricane Zeta may have been the most impressive of them all for how anomalous it was.
Zeta is the strongest known storm back to at least 1850 in the western Gulf this late in the hurricane season.
Hurricane Zeta is the strongest tropical cyclone on record in this part of the Gulf this late in the year. pic.twitter.com/tpX1bnMUkO

— Sam Lillo (@splillo) October 28, 2020
Zeta peaked at 95 kts. (and I wouldn't be shocked to see it reanalyzed at 100 kts. (115 mph) in the offseason), which shatters the record of 75 kts. that far northwest in the Gulf for this late in the year. More impressively, Zeta's intensity ramped up 40 kts. (45 mph) in 26 hours.
Hurricane Zeta has intensified 40kt (45 mph) in the last 26 hours.

There's no record of anything close to that in the Gulf this late in the year. pic.twitter.com/V0qhipnqcr

— Sam Lillo (@splillo) October 28, 2020
The previous record from late October onward was somewhere between 10-21 kts. In that respect, Zeta is in a league of its own. Hurricane season technically runs through November 30th, but in the western Gulf, we usually shut down in mid-October. Zeta obliterated that paradigm. Why? Well, it's not that the Gulf is super-warm. In fact, Zeta continued steadily strengthening over cooler water in the northern Gulf. The amplified, weird pattern over the West and Plains, responsible for our cold front, the ice storm in Oklahoma and parts of Texas, and the snow in the Rockies helped supercharge Zeta as it approached Louisiana.
This coupled w/ #Zeta's fast motion + juxtaposition SE of an upper trough & jet streak over TX (favoring deep-layer warm advection/ascent), should counteract the effect of cooler SSTs near the Gulf coast & result in little-no weakening of #Zeta as it nears Louisiana tonight #lawx https://t.co/MaGLV9fkt7 pic.twitter.com/el2EsbzSKy

— Eric Webb (@webberweather) October 28, 2020
This was a case where shear was actually in a sweet spot for a storm and helped it along. The deep trough and very strong jet stream winds over Texas (known as a jet streak) actually helped Zeta find an environment that would be hospitable for a low pressure system to intensify within. This further underscores that water temperatures are far from everything when it comes to hurricane intensity. In this case we had a Gulf of Mexico that was only slightly supportive for a storm, but the storm got juiced by the atmospheric pattern over the Plains and Southeast. And the end result was a memorable, odd late season storm. Zeta also will end up being the strongest storm to make landfall so late in the season on the entire Gulf Coast. Zeta's forward speed of over 45 mph over the Southeast made it one of the fastest moving storms on record (for any date) over the continental United States.
And we aren't finished. The National Hurricane Center has 80 percent odds that a tropical wave in the Caribbean (dubbed Invest 96L) will develop into a depression or storm in the next 5 days.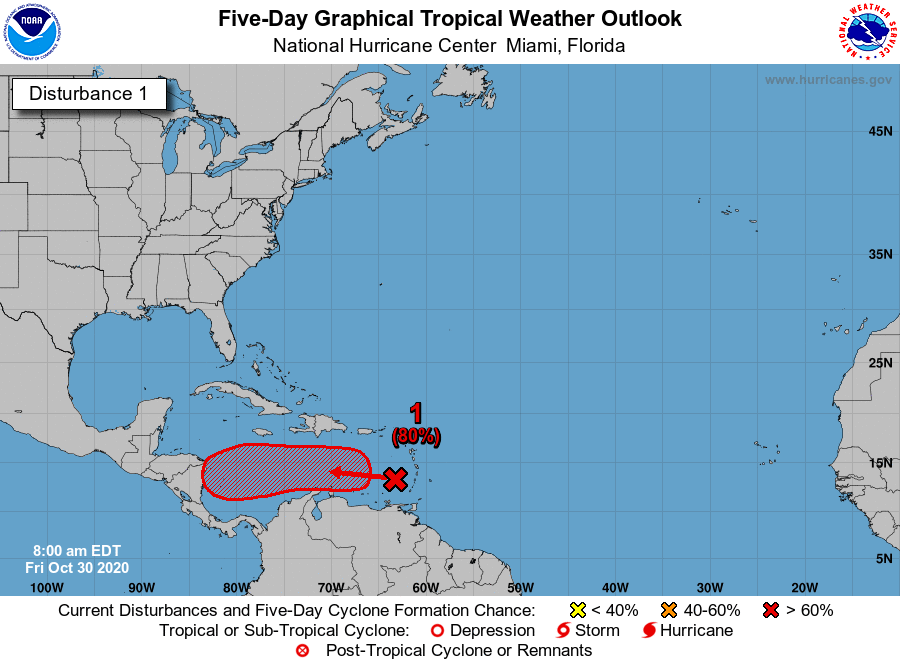 If it gets a name, it will be called Eta, and 2020 would officially tie 2005 for the most storms on record in the Atlantic basin. As much as it pains me to write this, Eta is a storm that should probably be watched from Louisiana to Florida. It's likely to percolate off the coast of Central America much of next week before perhaps being ushered north next weekend by our next weather maker over the Plains & Texas. How exactly that plays out is TBD. This is highly unlikely to come to Texas, but there a number of model solutions that bring it into the eastern Gulf or off the Florida coast. So, yet again, another one for our neighbors to the east to watch. We'll update you on Monday.