Houston wrapped up five very wet days on Saturday evening, as a weak cold front finally ushered an extremely moist air mass off to the east of the region, and stabilized the atmosphere. Before discussing out more sedate weather ahead, first let's look back at the five-day rain totals, and whether the flood scale we implemented this month was effective.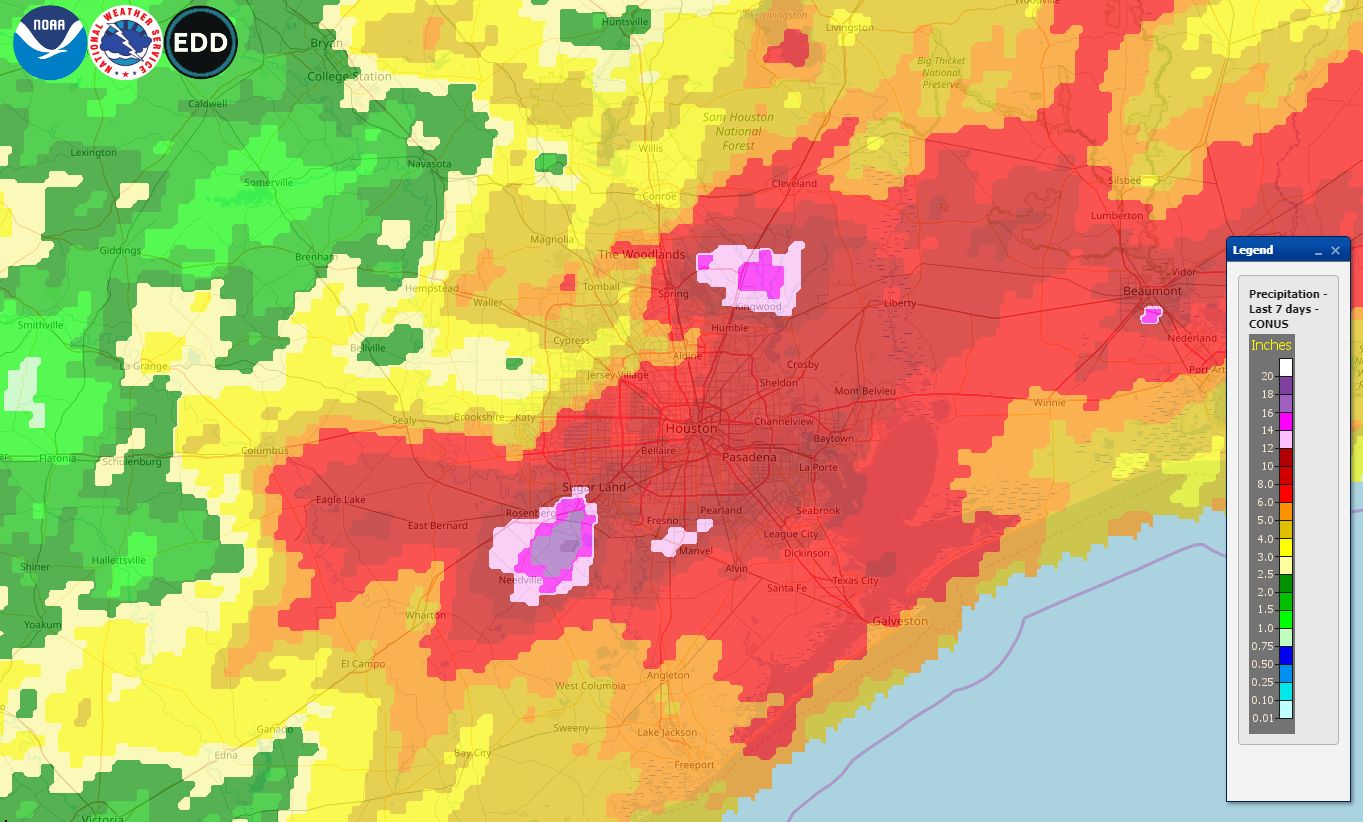 This map shows rain totals for the last seven days, and encapsulates the rain event that lasted from last Tuesday through Saturday. The greatest rain totals fell near Sugar Land, in the southwest part of the region, Kingwood, to the northeast, and Beaumont. One area near Sugar Land received 18+ inches, while the bright purple areas indicate 14+ inches. Overall, most of the Houston metro area received 6 to 12 inches of rain. Interestingly, one does not have to go all that far from the metro area to find a region, in this case Brenham, that received less than 2 inches of rain. This gives you some idea of the challenge of forecasting these kinds of precipitation events.
Flood scale
We introduced a flood scale to provide readers with a general expectation about upcoming flood events. Initially, we rated this five-day event as a "Stage 2 flood," but after the intensity of Tuesday's storms—which turned out to be the worst of the five days—we bumped these floods up to a Stage 3 event on Wednesday.
This feels about right in hindsight, given the five-day accumulations over some locations, but we'd welcome any comments or thoughts you have about the scale as we continue to refine it. Thursday night's hail was also notable, and Matt may have some more to say about that the next day or two. Now, on to the forecast.
Monday
After last week's storms, this week's weather will be somewhat anti-climatic. Monday should be especially nice, with mostly sunny skies, highs in the low 80s, and for May, fairly dry air. Some clouds, along with southeast winds, return tonight with lows in the mid-60s. This would have been a great weekend day.

Tuesday and Wednesday
These will be a pair of partly sunny days with highs in the mid-80s. Despite the rather sedate appearance, there will be a fair amount going on in the atmosphere with warm fronts and small upper-level disturbances, and so we can't rule out some scattered showers and thunderstorms popping up briefly. We do not expect any kind of training or seriously heavy rainfall, however, and accumulations should stay below one-quarter inch. Overnight lows will be in the upper 60s.
Thursday and Friday
We can't entirely rule out rain chances for these days, but for the most part it looks like we'll see highs in the mid- to upper-80s with partly to mostly sunny skies.
Saturday and Sunday
The weekend forecast is a bit trickier, unfortunately. Atmospheric moisture levels will be fairly high due to an onshore flow from the Gulf of Mexico, and the question is whether a capping inversion holds firm as a weak front moves in from the west.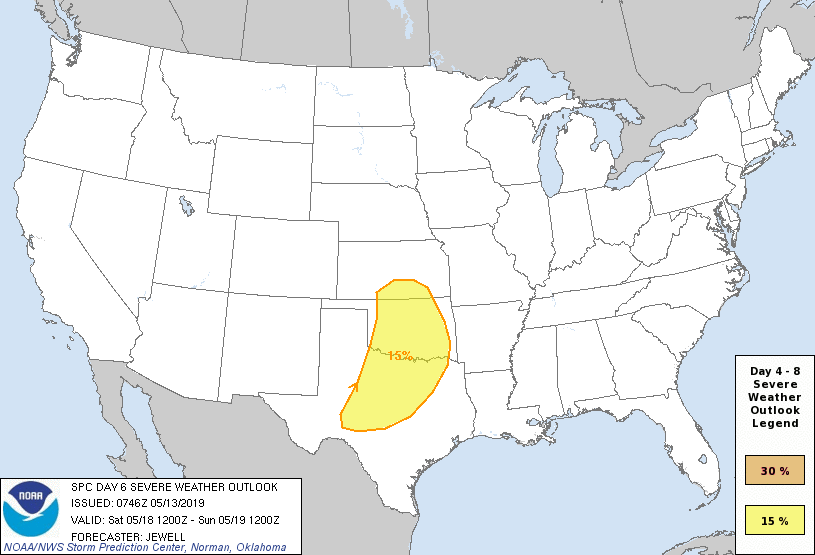 Right now, it appears as though the best dynamics for storms will occur over central and northern Texas, rather than along the coast—but we're still a long way from the weekend in terms of parsing details like this. For now we'll go with partly sunny skies, highs in the upper-80s, and a 30 to 50 percent chance of rain both days, but be advised that the forecast is subject to change.