A Tornado Watch remains posted for Houston and areas north through 4 PM. Thankfully, we've only seen one brief tornado warning issued today, just to the north of Navasota. Around Houston, it's been fine thus far.
The radar shows a broken, but gradually intensifying line of thunderstorms to our west, moving toward the western parts of Harris County as of 1:30 PM. I do think the threat for tornadoes will remain on the low side through mid-afternoon.The best parameters for supercell thunderstorms are shifting to the north and east of Houston now, and while we could conceivably see a storm spin up a brief tornado, the best odds for that are moving into Louisiana.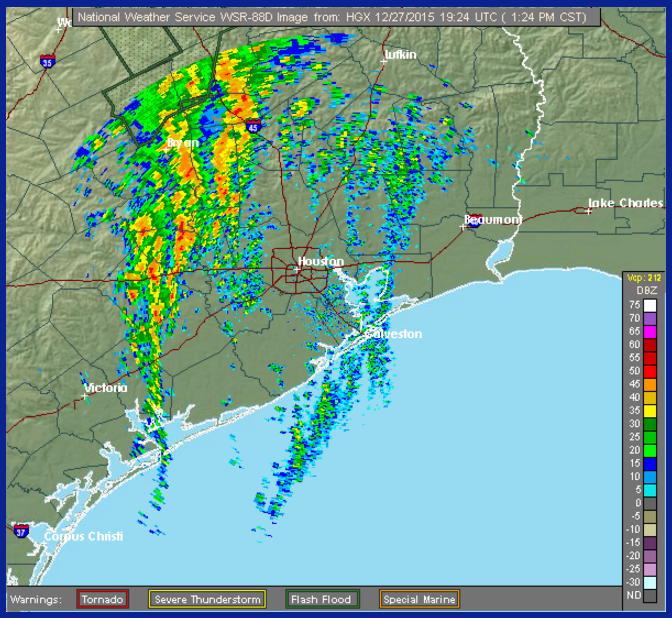 That being said, with a developing line of thunderstorms, we could see strong, damaging straight line winds become an issue as it organizes moving through the region. So, remain weather aware with a method to receive weather warnings this afternoon. In addition to the severe weather, heavy rainfall is occurring in these storms. Some areas may see 1-2″ in a short time, so localized street flooding will be possible into this evening.
Oh, and it will turn sharply colder after the line of storms to our west arrives. Temperatures may drop 25 degrees in an hour as the front arrives this afternoon. It will be in the low to mid 50s just about everywhere by evening.
So in sum: Tornado Watch still posted, but highest threat is shifting away. Strong to severe thunderstorms likely mid to late afternoon with heavy rain and gusty winds. Turning much colder as the front moves through.