We saw some heavy rain in spots yesterday, with Spring Branch picking up almost 3 inches of rain, while the areas near Addicks, Oak Forest, and just west of The Woodlands saw 1 to 2 inches of rain.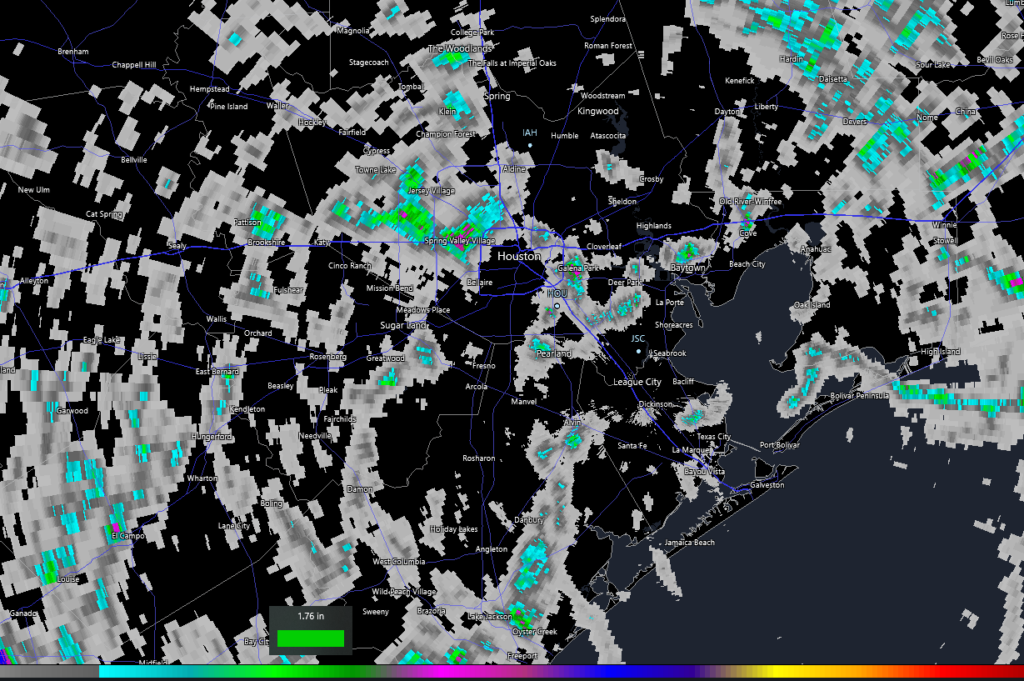 Another mini-bullseye occurred along the Houston Ship Channel in Galena Park, as well as down near Clute in Brazoria County and in Baytown. Basically, you either got a torrential downpour yesterday or you just heard distant thunder. We'll start the holiday weekend off on a similar note, before we turn mostly dry and hot for a couple days.
Friday
We will probably experience a similar sort of day today as we saw on Thursday. Already, there are some showers along the coast south of Galveston this morning. Watch for isolated hefty downpours across the area, but there's probably an equal or better chance you see absolutely nothing today. Outside of the scattered downpours it will be sunny and hot. Look for generally mid-90s today with plenty of humidity.
Saturday & Sunday
Both days look primarily sunny and hot. Expect high temperatures in the mid to upper-90s, with a couple spots testing 100° or so. Morning lows will be in the 70s. Rain chances? Well, they don't look especially high this weekend, so if you are one of the few to catch a cooling downpour, consider yourself lucky.
Labor Day
Between a weak front trying nudge in from the north (sorry, not our first autumn cold front) and increasing amounts of moisture off the Gulf, we should see rain chances perk up some on Monday. It will start off like the rest of the weekend, but watch for building rain chances in the afternoon. High temperatures will be in at least the mid-90s on Monday, possibly a tick or two hotter. Morning lows will be in the 70s once more.
Next week/Invest 91L
Beyond Monday, forecast confidence drops off some. We have a combination of factors contributing to this. For one, that weak front in interior Texas will still be there. Second, that area we've been discussing for the tropics in the southwest Caribbean is expected to move into the Gulf next week. Models continue to wax and wane on development potential with this one (dubbed Invest 91L). Last night's models were a bit more aggressive, with both the GFS & Euro showing a likely tropical storm. But the timing is all over the place, as is the track, so we honestly can't read much into specifics right now. But with all that moisture just sitting offshore, it does present some modest forecast challenges.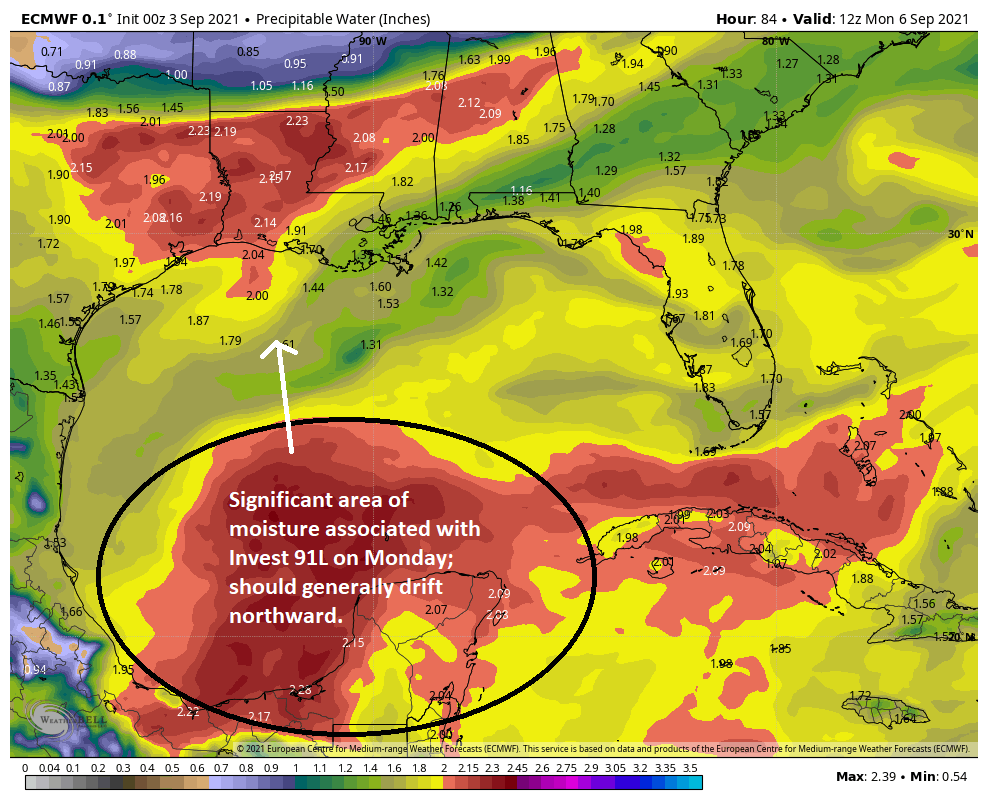 So what is the best thinking on this right now? The signals we've gotten from ensemble guidance and our modeling is that development of 91L, if any, should be a bit sluggish, especially early next week. The system will be bringing a healthy amount of moisture north as it drifts this way, and although most modeling shows that offshore or staying to our east, it's much too close to write off this far in advance. We could see a couple days of more scattered storms, then a drying trend. Or we could see several days of scattered heavier storms, similar to what has occurred during a couple periods this summer. Or, yes, we could see a tropical storm type impact. Really, we don't yet know. Our intent was to take the weekend off, but given this thing lurking, look for a post on either Sunday or Monday morning with the latest.
Regardless of what happens here, expect temperatures to step back a notch, so more like low to mid-90s, but we should continue to see warm morning and overnights. There are no signs of a meaningful autumn cold front for at least the next 10 days. But it is still a bit early.
Tropics
The main area for us to watch will remain Invest 91L, as discussed above. Outside of that, Hurricane Larry has 90 mph winds this morning out in the open Atlantic. Interests in Bermuda and perhaps Atlantic Canada should keep an eye on Larry.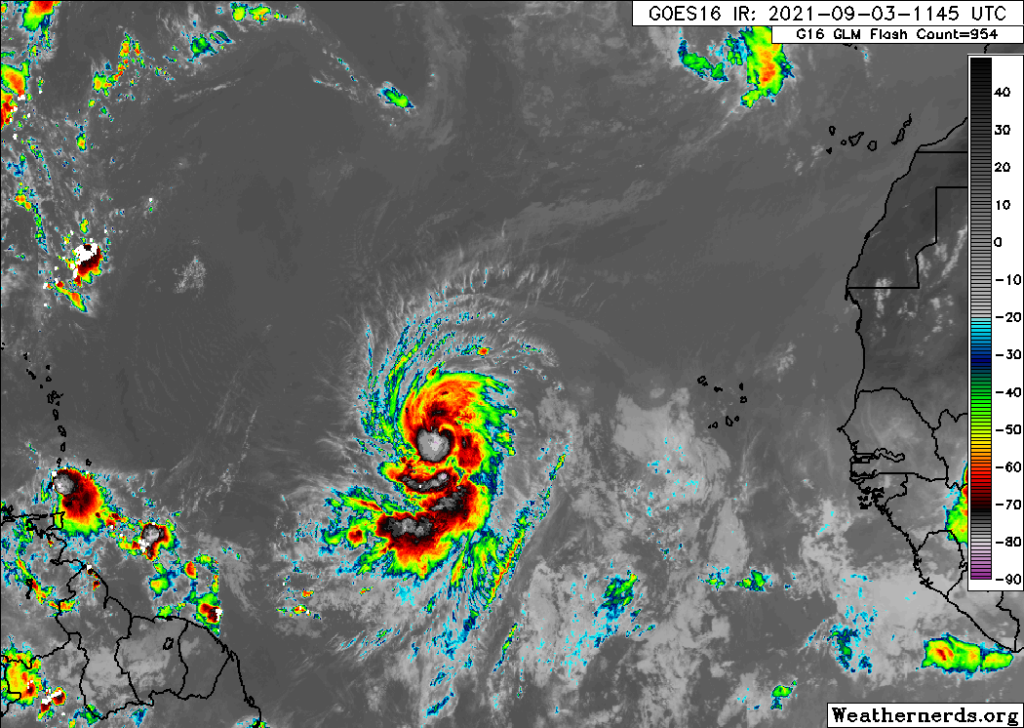 The disturbance immediately behind Larry is struggling, so for us, there are no other concerns at this time. Again, look for an update from us on Sunday or Monday. Otherwise, have a safe Labor Day weekend!