Good morning. It's quite warm this morning, and after several days of mostly sunny skies a thicker cloud deck has streamed in from the west during the overnight hours. Here's what this building cloud deck looks like on satellite.
The clouds, warmer weather, and healthy rain chances will be with us through Wednesday before a cold front moves through and clears us out. We're watching for a risk of strong thunderstorms Tuesday night and Wednesday during the daytime, but right now our concerns for the Houston area are not too great.
Monday
Today should be most gray and warm, with highs in the upper 70s despite cloudy skies. Expect light winds out of the south. Rain chances are probably around 10 percent for most of the area, with anything that falls likely being light. Lows Monday night will only drop into the upper 60s for most of Houston, with the possibility of some fog early Tuesday morning.
Tuesday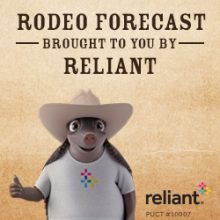 By Tuesday our atmosphere will be more moist, and will support the kind of lifting required for rainfall. However, for the most part Tuesday should be similar to Monday with just a bit more widespread light (misty?) rainfall that should not provide any accumulations. Temperatures Tuesday will again be in the upper 70s. If you're heading out to the opening act of the Houston Livestock Show and Rodeo, Midland, we can't rule out the possibility of some light rain but we're not expecting anything too organized. Temperatures will be warm, likely around 70 degrees, during the evening hours.

Wednesday
Better rain chances push into the region on Wednesday, when we expect to see showers for most of the area. Rain accumulations definitely look better up north, with totals of 0.5 to 1.5 inches likely north of Interstate 10, and accumulations less than 0.5 inches south of the freeway. We can't entirely rule out the threat of some hail and strong winds on Wednesday embedded in some thunderstorms, but the overall risk appears to be fairly low. Highs Wednesday should again be in the 70s, with lows dropping into the 50s during the overnight as cooler, drier air arrives.
Thursday
Mostly sunny, with highs in the upper 60s, likely will prevail in the wake of Wednesday's front. Conditions could be a bit breezy. Lows probably will drop to around 50 degrees.
Friday and Saturday
Partly to mostly sunny skies should be with us through the first half of the weekend, with highs on Friday and Saturday of around 70 degrees, with lows in the 50s. So it should be quite pleasant.
Sunday and beyond
Clouds and warmer weather return by Sunday, likely with improving rain chances on Monday, but with no clear signal of a strong front after that.