A cold front remains on track to reach Houston on Wednesday, arriving a couple of weeks early to the region, and bringing some genuinely fall-like weather to the upper Texas coast. I'll also discuss Hurricane Irma, because the storm has reached Category 5 status and almost certainly will have some devastating effects in the United States. We remain pretty confident the storm won't have major effects for Texas, however.
Tuesday
We'll still be pretty warm today, with highs in the low 90s across Houston, but for early September this is still decent weather. Houston could see some scattered showers later this afternoon, but for the most part we should be rain-free.
Wednesday
Cold front day! It's almost like a holiday here in Houston. Moisture levels will increase a bit before the front moves through on Wednesday, most likely during the late morning or early afternoon hours. Some scattered showers are possible with the front—a few isolated areas could see as much as half an inch of rain—but for the most part this should be a breezy passage rather than one with thunder and lightning. Humidity should fall off a cliff after the front moves through, making for a pleasant evening.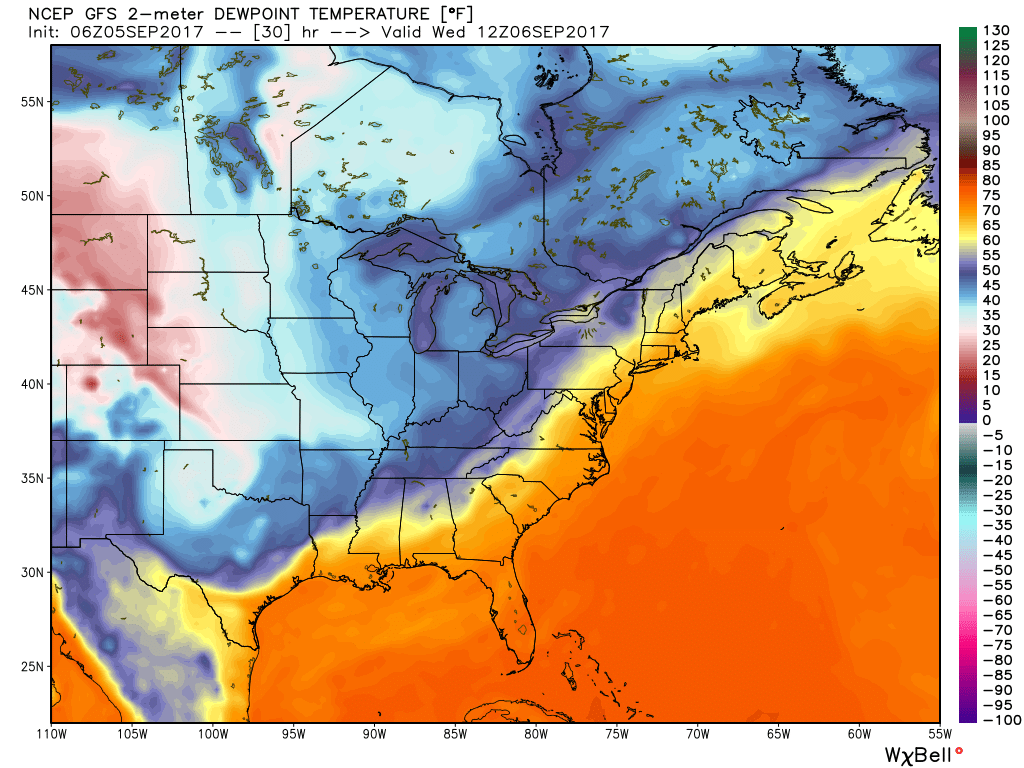 Thursday through Sunday
We'll have some great September weather after the front comes through, with highs generally in the mid- to upper-80s, overnight lows in the 60s (perhaps upper 50s for some inland areas and closer to 70 degrees along the coast). The drier air and full sunshine will feel fine.

Tropics
We remain in the midst of hurricane season, and during the overnight hours Hurricane Irma has become an extremely dangerous Category 5 storm. On Wednesday it will bring catastrophic conditions to the Virgin Islands and probably Puerto Rico, followed by the Dominican Republic and Turks and Caicos Islands on Thursday. By early this weekend it should reach Cuba. Thereafter the models diverge.
We have had lots of questions and concerns from readers about Irma's track after this time, because the forecast models have continue to drift westward. Primarily, they are struggling to deal with a trough of low pressure over the United States and a ridge of high pressure over the Atlantic. Essentially, Irma will turn to the north when it finds the western edge of this high pressure system. The image below shows the forecast position for Irma on Friday morning, and potential tracks afterward.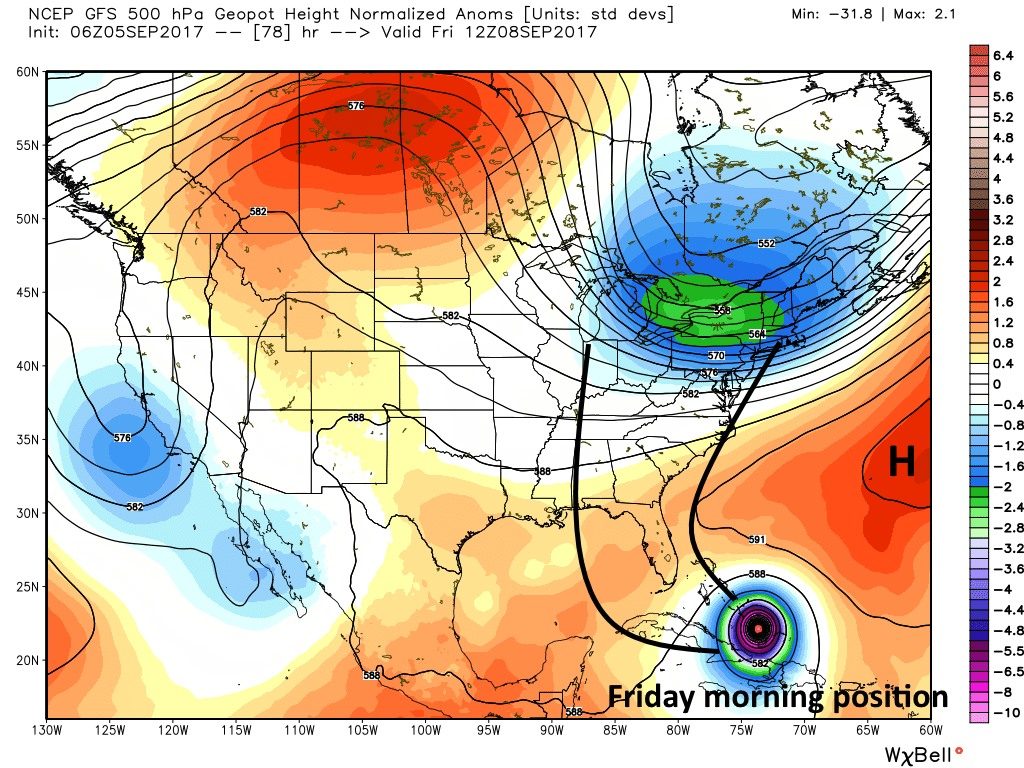 Although there has been some westward shift in the track forecast, we expect that this is about to stop. We have very good meteorological reasons to believe that Irma will make a northern turn, and stay out of the western Gulf of Mexico. And while almost nothing is 100 percent guaranteed in forecasting, we urge shell-shocked coastal residents in Texas to not have much concern for Irma. This may well be a devastating storm for the United States, but  most likely it will be for areas such as the Florida Keys, Florida, and the southeastern United States.
Finally, it is also possible that a tropical storm will develop in the southern Gulf of Mexico during the next day or two, but Wednesday's cold front should keep any effects from that system well away from the greater Houston area. Please continue to focus on recovering from Harvey—as it looks like Mother Nature will assist in that regard.