Good morning! We're kicking off our 2019 fundraiser today—accepting donations, and selling t-shirts, sweatshirts, and umbrellas to support this site.
Our goal with Space City Weather is to provide a place for anyone living in the greater Houston area to find sensible information about weather forecasts without hype or nonsense. We don't always get every forecast right, but we sure try, and we're there whenever the weather matters to Houston. The site will always be free, and your contributions are most welcome to compensate Matt and me for our time, and server expenses to keep the site lightning fast. We also have a couple of exciting plans for 2020 that you'll be supporting.
When you go to the fundraiser site there are three choices: An umbrella, and two collections of t-shirts with the designs below. One design celebrates the 50th anniversary of the Apollo 11 Moon landing, and the other highlights the region's awful September weather. Click on any of the campaigns to make your selections, or just use the donate-only button. We truly appreciate your support during this fundraiser, which will last through the end of November.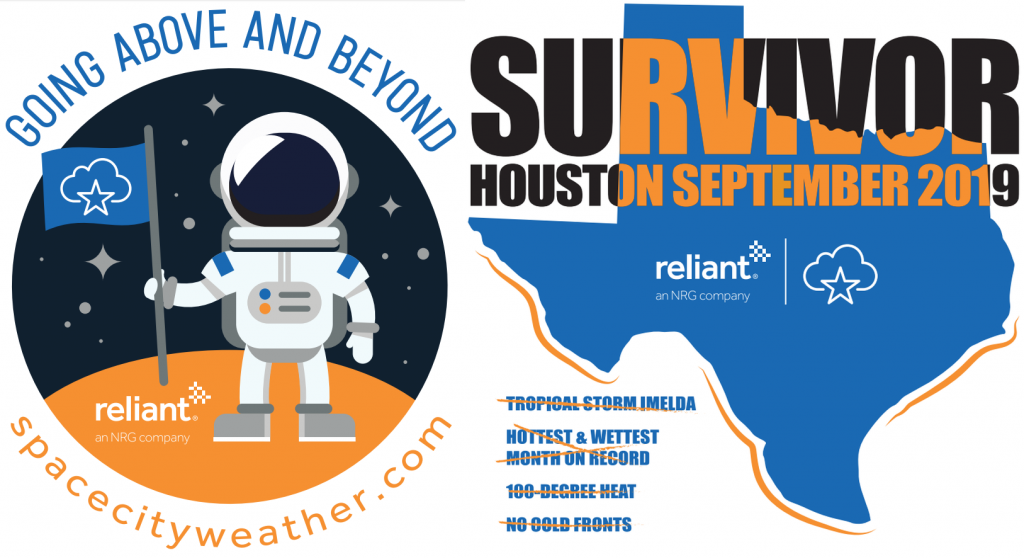 Thursday
Speaking of space, today marks perhaps the most significant weather moment in NASA's history. On this date in 1969, lightning struck the Saturn V rocket about 36 seconds into the flight of the second human mission to the surface of the Moon. A flight controller named John Aaron saved the mission with a command so obscure that commander Pete Conrad did not recognize it: "Flight, EECOM. Try SCE to Aux." Read more here.
While Houston won't see much lightning today, there should be plenty of overcast skies and mostly light to moderate rainfall as moisture pushes in from the Gulf of Mexico. We don't have any flooding concerns, but this will be a gloomy day with highs in the upper 40s and on-and-off rain until around sunset. It will be, dare I say it, a cold November rain? This evening a reinforcing cool front should push through the region and dry out the atmosphere.

Friday and Saturday
The aforementioned front will keep things cool and dry for most of the weekend. Both Friday and Saturday mornings should start out in the mid 30s to low 40s (a freeze is possible in some parts of Montgomery and Liberty counties), and both days should see highs of around 60 degrees. Skies will be mostly sunny.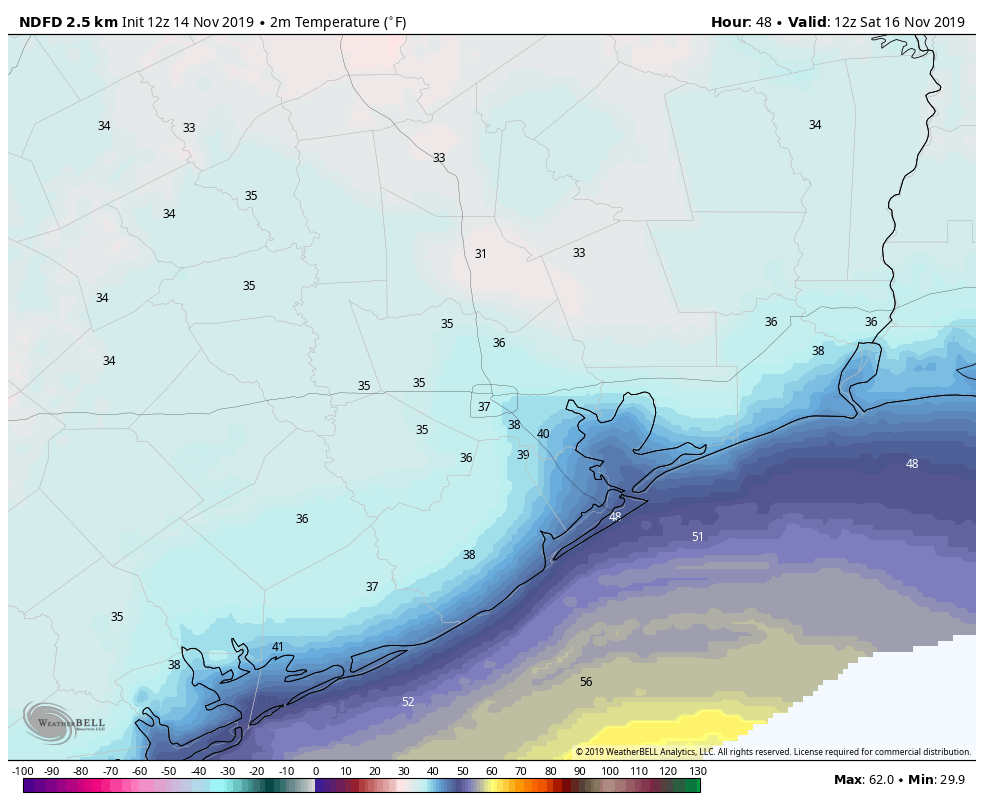 Sunday
The second half of the weekend may be slightly warmer, with highs possibly pushing into the mid-60s and a weak onshore flow picks back up. Some slight rain chances return to the forecast Sunday night with the likely passage of another front, but since there won't be much moisture to work with, overall chances remain quite low.
Next week
The first half of next week should be quite nice, with relatively dry air, highs in the low 70s and nights in the mid-50s. The onshore flow will pick back up by Wednesday or so, with warming into the mid-70s possible after that as well as the return of our old friend humidity—have we already forgotten what that is? Anyway, there's no clear cut evidence of the next front to bring an end to this humidity, but one may be in the cards by around next Saturday. But that's a week and a half from now, so we're rapidly approaching shrug emoji territory with such a forecast.