Most of the Houston area saw a hot and sunny weekend, with highs in the mid-90s, and only a smattering of showers. We'll now return to a wetter pattern for most of the coming work week, with strong storms possible tonight and Tuesday, before hot and sunny weather comes back for next weekend.
Monday
Conditions for much of today will be warm and muggy, with partly sunny skies and highs in the mid-90s. Scattered showers will be possible. The potential for more organized storms begins to increase later this afternoon as a weak front approaches our region from the north, and an associated line of showers and thunderstorms moves into Houston.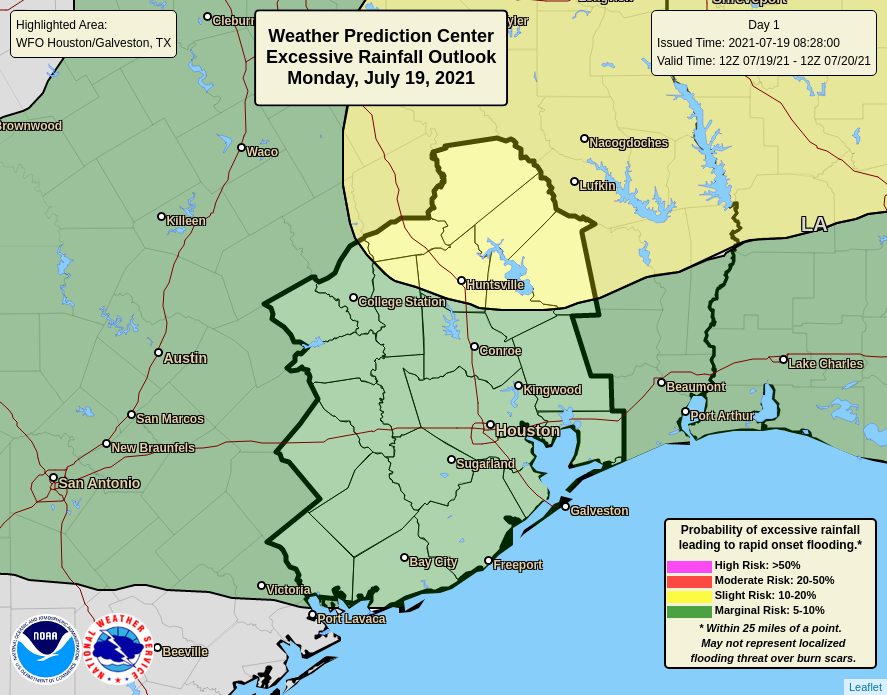 Some of these storms could be strong, producing heavy rainfall and damaging winds, especially north of Interstate 10. In terms of timing, the line of storms is likely to reach a line from Sealy to Conroe at around 6 to 8 pm CT, push into Houston along Interstate 10 between 7 and 9 pm, and possibly weaken as they near the coast after 9 pm CT. Generally, we should see accumulations of 1 to 3 inches of rainfall, with higher localized amounts.
Tuesday
As the frontal boundary stalls out over the Houston region, we could see the redevelopment of showers and thunderstorms early on Tuesday morning, either just before or around sunrise. This may make for a mess during Tuesday morning's commute, especially for areas along and south of Interstate 10.
After this second burst of rainfall, it is possible shower activity could wane some during the later morning and afternoon hours. However, I expect skies will remain partly to mostly cloudy, with highs in the upper 80s.
Wednesday and Thursday
The overall pattern will remain favorable for rainfall on Wednesday and Thursday, with fairly moist air and an atmosphere that promotes rising air. While I don't think either of these two days will see the kinds of organized storms expected on Monday, you nonetheless probably have about a 50 percent chance of showers or a thunderstorm during the afternoon hours. Otherwise, expect highs in the low 90s with partly sunny skies.
Friday
Some scattered rains will be again possible on Friday, but by this point we should begin transitioning to a hotter and drier pattern, as high pressure begins to build over the area. Look for highs in the low 90s.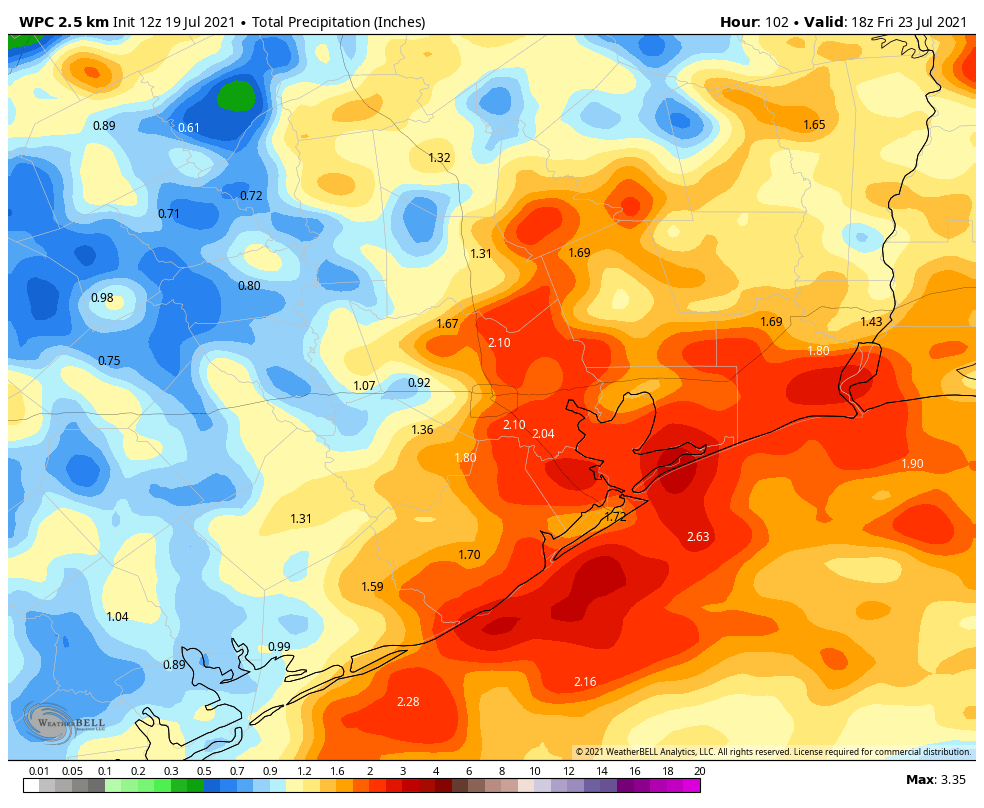 Saturday and Sunday
Toward the end of July we expect to see high pressure assert itself, and for Houston that means hot, sunny, and humid weather. For now, therefore, we expect hot and mostly sunny conditions this weekend, with high temperatures in the mid-90s—and perhaps a touch warmer than that for inland areas. Most likely this hotter and drier pattern will persist into next week. If you've missed classic summertime weather in Houston, you're in luck.