Today may offer our area the first real taste of spring, via some warm temperatures and even a few thunderstorms. That will setup what should be a delightful weekend. Before we get into that, shameless plug: I was thrilled to be a guest on the latest episode of Weather Geeks, The Weather Channel podcast. You can check that out on your favorite podcast streaming service here.
I talk about Houston weather, the freeze, our string of high impact events, Space City Weather, and more! Definitely a career-so-far highlight for me, and I am grateful to have been given another platform to talk more about how recent serious weather has impacted the Houston area. I hope you find it interesting.
Today
As far as the weather, today intrigues my meteorological sensibilities a bit. I am genuinely curious to see how things unfold. Just to be very clear: We are not expecting any serious, high impact weather. This is pure meteorological curiosity on my part. Here's why. A vigorous but weakening disturbance in the upper atmosphere moving along or just north of the Red River will help push weak low pressure at the surface and a cold front into Southeast Texas later today.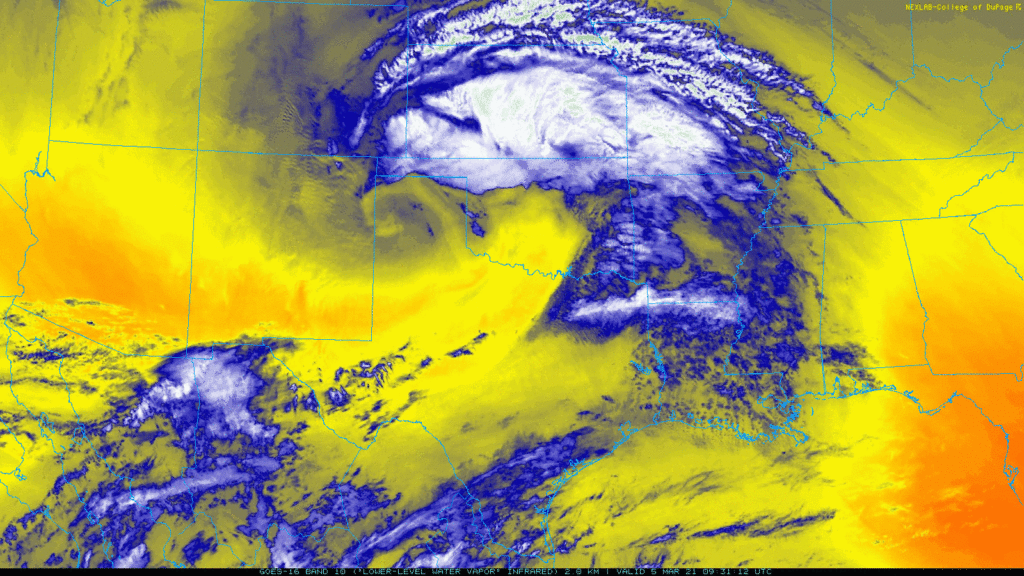 As this happens, we'll see some showers break out across the region this afternoon. It's possible that many locations see no rain at all today, but the chance will be there. Some fog may be possible, patchy this morning and perhaps more robust along the coast later today before the front wipes it out this evening. We could also see a little sunshine today too which will allow temperatures to press into the 70s across much of the area. If we see enough sun later this afternoon, we could manage mid to upper-70s for highs today.
As the cold front approaches later today or this evening, some thunderstorms could possibly break out prior to it moving through. As these types of setups go, this will be a very low-end one with minimal coverage of thunderstorms and nothing unruly, but it may be the first day of the year where we notice some towering, billowing cumulus clouds, or springtime convection. Last year, I noticed it for the first time on March 10th, so it feels like we're right about on schedule. The seasons are beginning to change once again.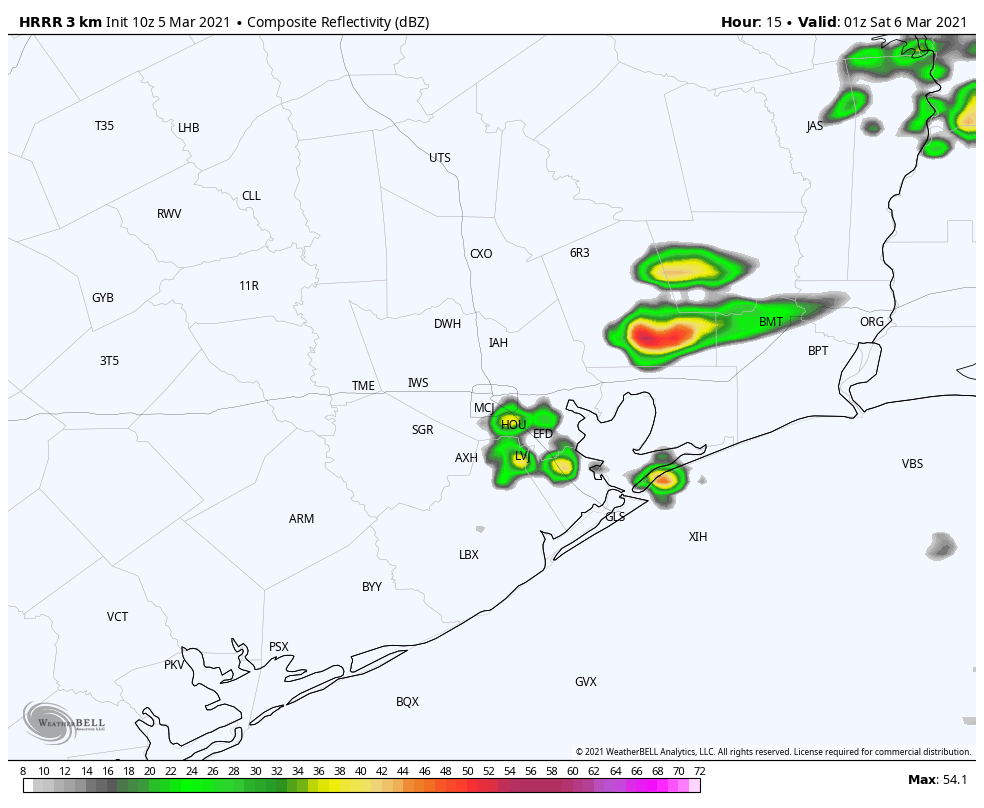 The best chance for any isolated thunder will likely be north and east of Houston, across Montgomery or Liberty Counties, or perhaps into Chambers County. Regardless, the front pushes out the warmer temps and rain showers in the evening, leading to a breezy, quiet night.
Weekend
It really looks like a spectacular weekend for the entire region. Expect sunshine most of the time, periodically punctuated by a few high clouds. We'll have low humidity, and temperatures will top off in the upper-60s to near 70 degrees after morning lows in the 40s and 50s. Just perfect for outdoor activities…except for the pollen, which will likely be elevated. Be forewarned allergy sufferers!
Next week
We should start the week off on the right foot with more sunshine and highs in the 70s. As the week goes on, expect onshore flow to drag in humidity from the Gulf. This should mean more clouds, slight shower chances, and perhaps some gray skies and fog at times. Morning lows will gradually nudge up through the 60s, and daytime highs should top off in the 70s to eventually near 80 degrees, building through the week. We may see a cold front sweep through, perhaps by the weekend with higher rain chances and some cooler air. More on that next week!