Good morning. Houston remains in an active storm pattern and will likely do so through Friday morning or so. Let's take it day by day.
TUESDAY
We've been in a much appreciated lull since Monday afternoon, and I expect that period to continue through at least this morning and early afternoon. That's because warmer air aloft—a capping inversion—is going to limit the ability of air at the surface to rise. It's not clear when the cap will break, but it's possible that could happen as early as late this afternoon. The concern is that, once rains get going, there is the potential for severe weather in the form of hail, and damaging winds.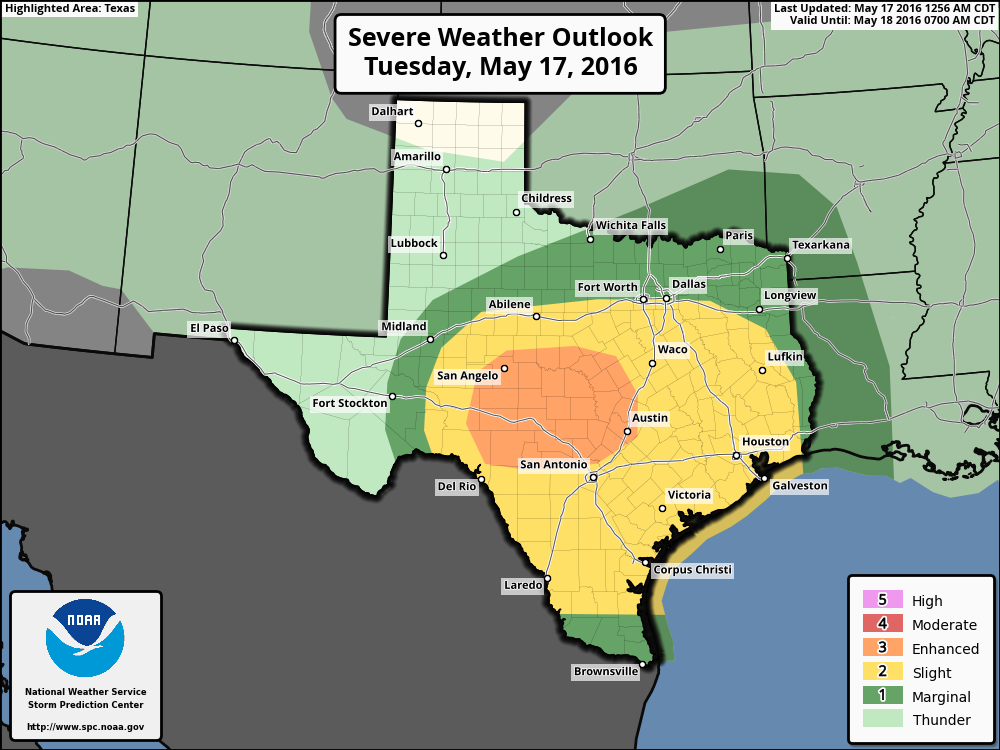 The most likely scenario is that, this afternoon and evening, a line of storms will develop over west and central Texas and begin to move east toward Houston. If the cap holds, those storms will weaken as they approach the coast. If the cap breaks we could see some thunderstorms and severe weather tonight between sunset Tuesday and sunrise Wednesday. It's not clear, honestly, what will happen although I'd rate the chance of severe weather as higher for the western half of the metro area than the east.
WEDNESDAY
As mentioned, we're going to have to watch for the potential for severe weather Wednesday morning. Later in the day, as this boundary stalls out across the upper Texas coast we're likely to see some ongoing rain chances Wednesday, but I think shower and thunderstorm development will probably be scattered during the daytime and evening hours.
THURSDAY
On Thursday, in addition to unstable air, forecast models suggest that atmospheric moisture levels will spike to 2 inches of precipitable water or higher for the metro area, which is a reliable marker for high rain potential.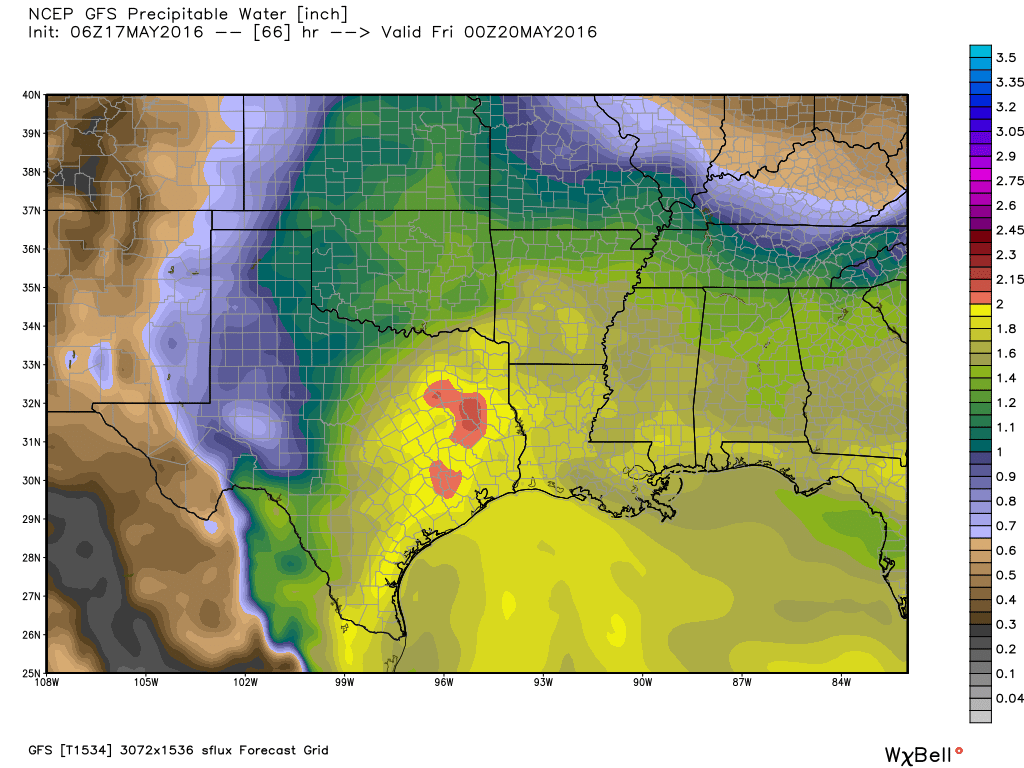 There's the potential for widespread totals of 1 to 3 inches of rain with these moisture levels, and locally higher amounts. Right now the threat looks greatest during Thursday afternoon and night. I'm hopeful there won't be enough rain to generate widespread flooding, but soils remain moist so it won't take all that much rain to cause problems.
FRIDAY through SUNDAY
Some chances for light to moderate rain will remain on Friday, but I think we're going to see gradually clearing skies by the afternoon. Although rain chances aren't going to go entirely away this weekend, I think any showers that do develop will be fairly scattered. Partly sunny skies will allow for warmer days, with highs possibly approaching 90 degrees.
Posted at 6:55am CT on Tuesday by Eric Berger