Houston has had some hot days this week—with highs of 90 and 91 degrees—but we've been saved by some pleasant mornings and especially evenings when drier air has felt pretty good. I hate to be a Grinchy forecaster, but I'm afraid we're going to have to take that away from you, too.
The "dewpoint" temperature offers a good indication of how dry the air feels. Specifically the greater the difference between the dewpoint and the actual temperature, the lower the humidity. In the graphic below I've plotted the temperature (blue) and dewpoint (red) for the last three nights at 8pm at Hobby Airport, and for the next three nights.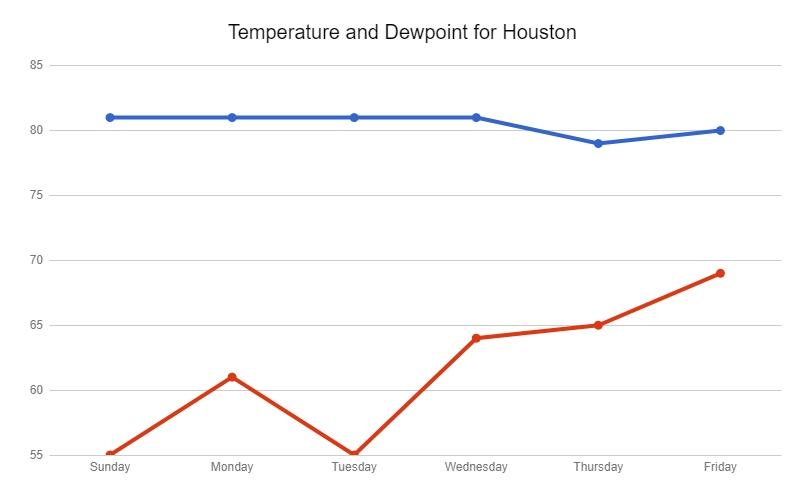 As you can see, we had a pretty nice delta on Sunday, Monday, and Tuesday nights. As you can also see, that difference between the actual temperature and dewpoint is going to go away beginning this evening. Trust me, in the hour before and after sunset, you'll feel it. And probably not in a good way.

Wednesday and Thursday
Not a whole lot of change in our weather, aside from the modest increase in dewpoint temperatures noted above. We'll continue to see sunny days, with high temperatures around 90 degrees, and overnight temperatures in the upper 60s to 70 degrees. Our rain chances are precisely zero.
Friday and Saturday
More or less the same, with a continued uptick in humidity and overnight low temperatures sliding into the low 70s for Houston. Rain chances remain near zero, but I won't entirely rule out a few isolated showers. A capping inversion should keep a lid on most, if not all precipitation.
Mother's Day
No real change. The day should start off in the low 70s, with clear skies, and warm into the low 90s. There's the barest chance of a few spotty showers along the coast, but I doubt it. Outdoor celebrations should be good to go as long as you have some shade. Well, a lot of shade. And probably a fan or two for mom.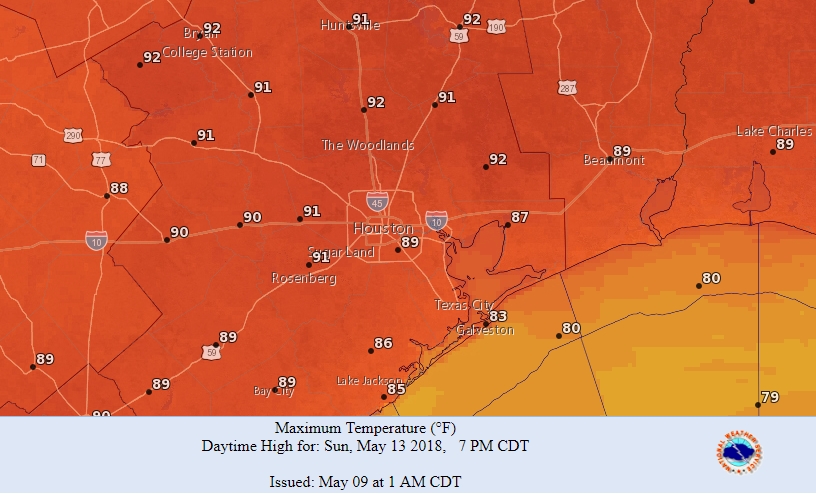 Monday and beyond
Rain chances will probably improve some next week, but perhaps only marginally so. Most likely we'll remain hot, with highs in the range of 90 degrees. When we get some better clarity on when it's next likely to rain, we'll definitely share it.