The upcoming weekend will offer up a mixed bag of weather, featuring sun, clouds, some shower chances, and plenty of warmth and humidity. None of this should scare you away from whatever you were planning to do this weekend, though it will be warm! We still have a cold front in sight but not until midweek next week. That may possibly mean the end of "Second Summer" here in Texas.
Friday
We have another round of dense fog in spots this morning, particularly outside Grand Parkway. Places like Sugar Land, Katy, and areas west or south of there toward Wharton or Lake Jackson, as well as east of Houston in Liberty County and toward Beaumont are all seeing visibilities under a half mile as of 6:45 AM.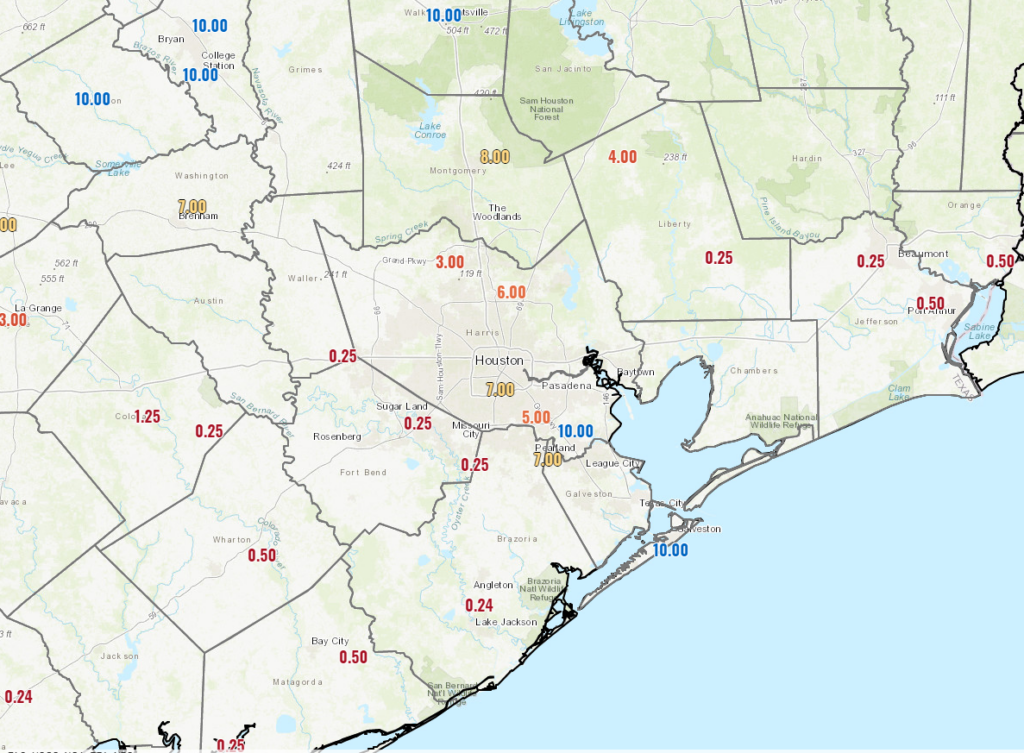 That fog will dissipate over the next 2 to 3 hours, and today looks fairly similar to yesterday. Expect a mix of clouds and sun and temperatures generally in the 80s. An few showers can't be ruled out, but rain would be the exception, not the rule.
Saturday and Sunday
As Eric noted yesterday, both weekend days will carry a chance of showers or a thunderstorm. Expect any showers to be fairly short-lived and really not too big a deal. Based on today's model data, I think Saturday may have a slightly higher overall chance for rain than Sunday. Outside of that, just a mix of sun and clouds with warm, humid conditions. Winds should be generally light on Saturday and then a bit gusty on Sunday. Expect highs in the 80s and lows in the upper-60s or 70s.
Monday and Tuesday
Look for rain chances to ease back a little here, as we end up with continued warm onshore flow ahead of a cold front that will stay to our north but an atmosphere without much to set storms off. Highs will be in the 80s and lows in the 70s. Winds may begin to pick up a bit again on Tuesday.
Midweek and beyond
The cold front we've been discussing is still on track to arrive on Wednesday. Models have been in disagreement on how robust the storm chances will be with this front, but suffice to say there will be at least a decent chance of thunderstorms on Wednesday. We should know more about this on Monday. Behind the front, look for refreshing air with lower humidity and gusty offshore winds. That should set up a very nice back half of next week.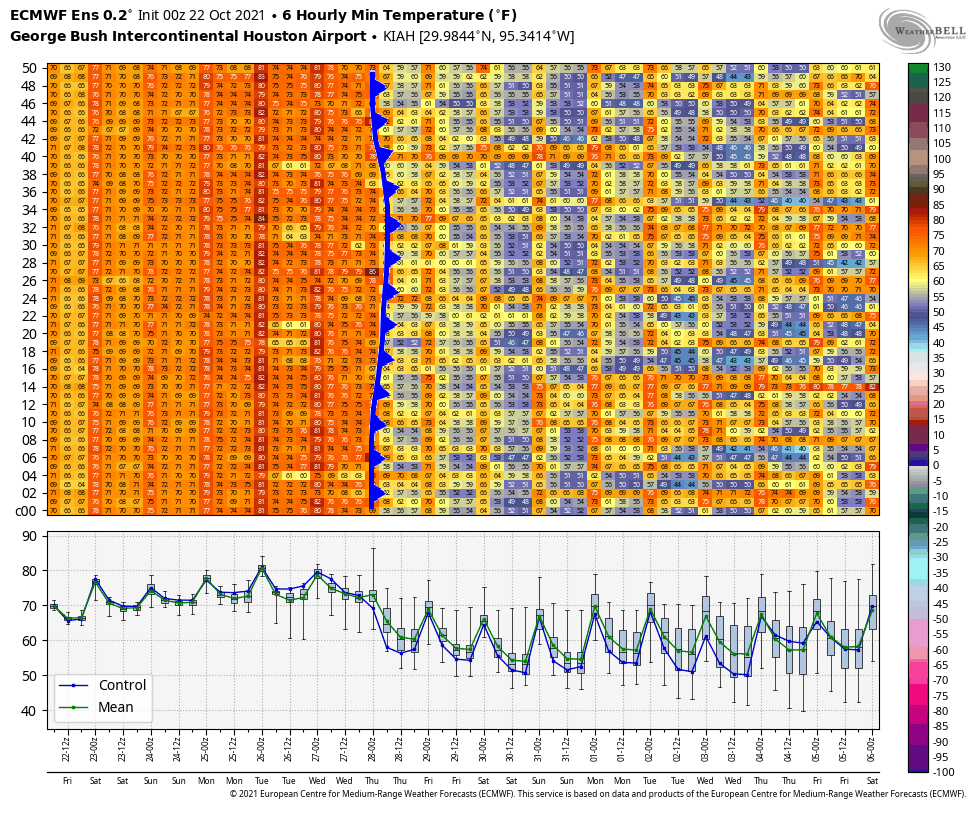 You can see from the chart above of European ensemble forecast low temperatures over the next 2 weeks that there is a rather mixed signal after next week's front. Some ensemble members warm us back up, while others keep us cool. The overall weather pattern across North America may be shifting a bit to allow more frequent cold fronts into Texas. This should perhaps allow us to shift out of this "Second Summer" business and into true autumn. As Eric noted yesterday, the timing of this first front probably means a mild Halloween this year, but there is still ample uncertainty. Again, look for more on this on Monday. Have a great weekend!