When it comes to measuring the intensity of hurricanes, the most widely understood metric is sustained wind speed, and this morning Irma has regained some strength, to 130 mph. However for scientists, the more accurate determinant of intensity is central pressure—the extent to which a storm's center is lower than the Earth's normal sea-level pressure of 1013.25 millibars. This morning, Irma's central pressure has been hovering just below 930 millibars. Although far from a record, only six US hurricanes have made landfall with pressures below this—The Indianola storm, the 1919 Florida Keys hurricane, the 1935 Labor Day storm, Camille, Andrew, and Katrina. All are legendary storms. This provides some sense of what is now crossing the Florida keys and moving toward the Florida peninsula.
Intensity and Track
Irma finally turned to the north-northwest on Saturday night. While the delayed turn was a surprise to some, we have been discussing the possibility of Cuba-then-southeastern Gulf of Mexico scenario since last Tuesday. The Cuba interaction weakened Irma substantially, from 160mph down to 120mph, but since moving back into the Florida Straits on Saturday afternoon, the storm has begun to regain some strength, to 130mph as of 7am CT Sunday.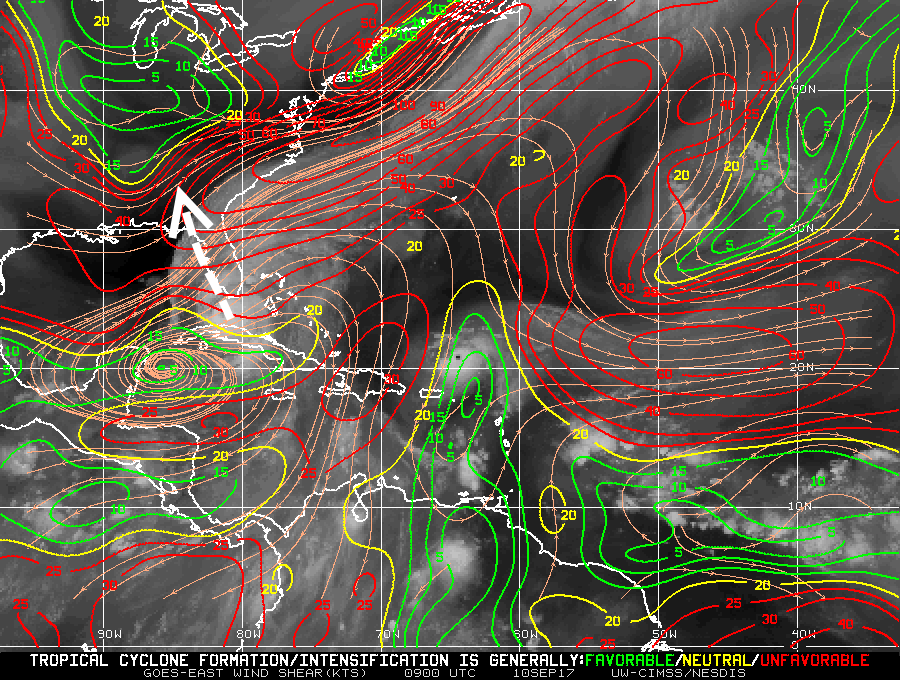 Fortunately, the window for restrengthening is short. Later today Irma's center will begin to interact with the southwestern part of Florida, and this will disrupt the storm's organization. Another critical factor is wind shear, the varying direction of wind speeds at different levels of the atmosphere. Irma has had a very smooth go of it for days (less than 20 knots). But it has now reached an area of higher shear (shown above), and this should help to weaken the storm considerably over the next day. Here's the official forecast for winds over the next three days as Irma moves inland.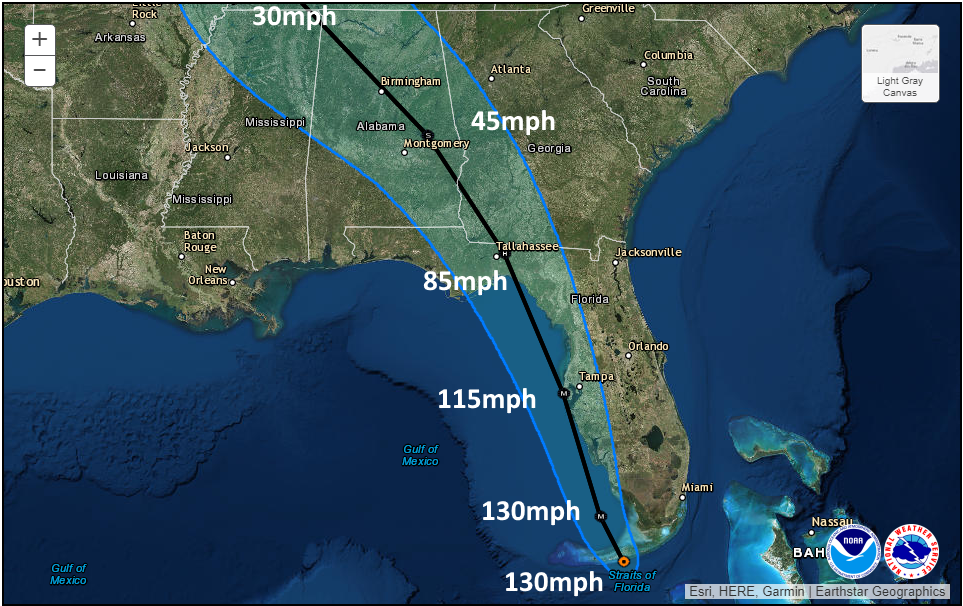 Storm surge and inland rainfall
Aside from winds, Irma will also bring the threat of storm surge and inland flooding. The National Hurricane Center has an interactive tool to determine storm surge at your location, and this map offers a realistic worst-case scenario. (In this case, it represents an event with a 10 percent chance of occurring, or rather that there is a 90 percent chance conditions won't be quite this bad). The zoomable map shows "inundation" levels at a location, so basically, how much water will rise above the ground. This static map shows where the worse inundation levels will occur: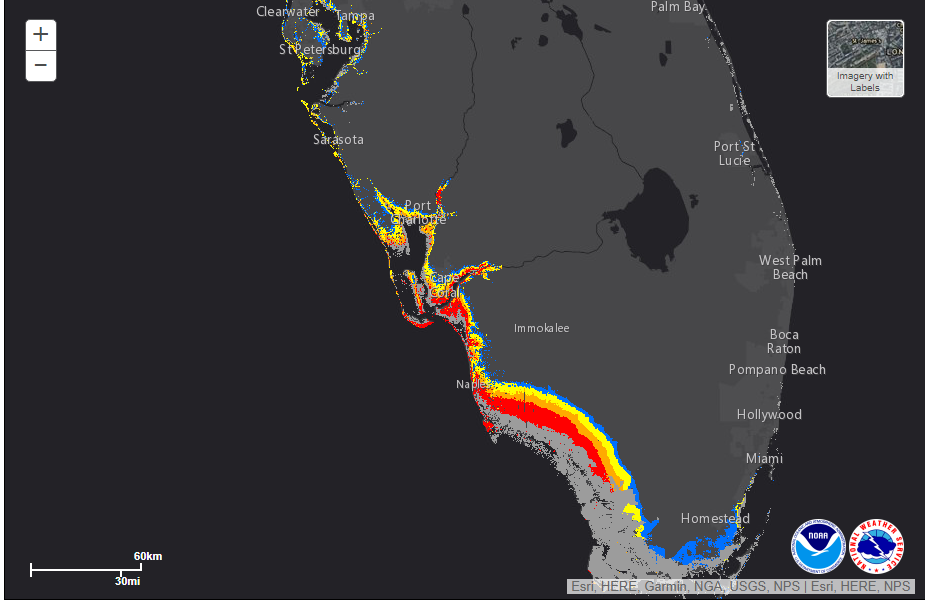 From looking at this map, the largest concern is substantial storm surge in the Fort Myers area, and salt water intrusion into the Florida Everglades.
The final, significant concern is inland rainfall, with much of Florida forecast to receive 10 inches of rain (and considerably more in isolated areas) during the next few days as Irma move up the west coast of the state.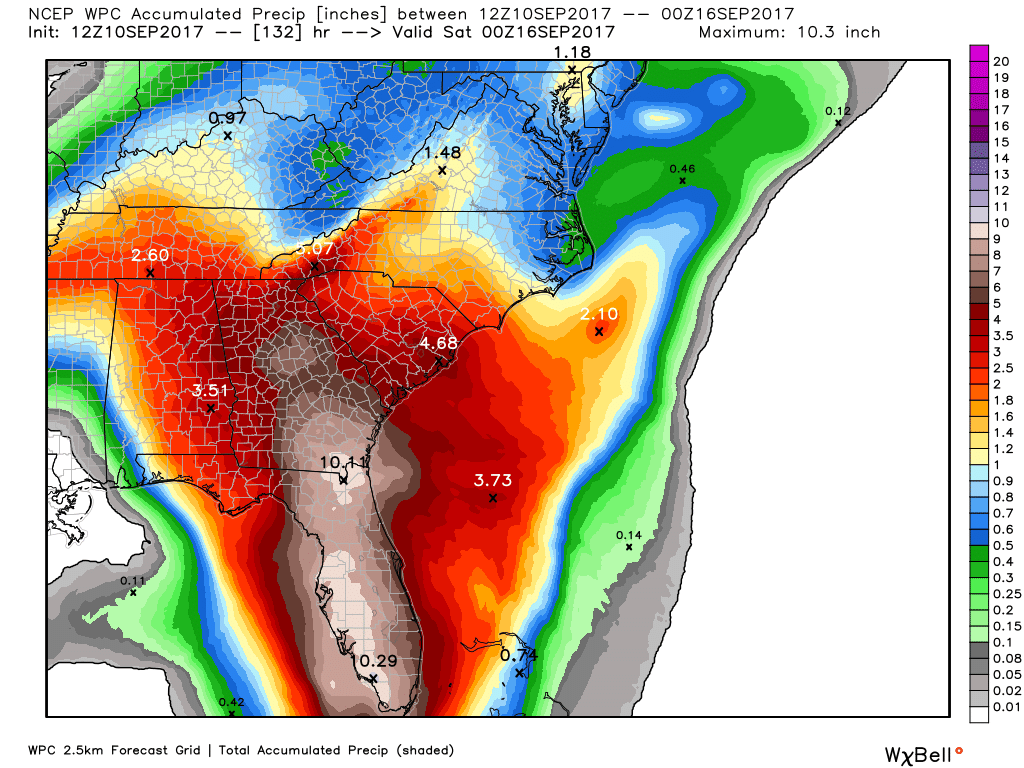 In short, this will be a disastrous storm for Florida. While it is certainly "better" that a 130mph hurricane is coming to the state than a system with 175mph winds, it is still going to produce catastrophic, widespread damages.