As of 7:30am CT on Saturday, Hurricane Irma continues to move westward, with its center just inland over the northern coast of Cuba. This more westward track, taking the storm over Cuba, is a scenario I discussed a couple of days ago—the Cuban—which would spare the Miami area the worst effects of Irma.
The track over Cuba has weakened the storm's maximum winds to 130mph, and additional weakening is possible before Irma moves back into the Straits of Florida later today or tonight. Here's a quick look at the official forecast track: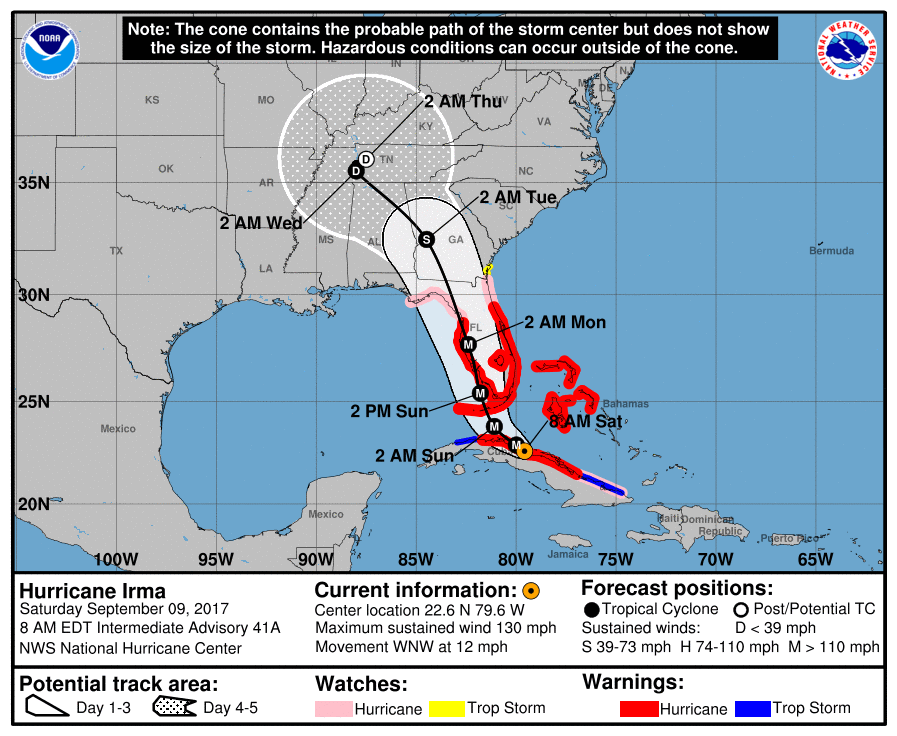 Here are the implications of this changing track:
Cuba: The island nation is being battered by the storm
Florida Keys: Still in line for a major hurricane today and Sunday. Expect devastating winds, rainfall and storm surge.
Miami area: As Irma continues to move westward, its center will bypass the Miami metro area, sparing the heavily populated southeastern coast of Florida from the worst effects of winds and storm surge. Hurricane force wind gusts are still likely, but they will probably not cause widespread damage. Inland rainfall amounts of 15 to 20 inches are possible, and flooding is a significant concern.

West Florida from Panama City to Naples: These areas are now in line for direct effects from Hurricane Irma. Here's a look at the early Saturday morning operational run of the European model showing the most likely track for the storm. This image shows the model's forecast position of Irma on Sunday night, at 7pm CT.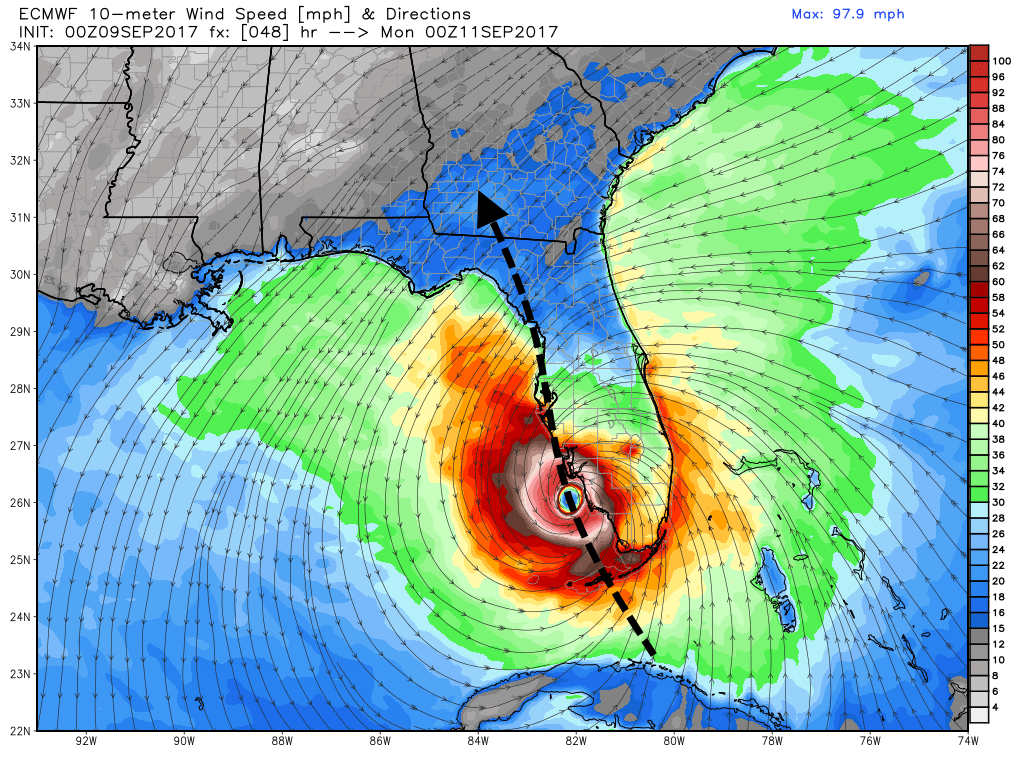 Along this track—which at this time is most likely, but not locked into stone—areas from Tampa to Naples would be battered by hurricane force winds and significant storm surge.
I have a lot of questions about Irma from this point forward which will adjust expectations from this storm accordingly. How much more will it weaken over Cuba today? (It has already decreased from 160mph to 130mph). How soon will it restrengthen once it moves off Cuba into the waters between the island and southern Florida? How far west will its track go, i.e. how long will it remain over water before finally coming ashore in Florida? The longer its center remains over water, the more time it will have to restrengthen.
The entire state of Florida should be bracing for high winds and heavy rainfall this weekend, but as the track of Irma continues to change, the bullseye for potentially catastrophic winds, surge, and rainfall will as well.