Now that "Fall Day" has ushered in autumn, and we hopefully won't see 90 degrees again until 2018, the time has come to look ahead to winter. Specifically, we want to look at the impact a potential La Niña could have on Texas. The Climate Prediction Center recently issued a La Niña watch, giving the Northern Hemisphere a 55 to 65 percent chance of experiencing cooler than average waters in the eastern Pacific Ocean. Let's take a step back however, and discuss what La Niña is, and how it could influence our weather in the coming months.
La Niña (and El Niño)
El Niño and La Niña are the warming and cooling phases of water in the eastern Pacific Ocean, off the coast of equatorial South America. El Niño occurs when the water is warmer than usual, La Niña when the water is cooler than usual. The changes aren't radical—just 0.5-4°C either way. However, that type of change, over such a wide swath of ocean, has a massive impact on the global climate. It's a classic example of the butterfly effect. A seemingly small change in another part of the world results in big impacts everywhere else.
As of the last update, surface ocean temperatures off the coast of Peru are between 0.5°C and 3°C below normal. The longer this pattern persists, the more likely La Niña will impact the globe.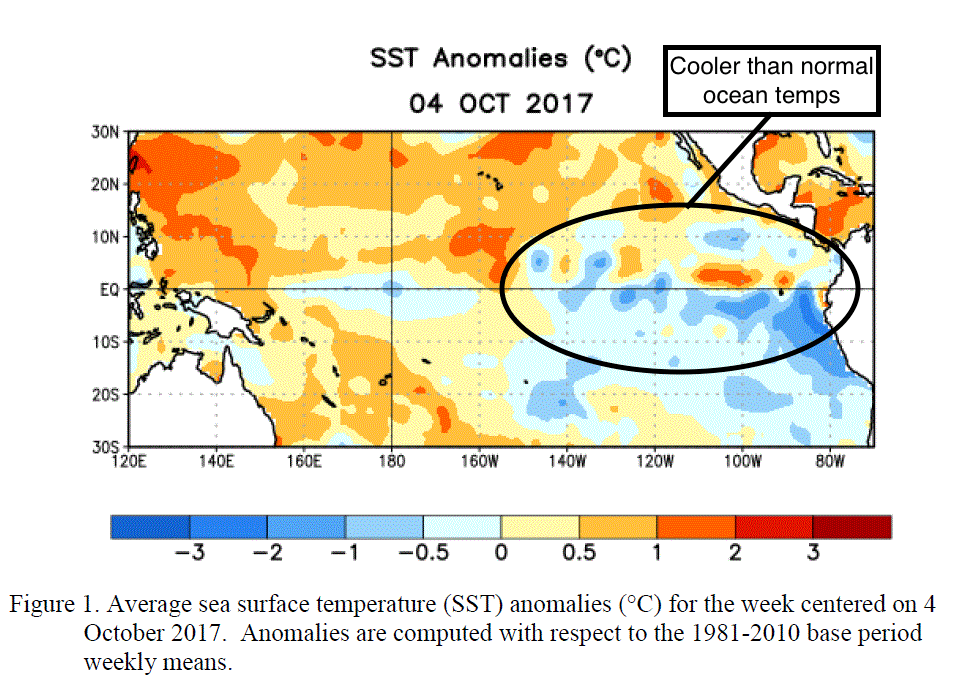 La Niña's effect on Texas
While the sea temperatures often oscillate unpredictably every few years, we can (somewhat) accurately predict what will happen during an El Niño or La Niña year. Since La Niña lies in our forecast, we'll focus on it.
La Niña's largest impact lies in how it affects the jet stream. I've discussed in the past the mechanics of the jet stream, and how important it is to Texas weather. In a normal winter, the jet stream drives low pressure systems and cold fronts down from Canada and into the southern United States. La Niña limits the southern extent of the jet stream, minimizing the number and intensity of those cold, rain-laden fronts we typically see. This means Texas could see a drier, warmer winter than average, if typical La Niña patterns play out.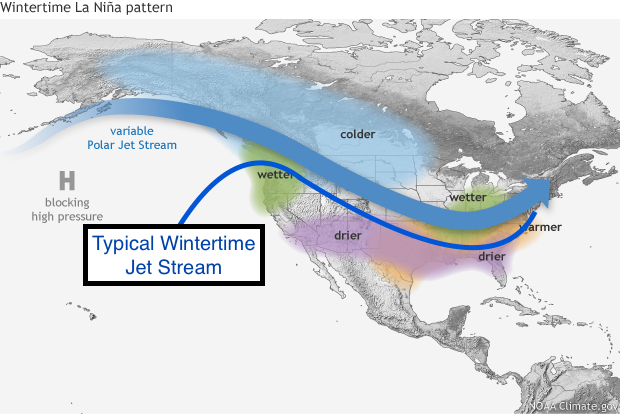 The Climate Prediction Center's seasonal outlook reflects potential La Niña impacts.  The maps below show temperature and precipitation probability for the remainder of 2017. This product shows above average temperatures forecast for most of the lower 48, and below normal precipitation probability for Texas and the southeast. It also shows an above normal precipitation probability for the Pacific Northwest. If you compare the maps below to the diagram above, you can see a near-perfect correlation between what typically happens in a La Niña, and what is forecast.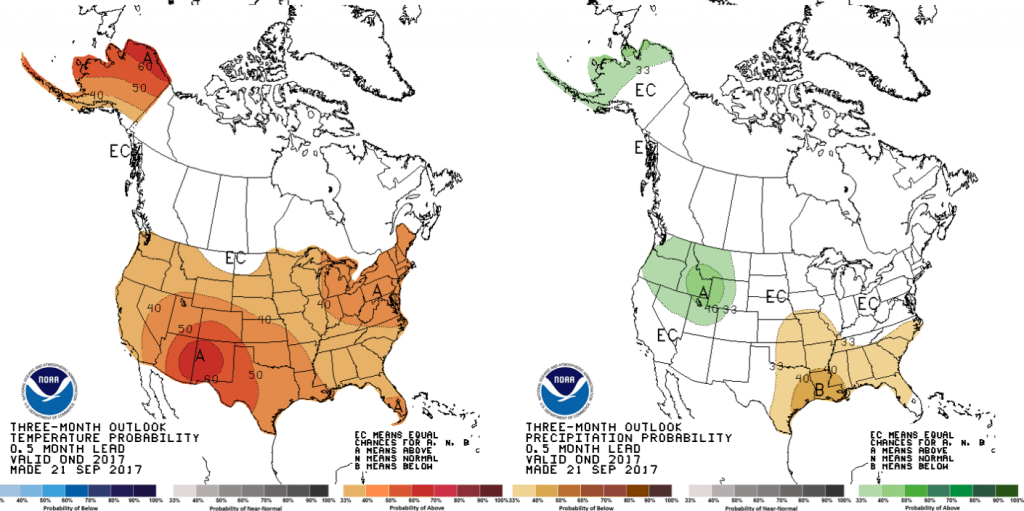 Finally, a caveat. La Niña forecasts, like many things in meteorology, are a prediction. Our winter could range from very dry and very mild, to something that looks totally normal. For example, Californians were very excited to see a strong El Niño form in the Pacific in 2014-2015–it potentially meant drought-busting wintertime rains. However, that result did not pan out, and the drought persisted. Come the springtime, we'll take a second look at the La Niña's impact on Texas, and compare it to the forecasts. Stay tuned!