Before jumping into the forecast for the week ahead, I want to look back at the heavy rains the region received—or in some cases did not receive—to illustrate the perils of Gulf coast precipitation prediction. As you may recall, we predicted widespread variations in rain totals, but said some areas faced a Stage 2 flood alert on our scale. This essentially means we thought parts of Houston would see flash flooding, with mostly localized effects. With that in mind, here are the three-day rainfall totals from the storms: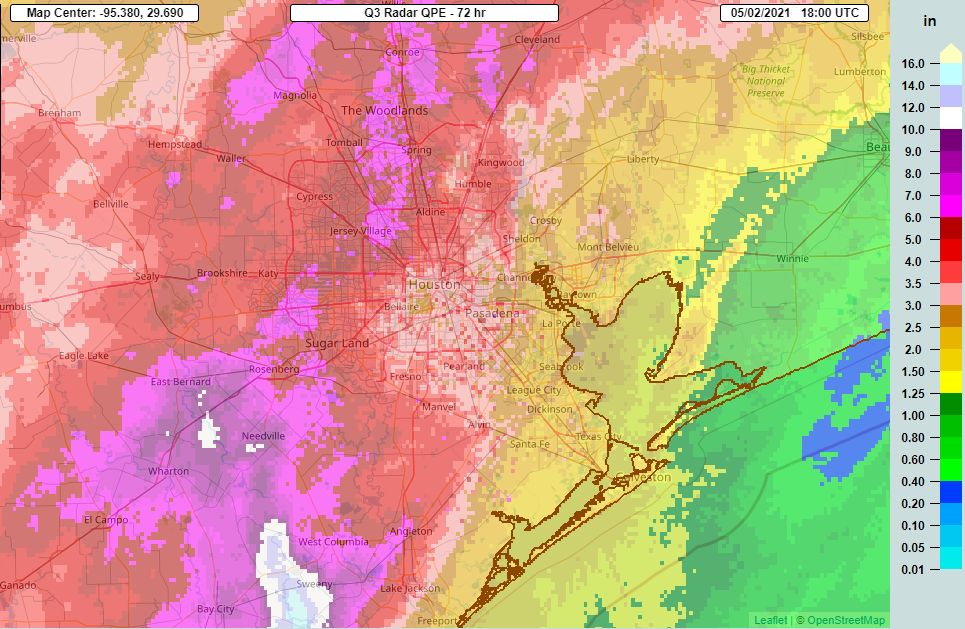 The first thing I notice on the rainfall map is an extremely tight rainfall gradient. Essentially, if you lived southeast or east of Houston outside the Sam Houston Tollway you saw 2 inches of rain, or less. You might have wondered what the fuss was about with our flood scale. By contrast, a mere 50 miles away, a large swath from Lake Jackson to Sugar Land saw 6 to 12 inches of rainfall. This would have caused significant flooding problems had it set up just a little bit to the northeast, over the metro Houston area. Anyway, in the end, our forecast was pretty good. But if you lived in Galveston, you probably thought we oversold the event. And if you live in Needville, perhaps we undersold it. This is why flood forecasting is extremely difficult across such a large area.
Overall, despite the dreary Saturday that cost many of you weekend plans, this was a beneficial event. We had a dry spring across the region and are about the enter a period of time when 90-degree days are common, and soils dry out more quickly. Before this weekend's rain, some southern parts of our region were already in an extreme drought (see map below), with large swaths north and south of Harris County in a severe drought. These rains will take a bite out of that drought.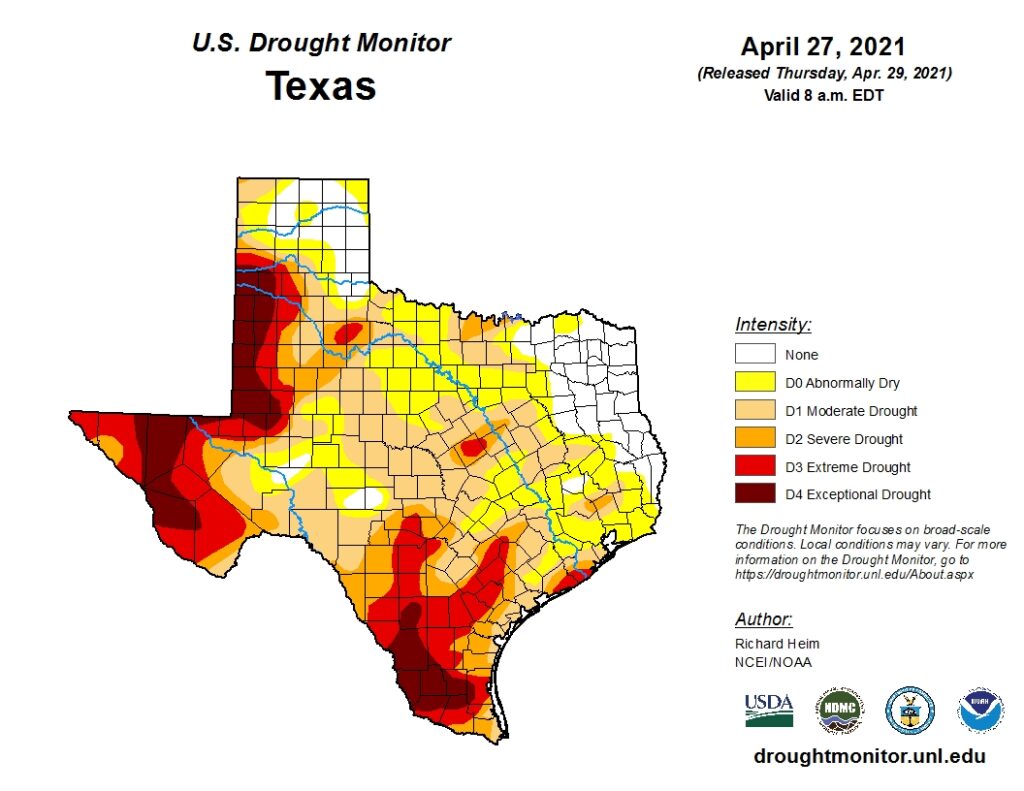 Ok, now that the rains have passed, and we've talked a bit about them, let's jump into the forecast for the week ahead. All in all, it's pretty nice for the first week of May.
Monday
Today will be a warm one, especially if this morning's widespread clouds break and skies clear a bit this afternoon. High temperatures have yet to officially reach 90 degrees this year, but could do so this afternoon at Bush Intercontinental Airport as warm air moves in from the Gulf of Mexico. Southerly winds will gust up to 20 mph. Monday night will be warm again, with lows in the 70s and high dewpoints.
Tuesday
A modest front will arrive on Tuesday to bring some relief. It looks like a broken line of showers and thunderstorms will accompany the front's passage, but rain accumulations overall look fairly slight. The front should reach the central part of the region by around noon, and push off the coast during the afternoon. Winds will turn northerly in the wake of the front, with lows dropping into the 60s Tuesday night.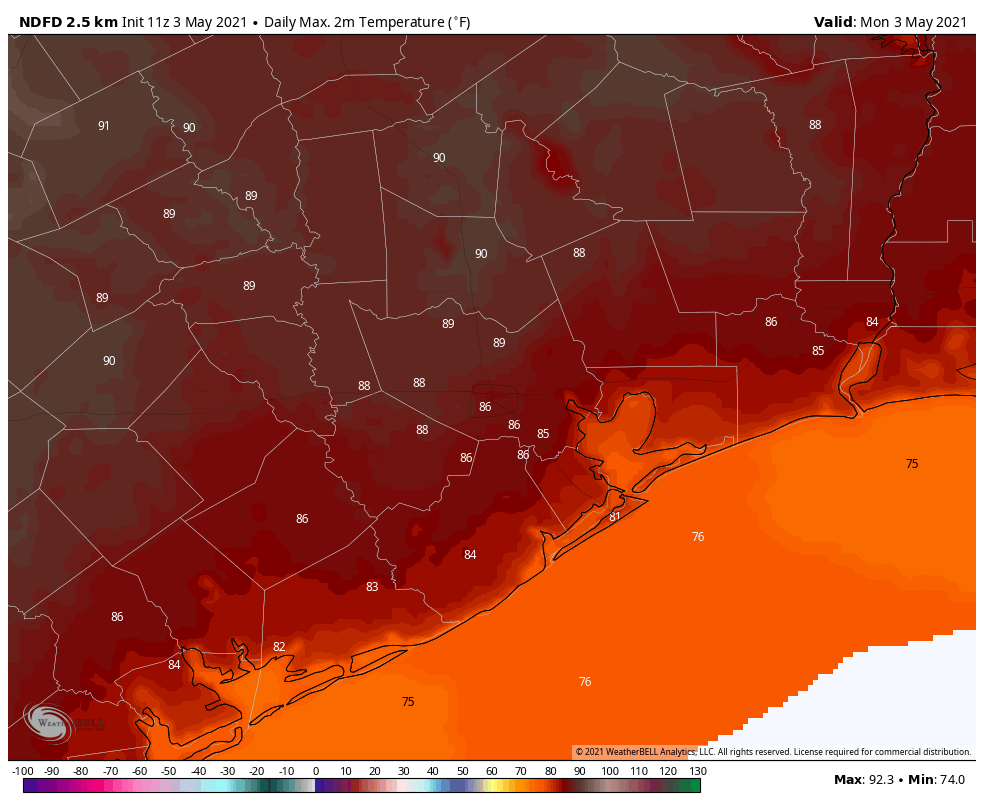 Wednesday, Thursday, and Friday
It's May, so our weather is not going to become cold after this front passes. But we should see a nice influx of dry air to make for a pleasant end of the week. These three days will likely be mostly sunny, with highs in the low 80s, and lows in the low- to mid-60s, generally. Enjoy the dry air, as there won't be all that much of it left before summer arrives.
Saturday and Sunday
A returning southerly flow should make for a warmer weekend, with skies turning partly to perhaps mostly cloudy. Highs will likely return to the mid- to upper-80s with some slight rain chances. This should set the stage for even warmer conditions next week.