Good afternoon everyone. I've been watching the models and observations all day, and we look to continue walking a fine line between ice, an even mix of ice, sleet, and snow, and a bigger snowstorm in the Houston area. Not a whole lot has changed from Eric's detailed morning post, but let's freshen up the forecast a bit based on what we're seeing right now.
Now
As of 4PM, here is a map of where temperatures are currently below freezing (locations above freezing not shown).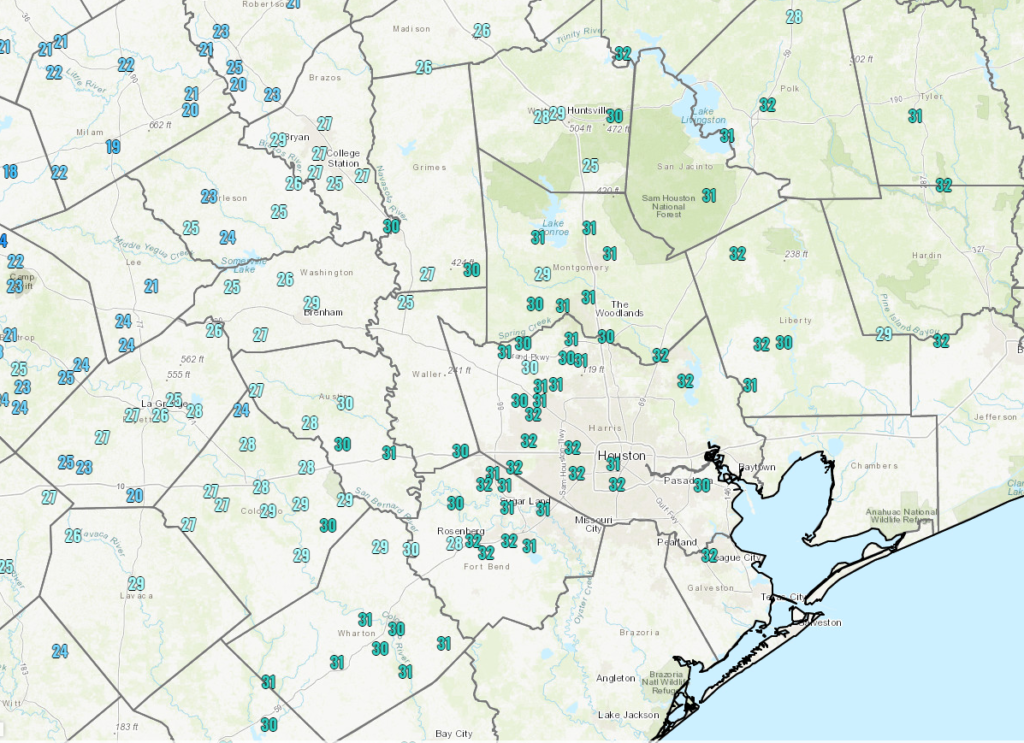 So, if we roughly overlay that freezing line on radar, you can see where the risk of ice is at the moment I am writing this.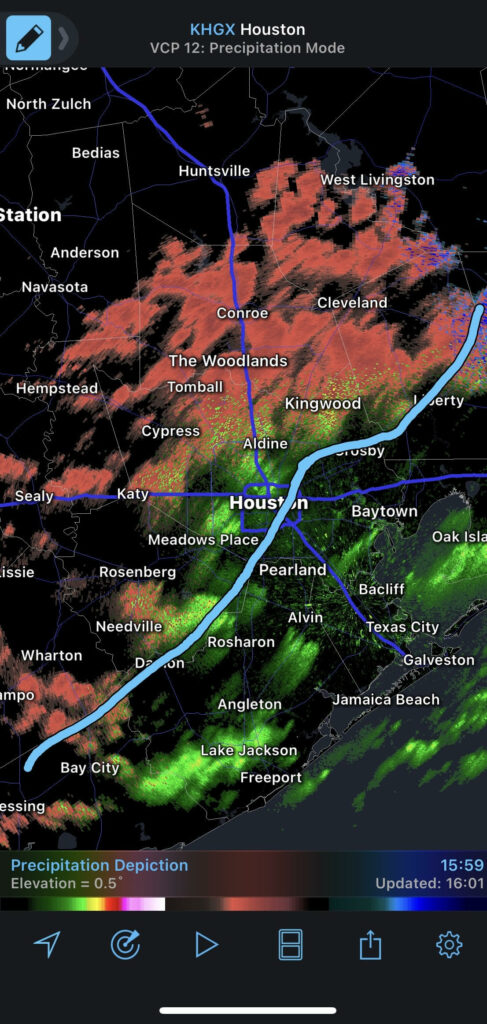 Basically anywhere along and west of US-59 and north of I-10 is at risk for icing on roadways as of now and worsening over the next 2-3 hours.
Through Midnight
Over the next few hours, watch for rain, freezing rain, and freezing drizzle to overspread most of the region. Temps will continue to glacially drop off slowly, eventually putting everywhere but probably the immediate coast below 32° by midnight. Ice accumulation should not be significant in terms of weighing down trees and power lines this evening, but you'll begin to notice a glaze on most outdoor surfaces, and travel will become hazardous to impossible across the entire region.
Midnight to 7 AM Monday
Two things will happen after midnight: Colder air will speed up its arrival in the area and the precipitation should become more organized and heavier. Our forecast confidence begins to drop off here, but theoretically, this should mean that freezing rain will transition more to sleet and eventually snow. That transition will take place from northwest to southeast and where the precipitation falls heaviest.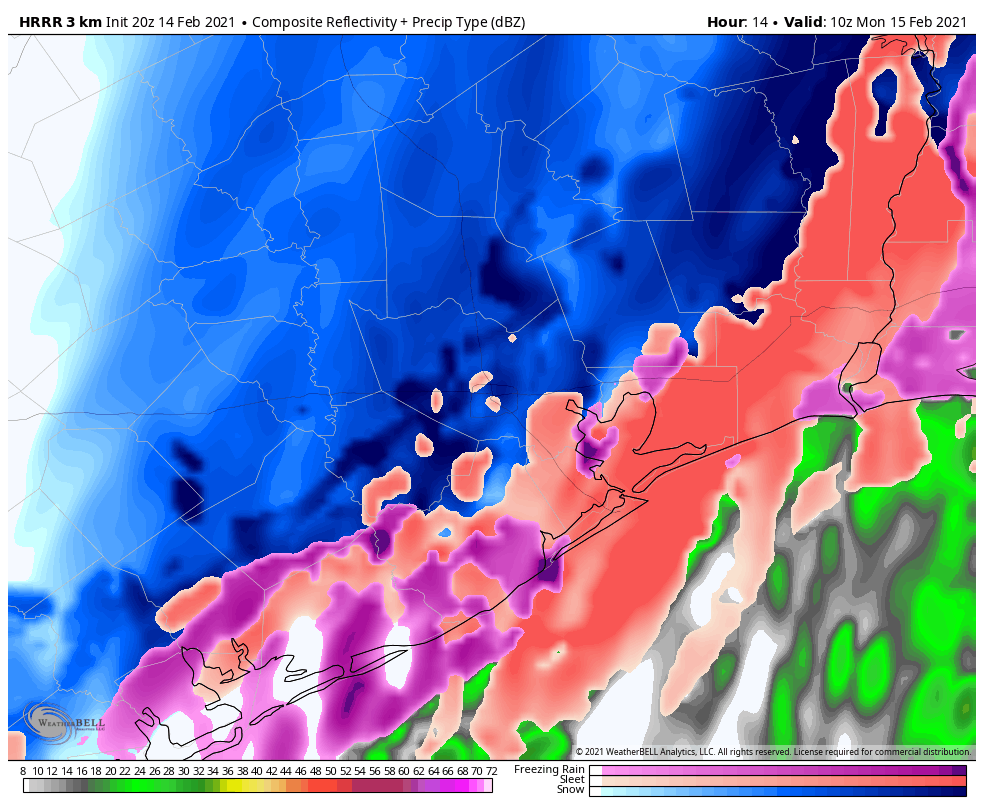 This is when we will probably start seeing and hearing reports of heavy sleet and even heavy snow in parts of the area. I'll be honest, as a Northeast native, what is being depicted on some of the models is the potential for bonafide, real deal heavy snow and/or sleet, particularly north and west of Houston (think far NW Harris County, Montgomery County, College Station, Huntsville), but perhaps in the city or even some places east of the city too. We're talking potential of 1-2″ per hour snow rates if we flip over. If the warm layer a couple thousand feet up holds, then heavy sleet will the story, and we'll see 1 to 2 inches total of "cement" on roads and surfaces.
Quick note and reminder: If we end up with sleet or sleet/snow accumulation and you have to shovel or clear surfaces, please take it slow and take it easy. There is a known link between shoveling snow/sleet and heart attack risks, to the point where hospitals up north often staff up for that very reason ahead of storms.
7 AM to Noon Monday
Precipitation should begin to wind down from west to east before Noon on Monday. Most places will end as a period of snow or flurries.
When all is said and done, expect 1-3″ of snow, more northwest, less southeast. Expect a tenth to a quarter inch of ice, more southeast, less northwest. Higher amounts are possible in either case.
Monday afternoon
Despite the precip ending, conditions won't improve much. It'll remain quite cold and any chance of sunshine will probably hold off til late day or Tuesday. Eric will update you on that chance in the morning. Either way, we won't be getting above freezing on Monday, so whatever falls is going to stay in place through the day and into Monday night.
Monday night/Tuesday morning.
No big changes to the forecast for Monday night and Tuesday morning. It will be cold, likely damaging cold. Please make sure you've finalized all preps for pipes and plants by now, and look out for pets and neighbors.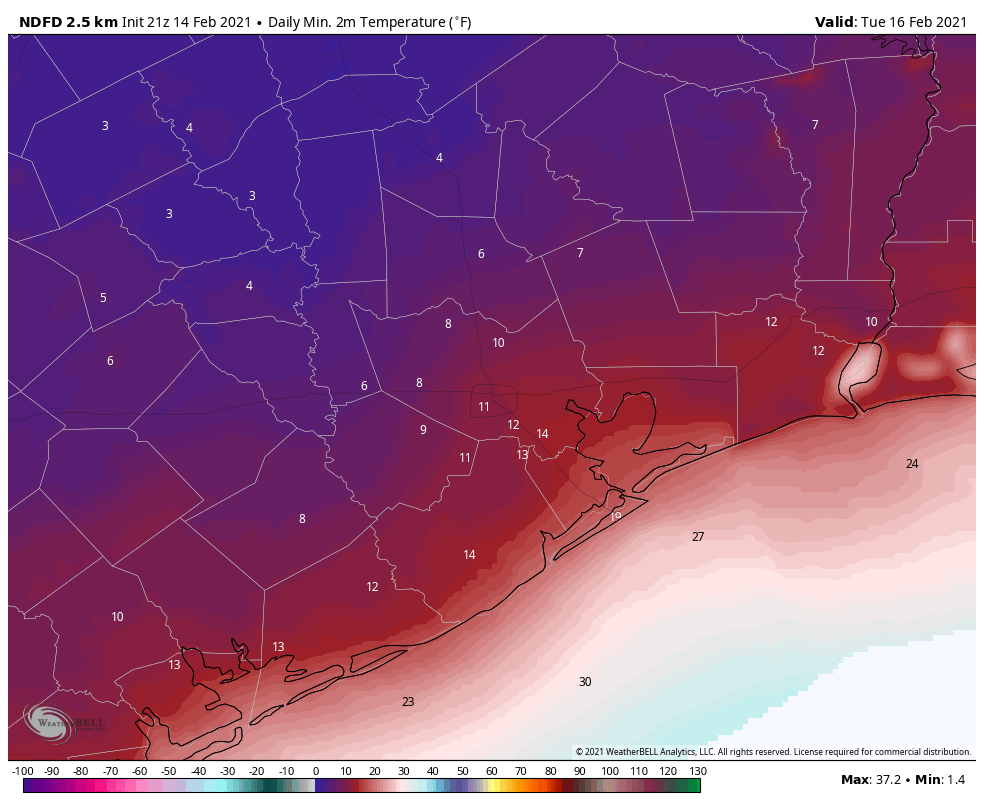 There's still a tad bit of uncertainty on exactly how cold we get, contingent on how many clouds remain, how much snow falls vs. sleet/ice, and how windy it is. But either way, a damaging, destructive, probably historic freeze is on the way Tuesday morning.
Tuesday afternoon and beyond
Look for slowly rising temperatures Tuesday, probably close to freezing from I-10 south and just shy of it north of there. We should have sunshine, and that will allow for some melting to occur, but there's a chance most roads remain sloppy to impassable most of Tuesday too.
And then beyond Tuesday, I don't want to speculate too much still, but it does look like Wednesday's storm will be a mess for northern fringes of the area. The potential exists for a serious ice storm north of Houston (probably plain rain in most of the Houston metro itself). Coastal locations may even make a run at 50+ degrees on Wednesday. Between storm track issues and potential snowpack issues (keeping temperatures cold), there is a lot we don't know about Wednesday. Look for an update by about 5:30 in the morning from Eric.