Good evening. Eric's update from this afternoon has most of the situation covered. I'm here to just refresh what's going on, and I also want to talk a little bit about Laura.
Marco
As of this evening, Marco has moved past the Yucatan channel and into the southern Gulf of Mexico.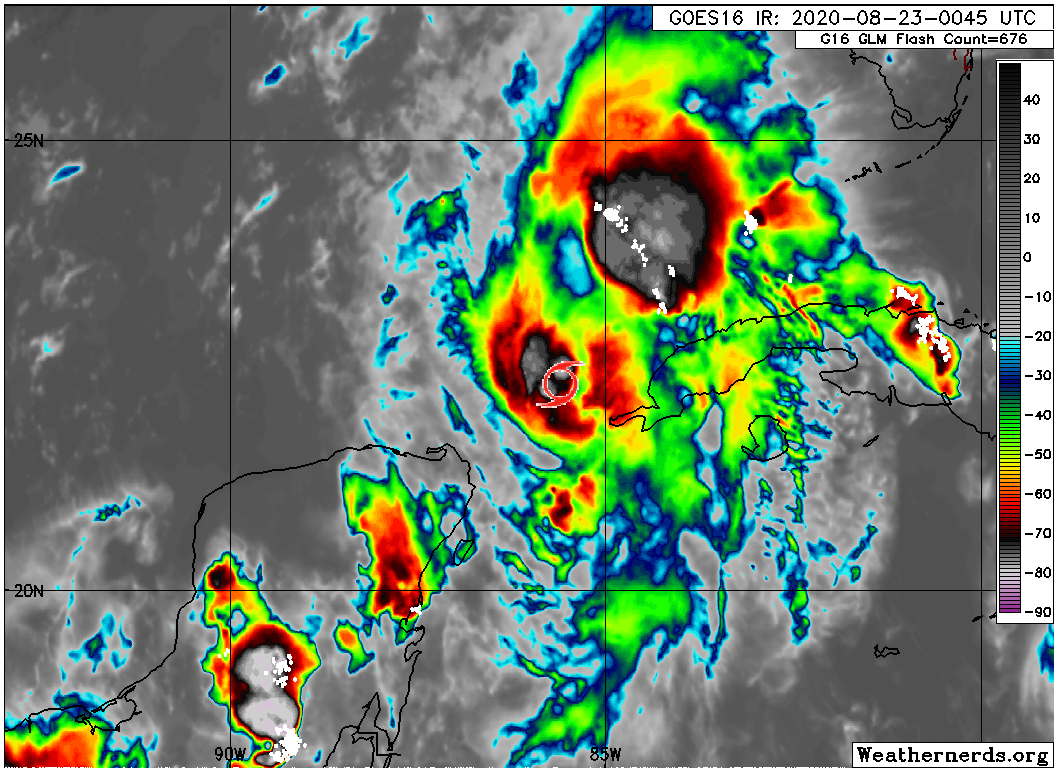 Marco still has maximum sustained winds of 65 mph and is still moving just slightly west of due north around 10 to 15 mph. I put a tropical storm icon on the satellite image above to indicate where Marco was located. It's worth noting how lopsided Marco's thunderstorms are, with basically everything north and east of the center. This has implications on the rainfall forecast for Marco after landfall.
There has been little to no change in terms of expected track with Marco relative to what we thought most of the day.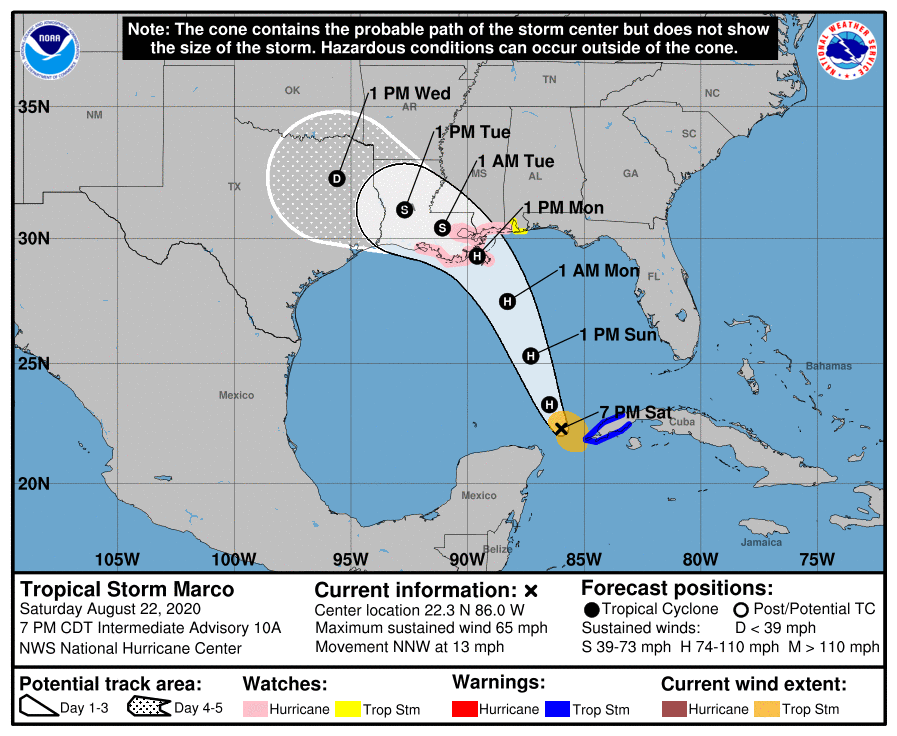 The National Hurricane Center's forecast track takes Marco broadly toward eastern Louisiana. The storm is expected to become a hurricane, and it could maintain hurricane intensity up to landfall. Marco is compact, so any hurricane-force winds will only extend out a few miles from the center, mainly to the east of where it tracks.
As far as rainfall goes, we feel the bulk of it will end up well into Louisiana, Mississippi, and Alabama. The map of rainfall below (through Tuesday evening) will look a little odd because it's a composite of various National Weather Service offices putting together their own forecasts, so some may be older or newer and not smoothed out. But it shows that the heaviest rain is expected to be closer to New Orleans than Houston.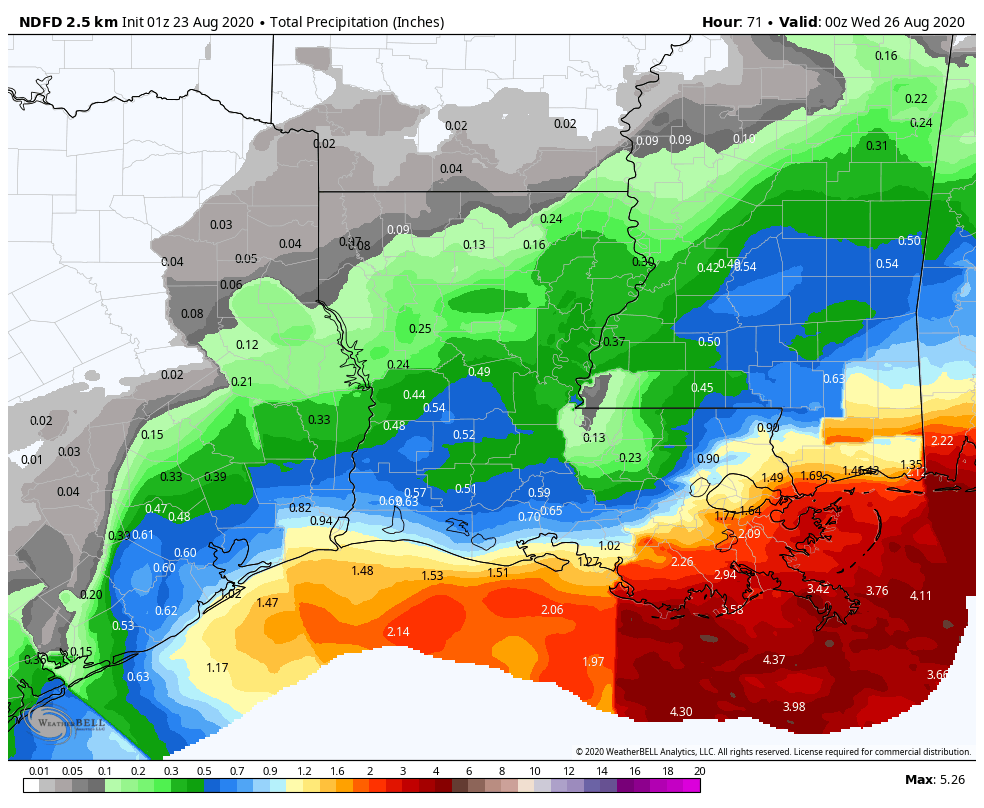 If for some reason Marco starts to weaken tonight and ends up falling into disarray tomorrow, there is some chance it could drift back west of the forecast cone. We feel that possibility is highly unlikely however, and we are not going to worry about significant rainfall from Marco in our area. Marco should fall apart after coming onshore, drifting into northwest Louisiana, Arkansas, or northeast Texas as a remnant low with isolated pockets of heavy rainfall. We should be able to close the books on Marco by Tuesday night or Wednesday morning.
Laura
Let's talk about Tropical Storm Laura. I'm going to be really honest about this one: We do not know who is most likely to see landfall from Laura when it gets to the Gulf. There is a plausible risk that it could go toward the Florida Panhandle, the central Gulf, Louisiana, southeast Texas, or even Matagorda, Corpus Christi, or Brownsville. So quite literally no one (save maybe the Florida Peninsula) can let their guard down with respect to Laura. We really want folks in Southeast Texas to be prepared in case this does come this way. There will likely be some element of "Well, y'all were fired up about Marco and look what it's gonna do" from some people out there. With Marco, we laid out scenarios because we knew there was no answer key (til today). With Laura, we're in that same scenario phase right now, and there is no clear model or forecast that is able to see Laura's future clearly at this point.
We have laid out some of the factors involved with Laura's interaction with Hispaniola through the day today. As of this evening, it appears Laura may be choosing to set itself up on the south side of Hispaniola.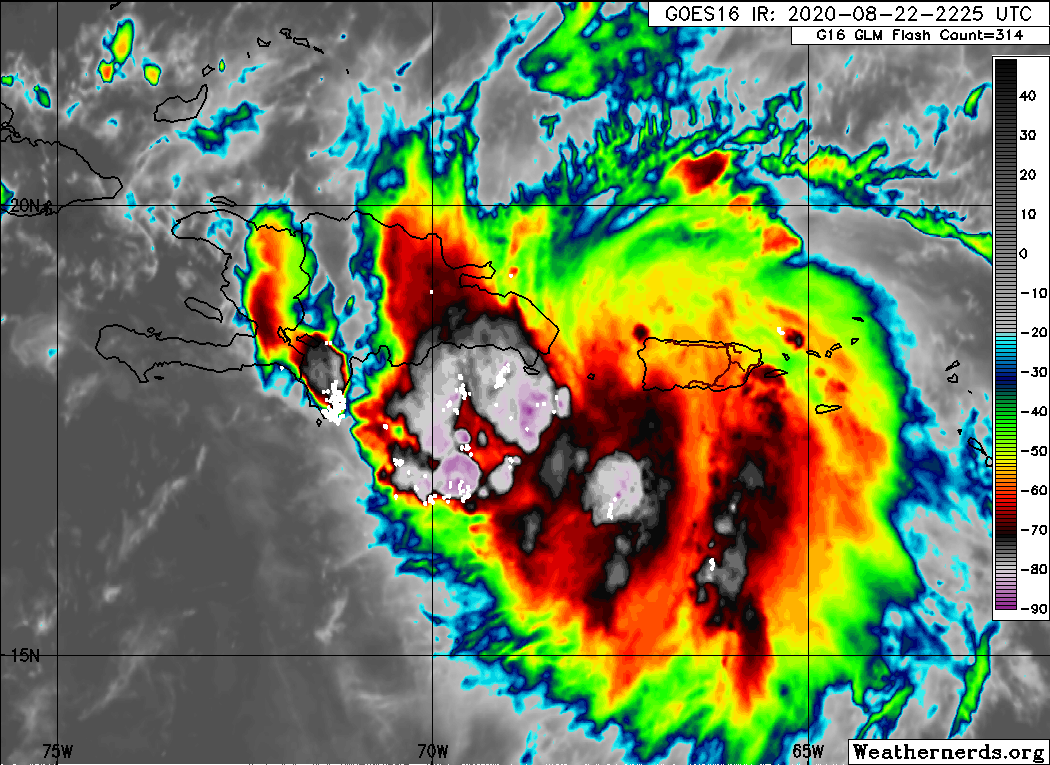 This and other such interactions with Hispaniola and Cuba are critical to Laura's future. They are also unpredictable. The current NHC forecast takes Laura generally off to the west or west-northwest.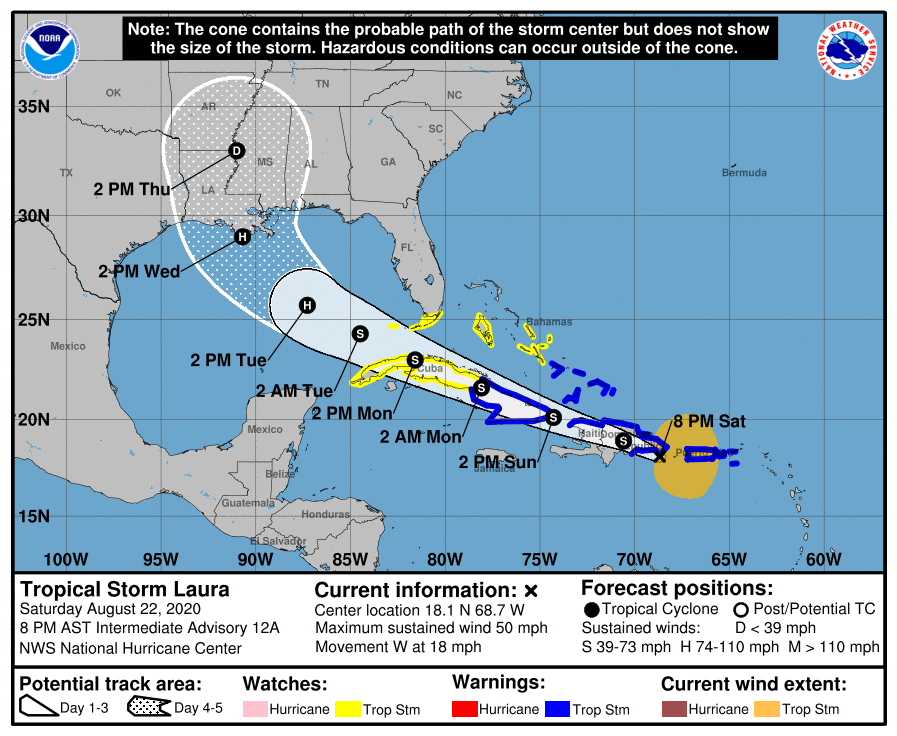 But each shift like this, with a center possibly forming farther south keeps the storm disorganized and following the bottom or left side of the cone.
The rule of thumb: As with Marco, the weaker the storm is, the more likely it will come farther west before turning northward. So if Laura continues to struggle in the islands and remains weak, there's a pretty good chance it will follow the bottom of the cone more than the top of it, which puts it farther south to start in the Gulf and gives it a much easier route to get as far west as Texas. A stronger storm will be more apt to lurch poleward and help limit the impact of high pressure over the Southeast, meaning it would likely turn well before it gets to Texas, either near Louisiana or east of there. As of Saturday evening the weaker option is winning out, which is why it's important to continue to stay tuned in tomorrow and Monday. We are going to still have questions tomorrow, but I predict that by Monday, we're going to have a good idea if this is an ominous threat to Texas or another miss to our east. Stay tuned.
Our next update will be posted no later than 9 AM on Sunday.