Good morning. After Sunday's stunning weather, what lies ahead for this week? Unfortunately, it's mostly blah weather if you were hoping for a cool and crisp Thanksgiving. But fear not, the beginning of December will bring more seasonal weather. Speaking of seasons, there's still time to support Space City Weather during our once-a-year fundraiser. Click here to donate or buy an umbrella or t-shirt. Thank you so much.
Monday
Today will be the last partly to mostly sunny day for Houston until the coming weekend. Onshore winds are already moving across the area, and they will become stronger later today. Southerly winds could gust as high as 20mph by this afternoon. High temperatures should reach into the mid- to upper-70s this afternoon. Building clouds and the warmer, moist air should prevent low temperatures from falling much below the upper 60s tonight.
Tuesday
This will be a cloudy, warm, and humid day with high temperatures near 80 degrees. Some light showers are possible during the daytime, but these should neither be heavy nor long-lived. For the most part we should just see clouds. It will be a warm night ahead of a cold front passage. This front likely will push through Houston sometime between 3am and 9am on Wednesday morning, and any rains should end quickly after it passes.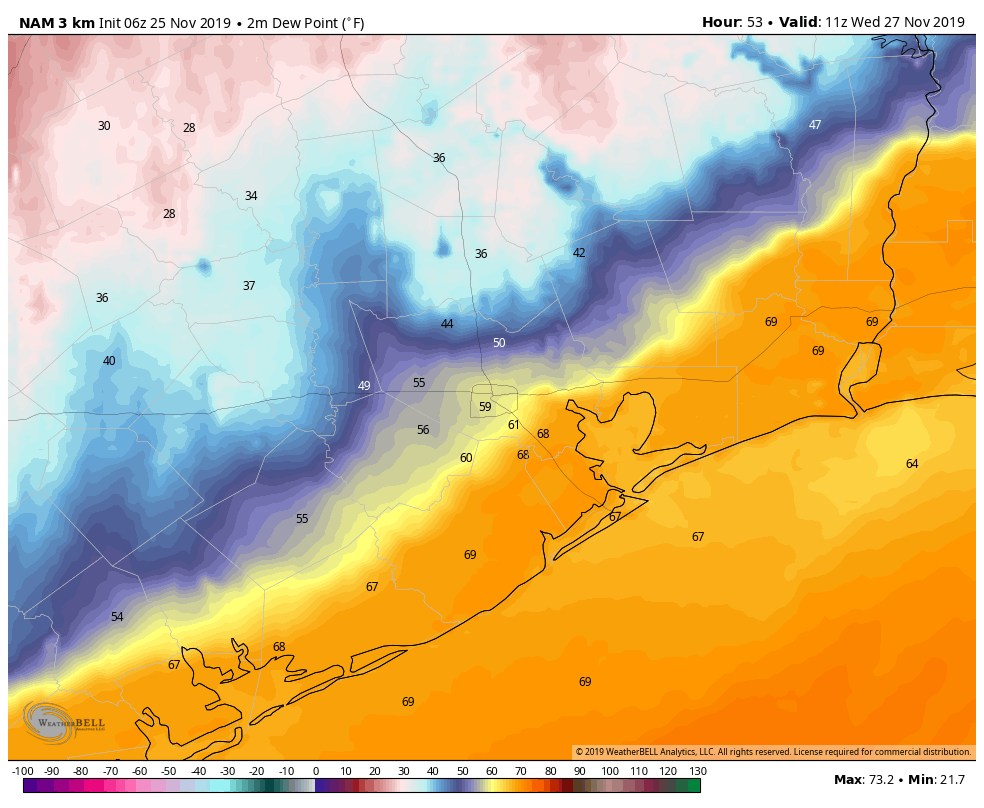 Wednesday
The front will shove some short-lived, fairly dry air into the region at the surface. However, moisture will stream back into the area above the surface, and this should help to keep things partly to mostly cloudy on Wednesday. Expect highs in the upper 60s. This front will stall just offshore, but should push far enough to allow for low temperatures in the 50s on Wednesday night.

Thanksgiving
By the Thanksgiving holiday we can expect the onshore flow to resume, bringing clouds back into the area and driving humidity up. Expect highs in the 70s. Winds don't look too bad, but they could gust up to around 20mph or so from the south. Skies should be blanketed by clouds, with some very light rainfall possible around the area. I'd rate chances at 20 percent for most, and perhaps a bit higher along the coast. Any accumulations will be slight. Lows Thanksgiving night should only drop to around 70, with a very slight chance of rain—so if you're a bargain-hunter who goes shopping at that time, expect mild conditions.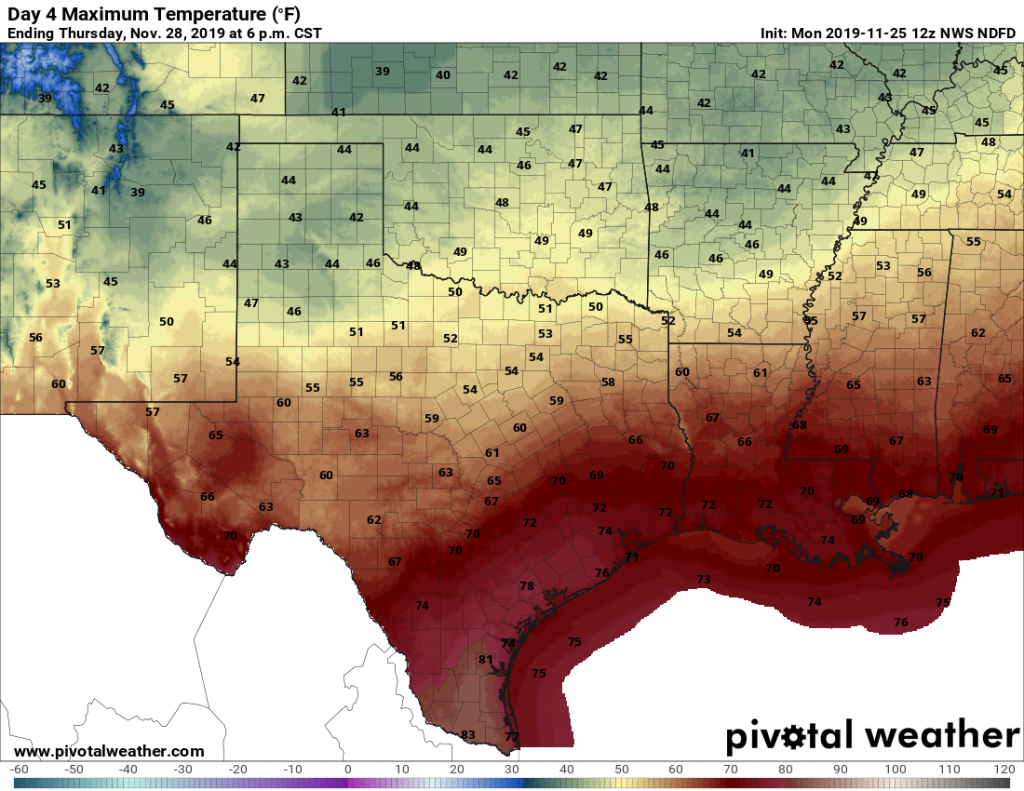 Friday
By Friday the atmosphere over Houston will be rather moist for this time of year, but right now, for the metro area we anticipate that a capping inversion—warmer air aloft that prevents surface moisture from rising—will keep the heavier rainfall at bay. As such, expect conditions on Friday much like those of Thanksgiving.
Saturday and Sunday
Saturday should bring more of the same blah, warmish, humid weather before a cold front blows through Houston on Saturday afternoon or evening. Some light showers are possible ahead of the front, but significantly drier air in its wake should bring them quickly to an end. Lows Saturday night should drop into the 50s, but more air will move into the region over subsequent days. Sunday looks pretty splendid from this vantage point, with sunny skies and highs in the mid-60s mostly likely. As always, details are subject to change.
Additional cold air should nudge nighttime lows on Monday and Tuesday into the 40s, if not even the 30s for inland parts of the region.