Heat, hot, warmth, sizzling, scorching, stifling, stupid hot. We've run out of words to describe it. Any (PG rated) suggestions?
STATS
The weather forecast is pretty simple, so let's start with a few stats. This July weather has been interesting. In people I've talked to, the daytimes don't seem to feel much hotter than usual. The evenings aren't especially awful either. It's the mornings that seem to be the problem. Through yesterday, we've had nine 80° mornings in Houston in July (today will not be an 80° morning). This places us 3rd on record for any July and 6th on record for any month at all. Our daytime high temperatures have averaged 96.9° this month. Our nighttime lows have averaged 79.7° for the period.
If the month ended yesterday, Houston's July would be tied for 4th hottest during the day and warmest ever at night (and not even close). Note: The chart below contains data through Wednesday; I've included Thursday in the totals above.

So, yes, it's been a hot July by any metric, even for Houston. But when you factor in the nights, July 2016 currently sits in a league of its own. Last week, Eric touched on some of the reasons why our nighttimes are getting warmer. I also think soil moisture (particularly below the topsoil), a legacy of our wet spring, as well as the warm Gulf are aiding our woes this month as well.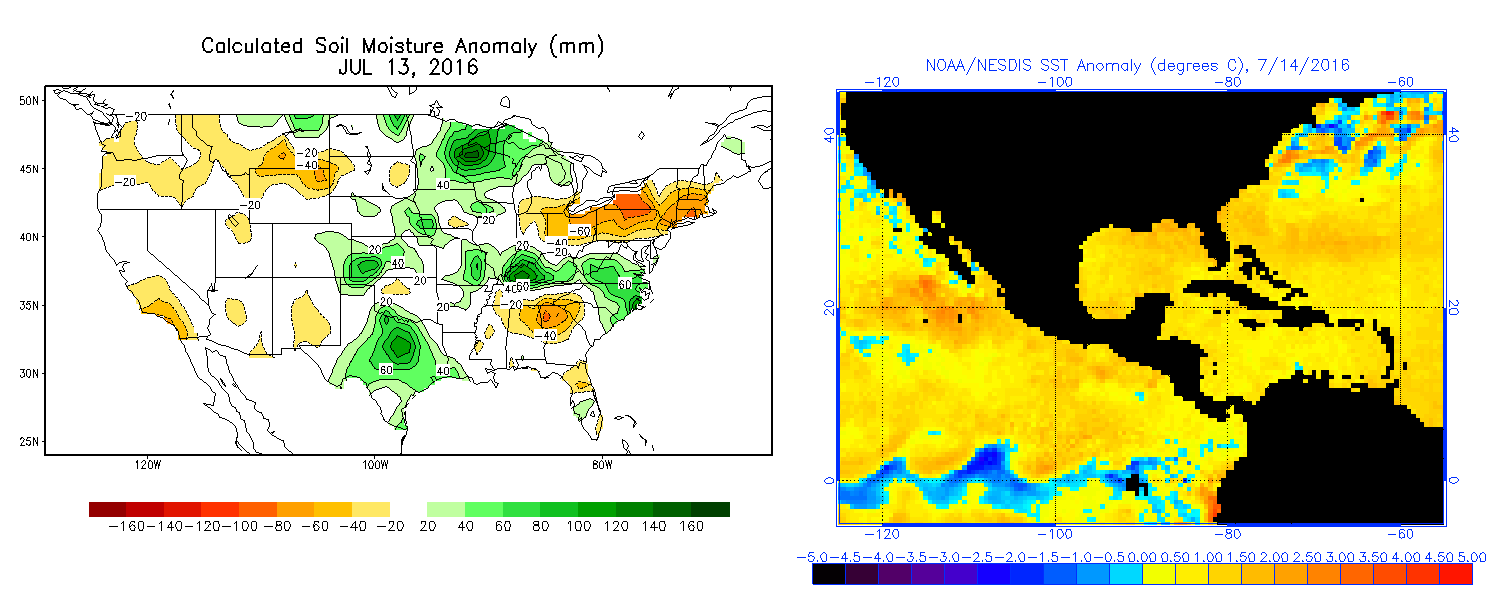 There also tends to be a global hangover after an El Nino of the magnitude we saw last winter, with lots of warmth lingering in the atmosphere, which may also explain a part the problem this year.
Anyway, with that, on to the forecast, with little to no good news unfortunately.
TODAY THROUGH SUNDAY
We might have a shot at some showers the next few days as a couple very weak disturbances pivot in from the east. But the smart money is probably to bet against rain. There aren't a whole lot of big picture changes through the weekend. Aside from that, it's going to be hot and humid and partly sunny. Highs this weekend will be around 95-97° in Houston, a little hotter inland, and obviously cooler near the Gulf (though not by a ton). Nighttimes will be tricky, as some slightly drier air (indicated by slightly lower dewpoints) has allowed us back to back mornings in the 70s. So we'll call it "around 80," but that likely means anywhere from 77 to 82 in and around Houston, though warmer near the Gulf.
Traveling this weekend? Here's your outlook: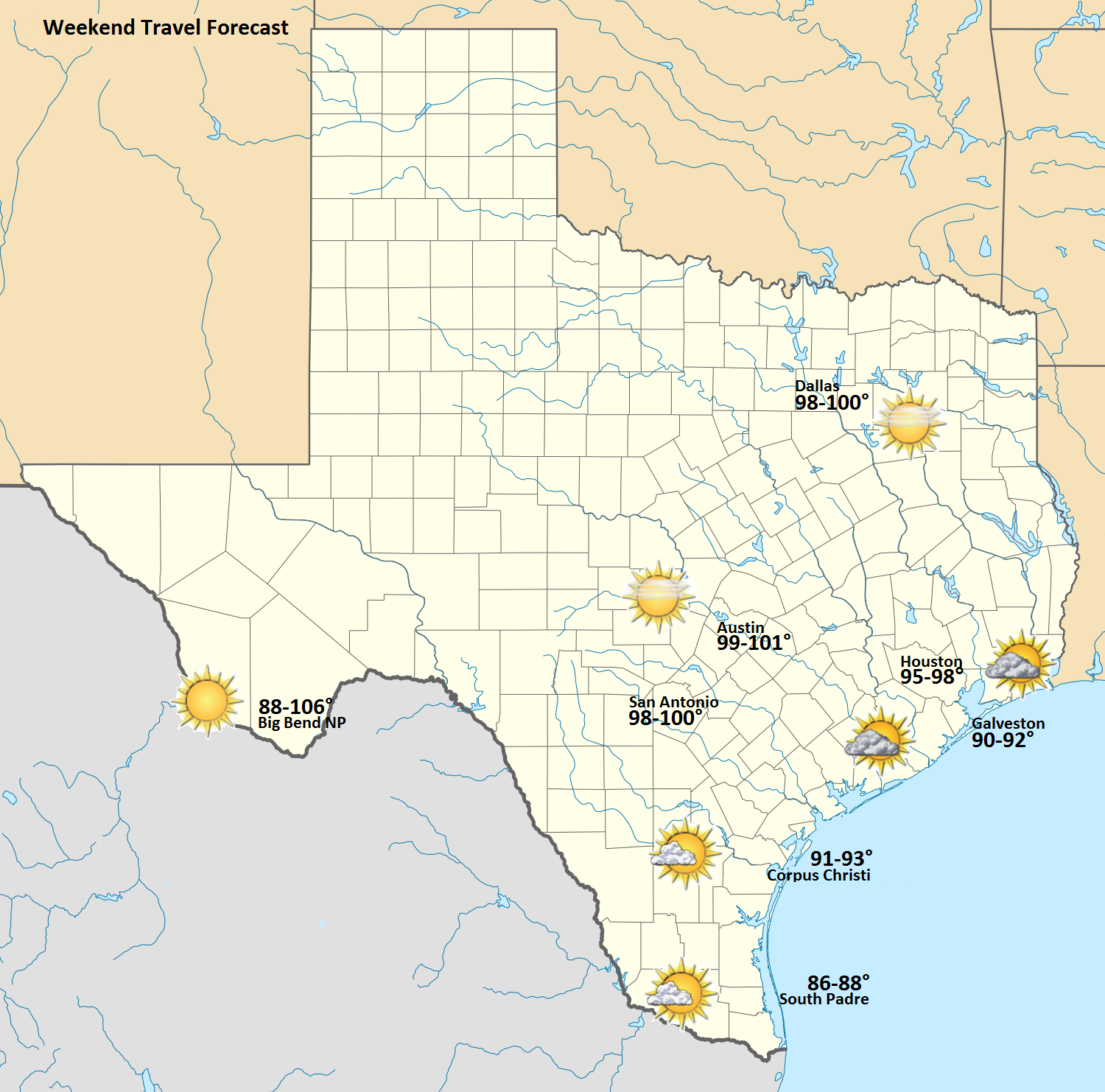 NEXT WEEK
No big changes to add to what Eric's been saying. The map below is the 500 mb (~20,000 feet up) map for next Thursday. This is a monster ridge set up over the Southern Plains.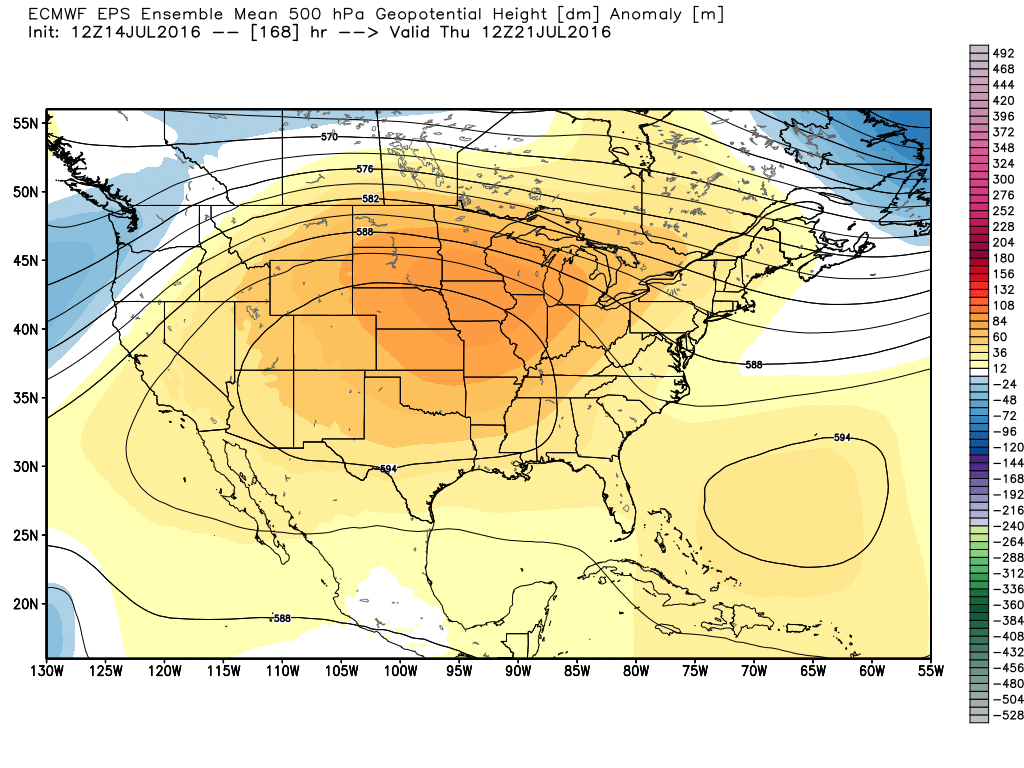 While the worst of the heat, relative to normal, will be in the Midwest and Plains (and believe me, the heat up there is going to be quite a story), it will still be slightly hotter than normal here in Texas. Expect mid to upper 90s to continue in Houston, and more importantly, continued dry weather. The list of Texas counties with burn bans is growing. I expect it will grow even further over the next 1-2 weeks. We'll continue to watch things.
Posted at 6:10 AM Friday by Matt