The mountainous terrain of Mexico has shredded the once incredibly powerful Hurricane Patricia, and the system is now a tropical storm as it races northeast toward its soggy destiny with Texas. Patricia will combine with a slow moving cool front and ample Gulf moisture to create a potentially dangerous situation tonight in the greater Houston area.
RAIN ACCUMULATION
Forecast models continue to predict an extreme rainfall event for the Lone Star State, and it appears increasingly likely the heaviest precipitation today and Sunday will come along the upper Texas coast. To start with, here's the latest precipitation forecast from NOAA's Weather Prediction Center, essentially the best estimates from their meteorologists assessing all of the models for rain between this morning and the end of the event on Sunday night:
The first thing you'll probably notice is a staggering 11-inch bullseye over Galveston County and Galveston Bay. This indicates the kind of very, very heavy rain this system and its associated tropical air mass are capable of.
I would not focus solely on the bullseye, however. This system has the capability to produce large amounts of rain over a large area, including the entire Houston region, from Conroe to Sealy and all points in between. With that said, most forecast model suggest the very heaviest rains of 10, 12 or more inches will come closer to the coast. The area below reflects where I believe the heaviest rain is likely to come.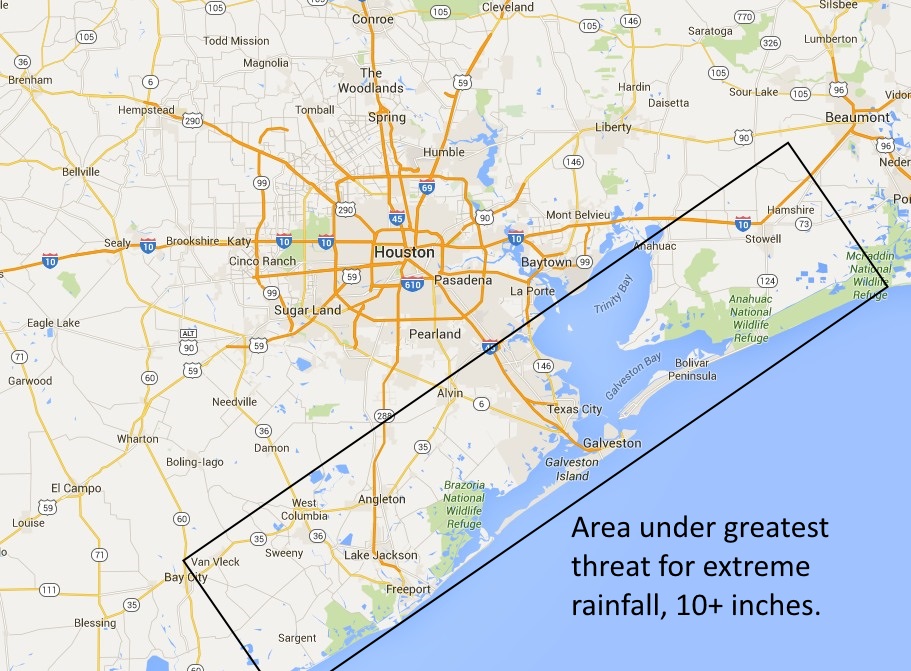 Regardless, much of the metro area should count on seeing widespread totals of 5 to 10 inches during the next 36 hours.
FLOODING
Most areas of Houston can handle six to eight inches of rainfall spread over a couple of days. The problem is that this air mass is so moist it could bring rainfall rates in excess of 3 or 4 inches per hour. That exceeds the capability of most drainage systems and area bayous and streets will fill up quickly.
The entire Houston metro area is under a flash flood watch through Monday morning, and expect the area to be upgraded to flash flood warnings by later today. If you can avoid traveling, working or otherwise being away from your home this afternoon through Sunday evening, you should do so.
TIMING
Until about noon the heaviest rains should remain well to the northwest and southwest of Houston, allowing for last minute preparations.
Beginning about noon I expect a core of very heavy rainfall to move up the Texas coast, from southwest to northeast. Here's a map I made to show the approximate movement of this core of heaviest rains. It is not gospel, but rather an estimate of when areas might expect rainfall rates of 3 to 4 inches per hour.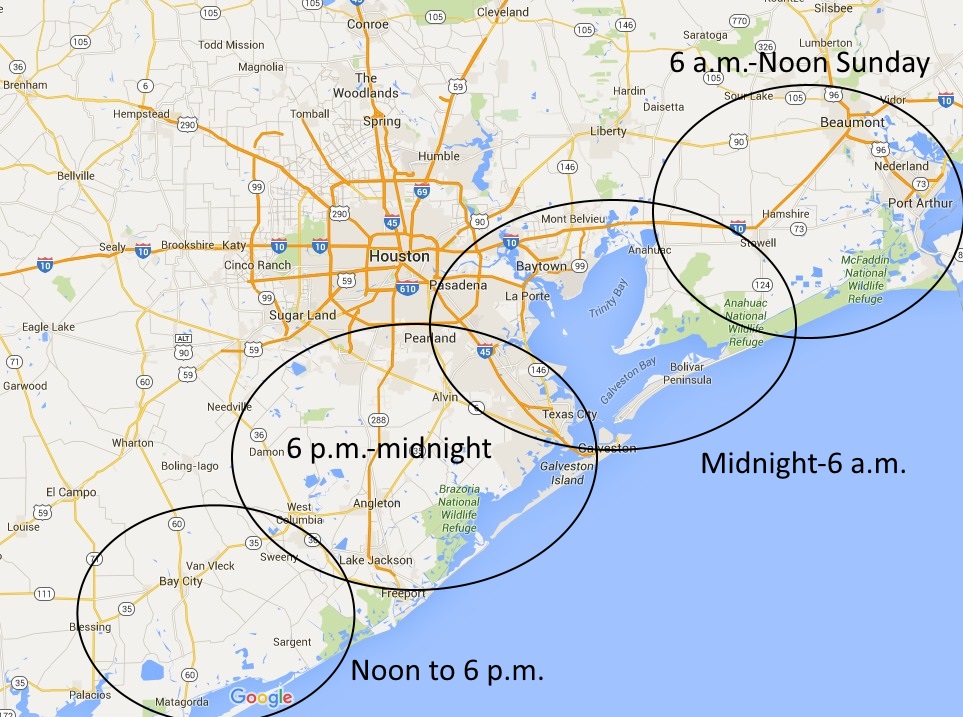 If there is any good news it's that the system should not linger. I expect the heavy rains to clear out of the metro area, from west to east, between noon and about 10 p.m. on Sunday.
TIDES AND WINDS
The associated swells with the remnants of Patricia will increase tide levels by several feet tonight, which should be enough to cause coastal flooding in low-lying areas, including Bolivar, West Galveston Island, Seabrook and the shores of Clear Lake. Tides should fall off by the middle of Sunday.
Winds could get testy too, especially along the coast. Gusts up to 50 mph or so are possible. This is one more reason to remain indoors through the middle of Sunday, until the rains pass.
FUTURE UPDATES
I will update this blog around 1 p.m. today.
Finally, you can follow me on Facebook, or a new Twitter account, to receive notification of updates here, and further Houston weather tidbits.