Patricia has weakened into a tropical depression over central Mexico this afternoon, and it's continuing to move north-northeast toward Texas. Although its circulation has diminished dramatically, its remnants will combine with an upper-level disturbance moving into Texas from the northwest, and also draw moisture from the Gulf of Mexico.
It looks something like this on the surface wind map: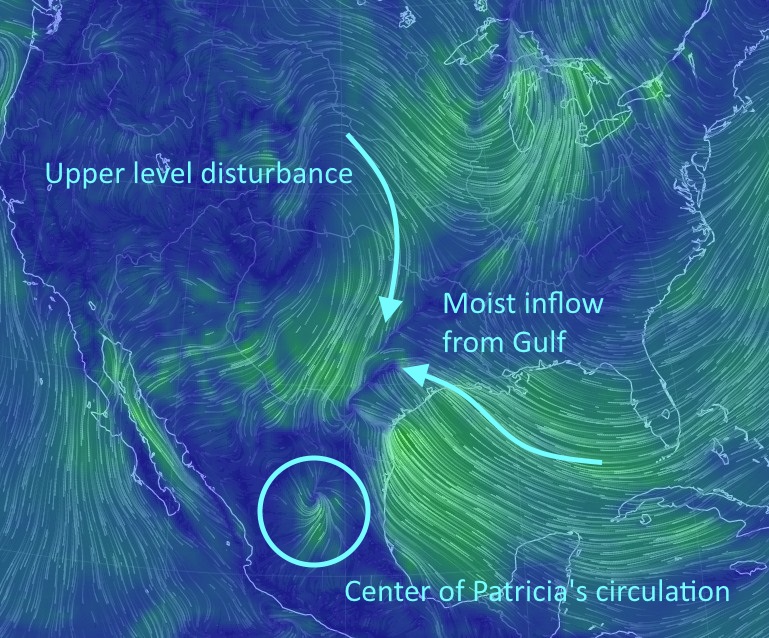 This will lead to a substantial rain event for Texas, including the upper Texas coast. The principal threat remains heavy rain, and more specifically very intense hourly rain rates that exceed the capability of roads and bayous to carry the water away.
RAINFALL
It's very difficult to accurately predict total rainfall levels when the atmosphere is so pregnant with moisture. That's because, when precipitable water levels are this high, there's the potential to produce prodigious amounts of rain very quickly. Predicting precisely where these ingredients will come together is nigh impossible.
With that said, based upon various forecast sources, here is what I consider to be the most likely range of total rainfall that specific areas will receive between now and Sunday evening.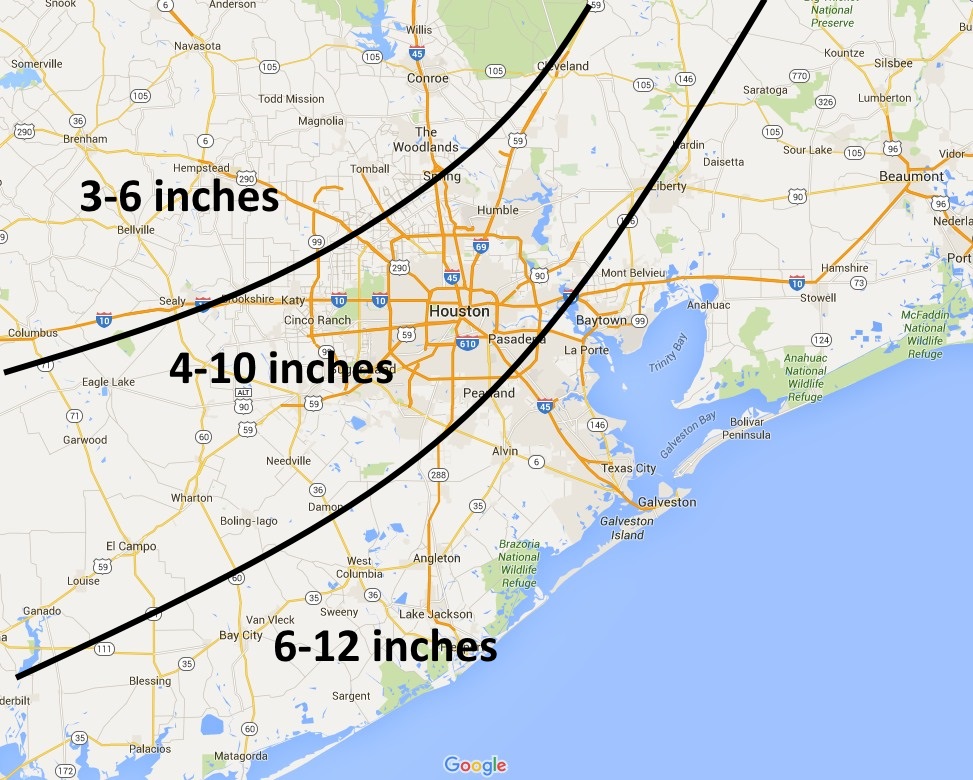 It is important to note that some isolated areas may see higher totals. It simply depends upon where a strong thunderstorm cell slows, or stalls, and that can't be predicted far in advance. Because of the rainfall rates possible, 3 to 4 inches per hour, storms don't have to slow for very long to produce flooding.
TIMING
It now seems likely fairly heavy precipitation will enter the western and central part of the Houston metro area this afternoon, with even stronger cells developing between sunset Saturday and sunrise on Sunday.
The heaviest rains should exit the region from west to east, between 9 a.m. and 3 p.m. on Sunday.
I would like to stress again that it will not be wise to have plans tonight or early Sunday morning that take you out of doors and onto roadways. The potential for flash floods will be significant.
OTHER EFFECTS
We have already seen some funnel clouds on the south side of Houston today, and it's possible that the stronger thunderstorm cells may sink toward the surface and produce relatively weak tornadoes.
A tornado watch is in effect for much of Houston, and points south, through 10 p.m. tonight: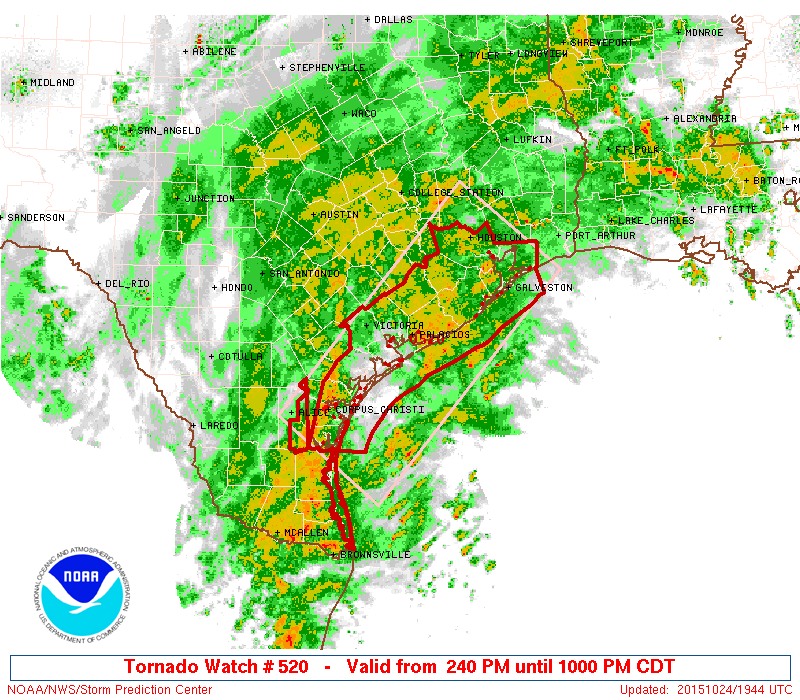 The associated swells with the remnants of Patricia will increase tide levels by several feet tonight, which should be enough to cause coastal flooding in low-lying areas, including Bolivar, West Galveston Island, Seabrook and the shores of Clear Lake. Tides should fall off by the middle of Sunday.
Winds could get testy too, especially along the coast. Gusts up to 50 mph or so are possible. This is one more reason to remain indoors through the middle of Sunday, until the rains pass.
FUTURE UPDATES
I will update this blog around 4 p.m. today.