Texas has had a bit of a checkered weather history on Memorial Day weekends. The good news is that a good chunk of this weekend will be fine, albeit quite hot. The final part of it should see more active weather and rain chances. Whether you're heading to Hill Country, Big Bend, South Texas, or Dallas, you'll have at least some rain and storm chances to contend with at some point this weekend.
Today and Saturday
We have turned up the humidity this morning, and we'll continue to raise it as the day goes forward. Low clouds this morning may be a bit stubborn, but expect sunshine to begin peaking out a bit later. High temperatures should be around 90 degrees as long as we get sunshine. It will turn partly to mostly cloudy tonight, and it's going to remain on the muggy side, with lows likely not dropping below the upper 70s or even 80° in spots.
Saturday afternoon looks mostly alright, but it's going to be hot. Temperatures should officially hit at least the low-90s Saturday, with some chance we see mid-90s officially (upper 80s to near 90° at the coast). Heat index values will be pretty high, and given that we haven't had to deal much with that yet this year, use caution if you'll be taking in the outdoors. Drink plenty of water.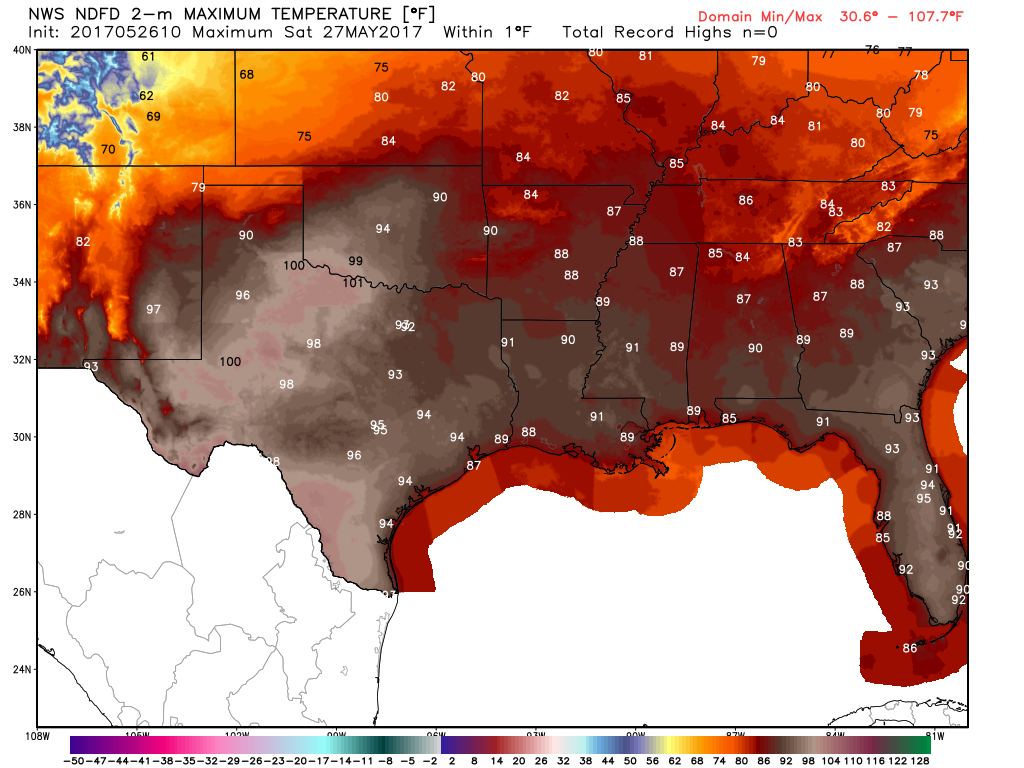 Rain risks Saturday would be confined to a very isolated morning shower near the coast or Galveston Bay. Anything serious should stay way up in far north Texas or Oklahoma. Those showers and storms will likely fall apart as they get south of Dallas.
(Space City Weather is sponsored this month by Jetco Delivery)
Sunday & Monday
Rain chances on Sunday will tick up for everyone just a little. The best chance may actually be in the early morning near the coast with a brief shower possible. The afternoon should see most showers & storms north of our area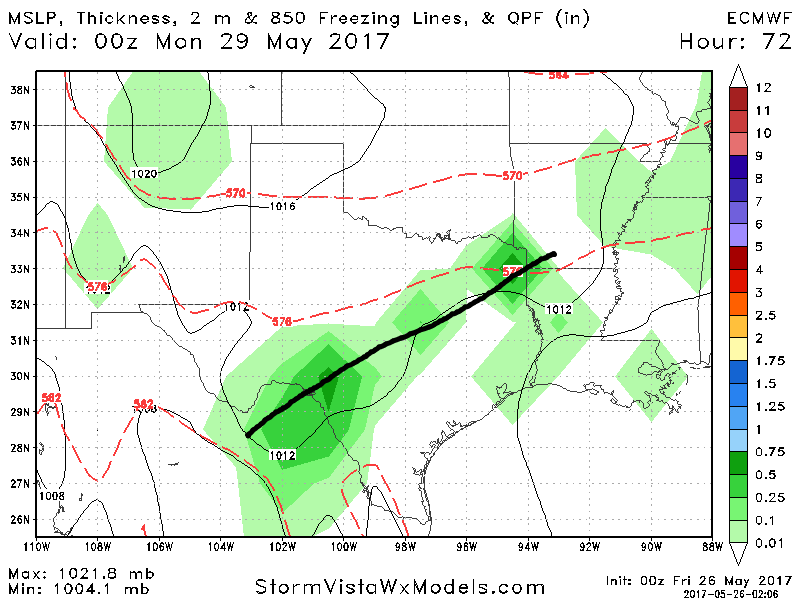 While an isolated shower or storm can't be ruled out, odds favor a mostly dry Sunday daytime. Things get messier Sunday night. We could have scattered storms or even an overnight cluster of storms, or there could just be a few showers around. Unfortunately we won't have a really good fix on this until later tomorrow or Sunday morning. Best advice is to have an umbrella handy Sunday night if you plan to be out and about.
For Memorial Day itself, I think scattered showers and storms are likely, particularly in the morning. That risk may focus more on South Texas (Corpus, South Padre, Laredo) as the day goes on though.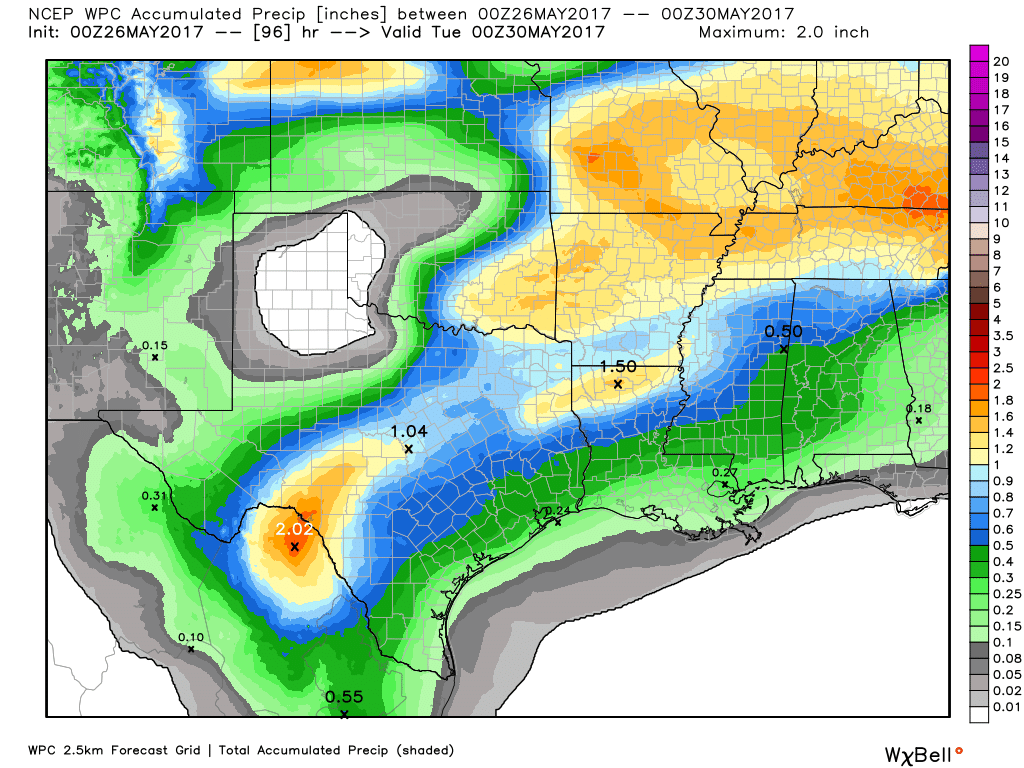 Sunday will be hot once again, with 90+ likely. Temperatures will cool off a bit Monday thanks to clouds and showers, but it will still be plenty warm and humid.
So summing up Memorial Day Weekend around Houston?
Friday: Fine
Saturday: Hot, but little to no rain risk.
Sunday: Mostly dry, continued hot, chance of storms increases Sunday evening and night.
Monday: Scattered showers/storms, especially in the morning. Best afternoon chances well south.
Next Week
Things will likely continue unsettled for almost all of next week. We're sort of getting into this more typical summer pattern of daily shower and thunderstorm chances. Exactly who sees rain or how much of it remains to be seen and will be driven by the sea breeze off the Gulf, any disturbances approaching the region and any lingering late spring cold fronts that will fall apart near or over us. These are things we'll be able to pin down better next week. It should be warm and humid most of the week, with high temperatures in the mid or upper 80s (cooler if it rains). Morning lows will probably stay in the low to mid-70s, perhaps upper 70s to near 80° in spots. Spring has had a run, but summer is just about here. Consider an umbrella as part of your daily repertoire next week!
Posted at 6:35 AM Friday by Matt