Good morning. It's pretty evident that the heaviest rain will fall to our east today. That said, there are still storms and heavy ones at that in the area. A storm east of downtown dumped nearly 3 inches of rain in an hour as of 6:20 AM, where Brays Bayou crosses Lawndale Street on the East side. That amount of rain that fast can cause street flooding, so do keep this in mind this morning as these downpours lift north and east across the area. You may encounter street flooding, so please use caution and don't drive through flooded roadways.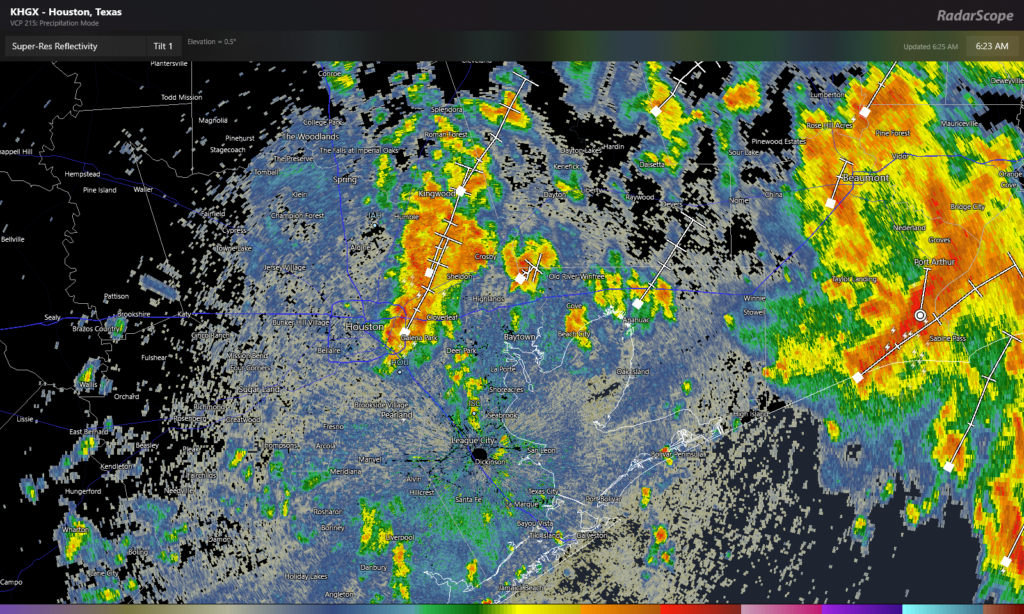 So with all that being said, obviously, this will probably end up a very disappointing system for our region as a whole, especially if you live on the west side. Coastal areas did well yesterday, and today's rain will certainly be welcome. But still. While we aren't heading back into the pattern we had in June, at least not as extreme, it will turn hotter and drier again. We'll have some daily rain chances to cling to each day, but that's a proverbial drop in the bucket in terms of what is needed to eradicate drought.
Speaking of, the drought monitor update from yesterday, which includes rain through Tuesday showed that drought had expanded to cover virtually the entire Houston region now, a very large increase in such a short time.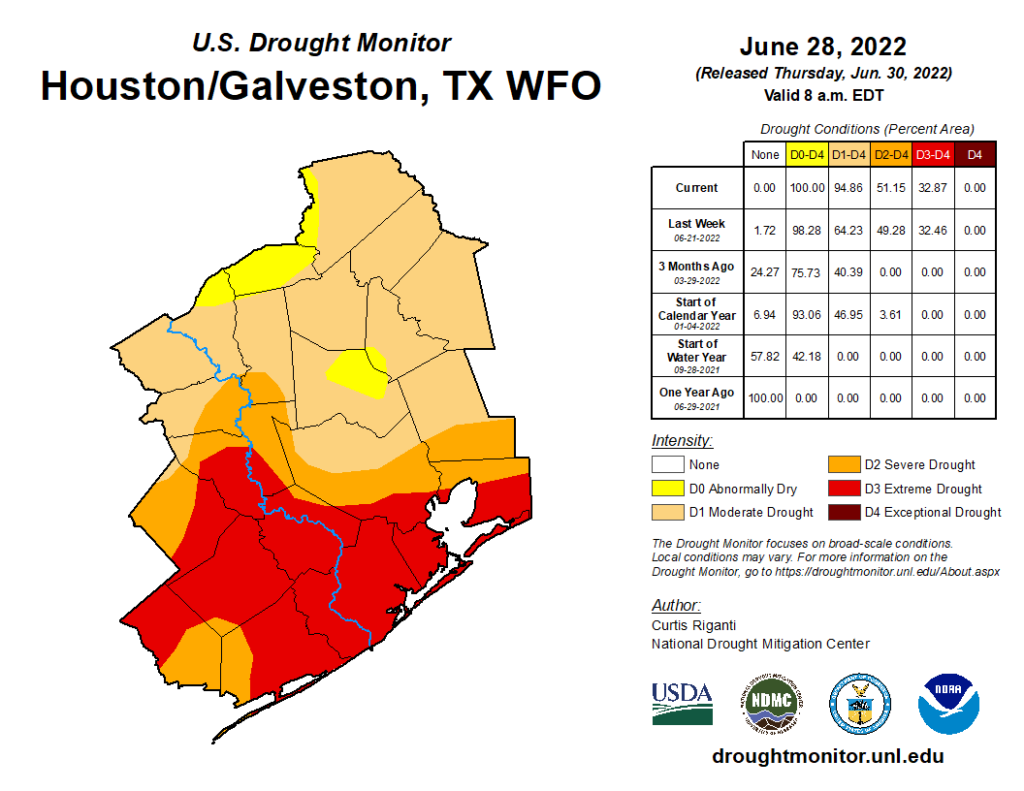 Depending on how the next few weeks evolve, this could start to become a very bad drought for our region, or just sort of hang in place "as is" for awhile. I'm personally not particularly optimistic given both nearer-term guidance and longer-range guidance, which continues to suggest below average rainfall. With the holiday weekend celebrations ahead, please be mindful of burn bans (which cover almost the entire state), and please be extra cautious with fireworks this year. I have not heard of any local fireworks bans beyond already existing regulations, but that doesn't mean dry ground can't ignite in some accidental situations. So the best advice is to use more caution than usual this year.
Rest of today
This morning's rain and localized downpours will continue off and on through the morning, likely shifting east and weakening this afternoon. Most areas east of I-45 will see some rain, but amounts will widely vary from another 1 to 3 inches in spots to just a few tenths in others. West of I-45, you will see isolated showers or storms, with many spots seeing nothing. The exception will be south of Houston. Areas across much of Brazoria and Galveston Counties will continue to see scattered storms into early afternoon.
Readers checking us out from Beaumont & Port Arthur will note some very heavy rain, especially in Port Arthur this morning. I would presume street flooding is likely to begin there soon on a wider scale basis. Use caution in that area this morning.
We only managed 82° officially yesterday at Bush Airport, about 6 degrees warmer than the record coolest high temp for the date. Clouds today should hold us back again. Look for low to perhaps mid 80s.
Weekend
With the tropical low lifting away, we'll gradually slip back into a more normal summer pattern. Look for a chance of scattered showers or storms tomorrow, but coverage likely won't exceed 30 or 40 percent and again focused to the east of downtown Houston. Sunday sees even lower rain chances, probably below 20 percent. Look for highs to recover into the low or middle 90s, with lows back into the upper 70s.
Next week
The weather pattern next week is likely to be dominated initially by a moderately strong ridge of high pressure over Texas. This should keep us mainly dry through Tuesday with mid to upper 90s. On Wednesday and Thursday, we're likely to see the high pressure relocate into the Rockies. Normally, this would open up the Gulf more and allow for higher rain chances. In this case, the high also expands significantly.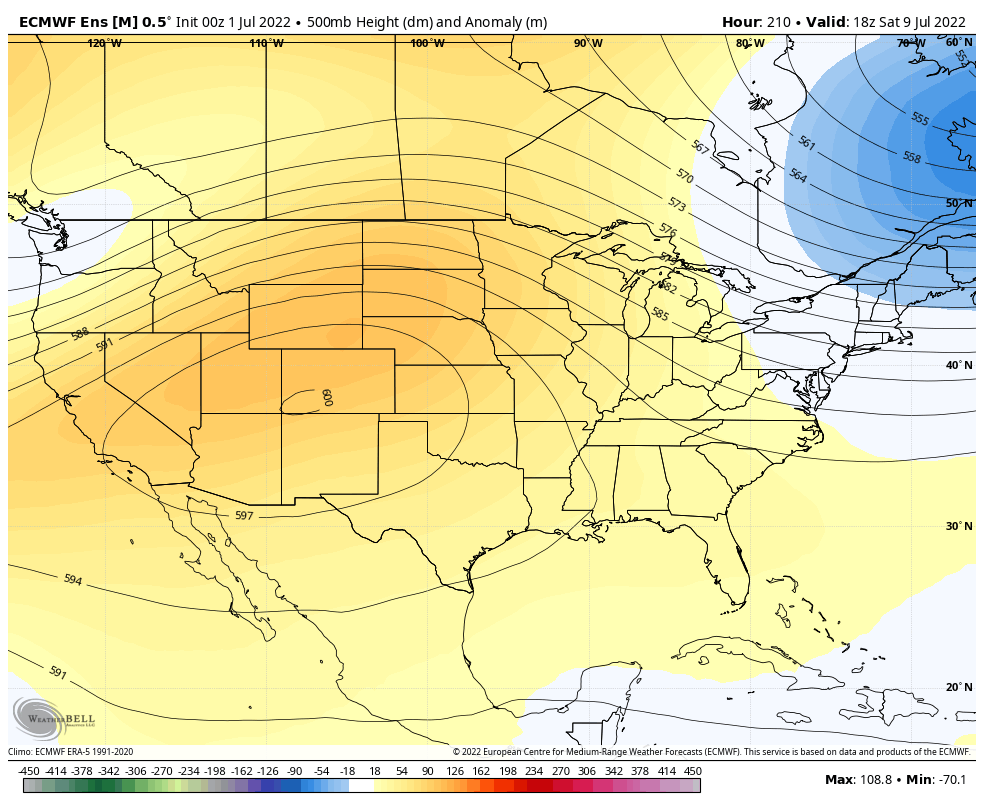 This will give us maybe a day or two of increased rain chances Wednesday and Thursday, but probably no better than 30 percent or so. Otherwise, look for mid to upper-90s to persist, and perhaps drier weather into the weekend. Seeing a 600 decameter ridge on the map above is really impressive for a 50 member ensemble mean. This means that the model is highly confident in a very strong heat pattern for the interior West, likely expanding to include most of Texas heading toward the week of the 11th. It won't be as hot relative to normal as June saw, but it will still be very, very hot.
June recap
We'll close with this: June 2022 was the hottest in Houston's recorded history. Our average temperature in June was 86.7°, which broke 2011's record by a half degree (86.2°).
It was also the hottest June on record in Galveston by over a full degree. June 2022 saw 87.5° for an average temperature, compared to 86.2° in June 2011. 87.5° for a month is hotter than any July on record as well. In fact, June 2022 will end up being the 4th hottest month of any month on record in Galveston. Of the 60 possible high and warm low temperature records Galveston could have set in June, they set or tied 19 of them, over 30 percent. Galveston's records extend back to 1874.
A number of factors all play into these records: An extremely warm Gulf of Mexico, the drought, a stagnant weather pattern, urbanization, and, yes, climate change. Hopefully July is better behaved.