On Wednesday, the longest-running seasonal forecast program, based at Colorado State University, issued an updated outlook for the remainder of the 2020 Atlantic hurricane season. In a word, it's going to be active. The forecasters are predicting a remarkable 15 more named storms this year, along with 10 additional hurricanes. This is very busy.
The Atlantic hurricane season officially runs through November 30, but for Texas' purposes the chances of a hurricane strike fall dramatically after September. So realistically, we've got about eight weeks in front of us that we're really going to have to stay on top of the tropics in the greater Houston area.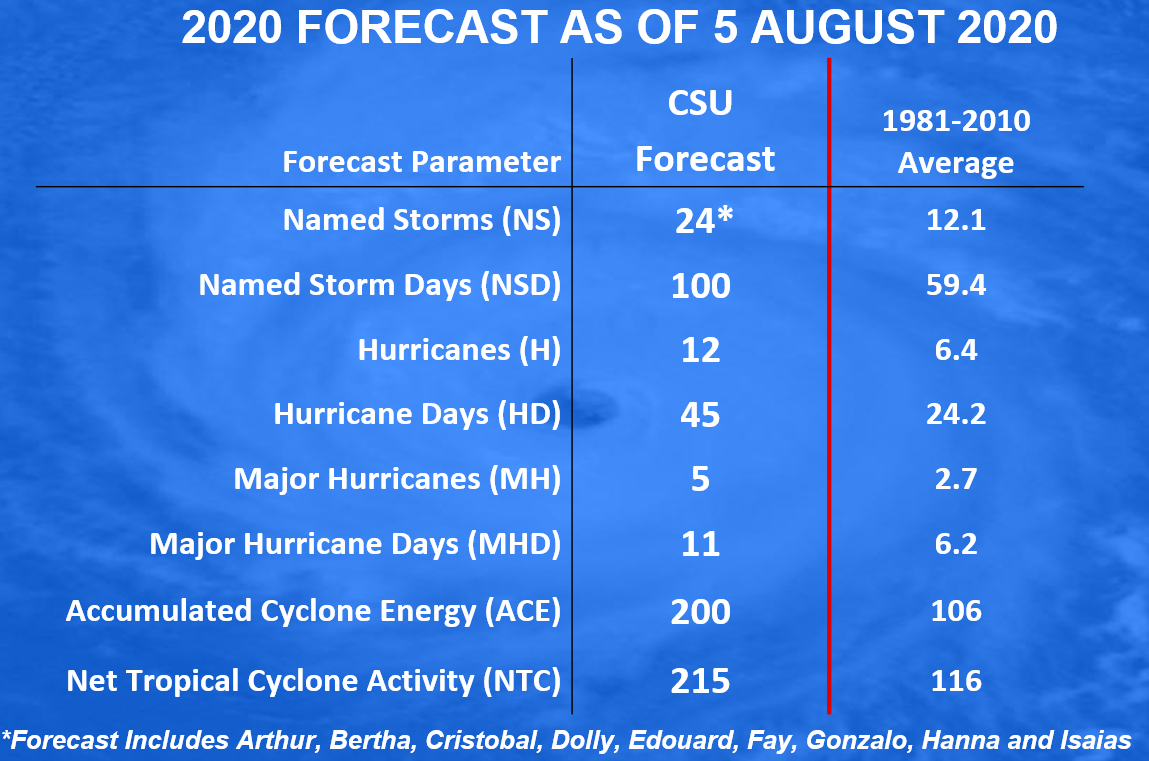 One of the biggest issues complicating this year's hurricane season is that, in addition to the overall tropical activity, it will occur against the backdrop of the COVID-19 pandemic. The virus remains quite active in the greater Houston area, as well as statewide. So with this post Matt and I wanted to provide some basic information about preparing for hurricanes in such an environment. We reached out to both city and county officials for up-to-date information.
Probably the most important thing about preparing for this season is taking the time now to think about how the pandemic will change your plans with regard to your family, any pets, any loved ones in harms way, and more. With hurricanes we sometimes have days and days of warnings, and sometimes we have 48 hours or less with a late-developing storm, or one making a quick turn. Preparing a disaster kit (see checklist), having a plan to protect key records, knowing your home's vulnerability to storm surge flooding (see map), and under what circumstances you should evacuate are all things that can be done well in advance of a storm.
"It's vital that everyone in our community take time and effort to prepare, regardless of the circumstances of the time or what the predictions are," Harris County Judge Lina Hidalgo told Space City Weather. "As we're all seeing, hurricane season doesn't give us the courtesy of taking a year off just because we're coping with a pandemic. Now, more than ever, we implore everyone to develop a plan, to put together an emergency kit, and to build a kit. As you prepare for this hurricane season, take some time to look over your family's emergency plan and see how COVID-19 may affect it."
Preparing to evacuate
In recognition of this hurricane season as an abnormal one during a pandemic, the U.S. Centers for Disease Control and Prevention has published a guide on COVID-19 and hurricanes. Here are some of the highlights from this information:
If you may need to evacuate, prepare a "go kit" with personal items you cannot do without during an emergency. Include items that can help protect you and others from COVID-19, such as hand sanitizer with at least 60% alcohol, bar or liquid soap, disinfectant wipes (if available) and two masks for each person.
Determine now where you will evacuate to. How will you get there? This detailed map of evacuation routes (it's a big file) will help you plan now.
If you are staying with friends and family, talk now about how you would best protect yourselves from COVID-19. If you plan on staying in a hotel, check now to see if they're open, and can accommodate your needs.
Pay attention to local guidance about updated plans for evacuations and shelters, including shelters for your pets.

Local shelters
Local officials in the Houston area are planning to operate and support shelters. Hidalgo said the Red Cross, which provides most sheltering during disasters, and other non-profit partners are working to make these spaces safe during a disaster. "Shelters will be modified to separate families as much as is feasible and hold fewer people, whether that be by walls separating rooms or by simply designating larger spaces that allow for greater distance between families," Hidalgo said. "We're ready to institute temperature checks and have PPE on hand for folks who need it. We're also working with our first responder community, making sure they not only have enough PPE on hand for any response, but that they are also trained on how to use it."
The city of Houston has made plans to open the large George R. Brown Convention Center as an emergency shelter. Last month, the city held an "Evacuation Hub Exercise" to test registration processes and organization for the sheltering of thousands of people and pets at the convention center. According to Nickea Bradley, the Emergency Management Coordinator for Houston, this included everything from organizing registration lines, to installing plexiglass to protect employees, and providing space for families while still allowing for social distancing. "We have been thinking ahead, and we have been preparing," she said. "But also we would ask people to have a little patience. If you have to come and shelter, it might take a little more time to register and get settled."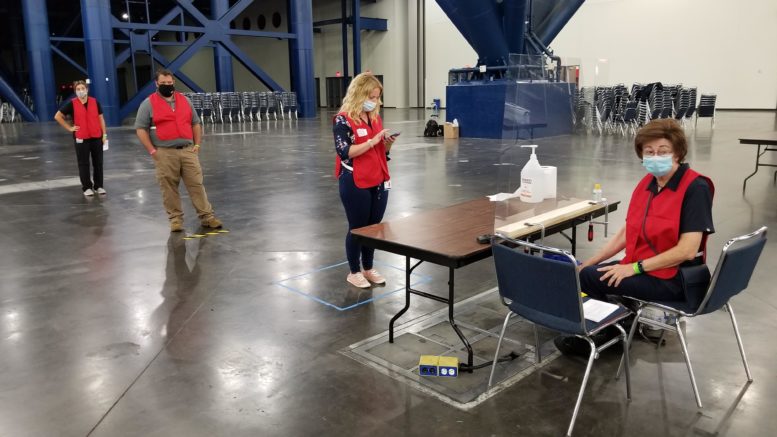 Stay informed
Finally, it is important to get information from trusted sources during a hurricane. You already know that Matt and I will be providing the best forecasting information we possibly can about the weather.
The Reliant Storm Center is a trusted resource available to Texans, regardless of your electricity provider. It provides information and things to do before, during and after a storm, including storm prep checklists, weather and traffic updates, recovery resources, flood maps, emergency contacts and volunteer opportunities.
To sign up for emergency alerts from the city of Houston, you can sign up for weather warnings, evacuation orders, and more here. And you can find a similar service from Harris County here.