Happy Monday, y'all! We tacked on two more 80 degree days over the weekend, bringing our 2023 total to 18, tying us with 1974, 2000, and 2017 for the second most to start a year. The pace of this early spring warmth is really going to begin to slow down, however. You may have felt the change a bit yesterday afternoon once the cooler air behind the front settled in, along with the breeze. You'll be feeling more of that in the future.
Today
All is calm behind yesterday's front. Temperatures cooled off late yesterday, and this morning, we're running about 15 to 20 degrees cooler than 24 hours ago.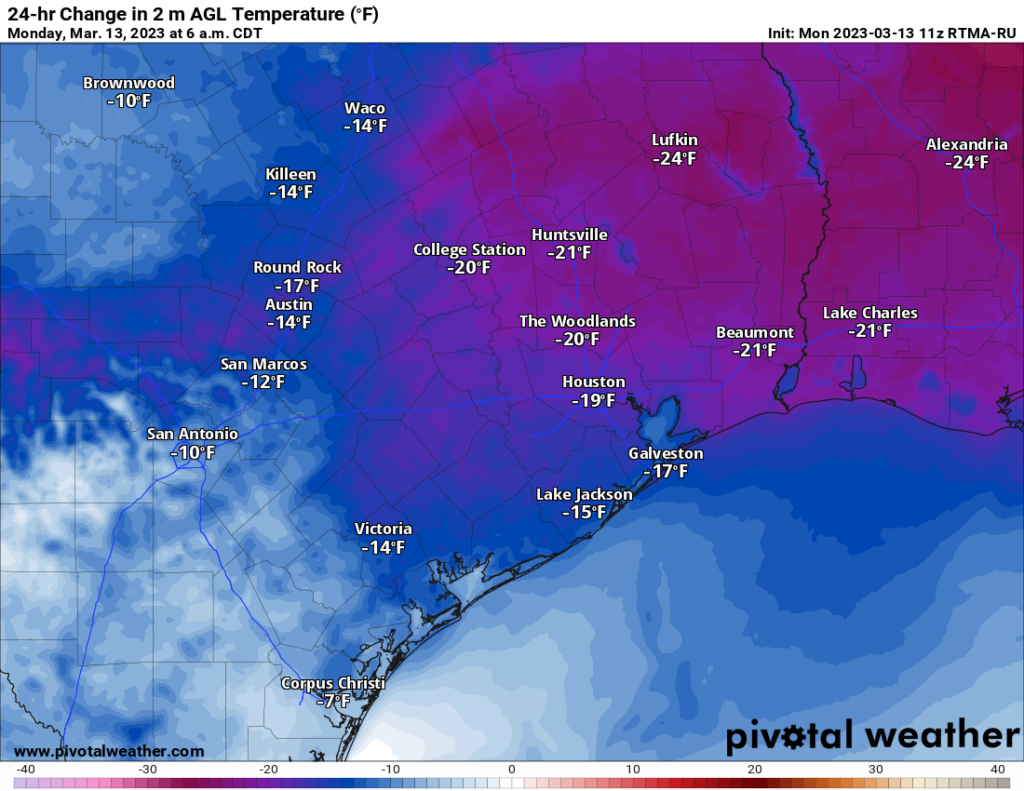 Today will be a mixed day with clouds and sun, with probably more of clouds than sun this morning and hopefully more sun than clouds this afternoon. A shower is possible in the Matagorda Bay area. The breeze that kicked up on Sunday afternoon will relent some today, easing up to about 10 to 15 mph or so a bit later, though maybe still a bit gusty over the water. With enough sun, we should manage 70 or so in most of the area, though places north of The Woodlands, west of Katy, and up in the Brazos Valley may generally stay in the 60s.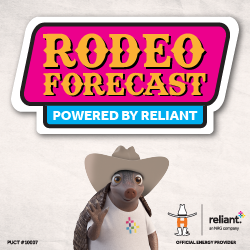 It's Cody Jinks debut night tonight at the Houston Livestock Show & Rodeo. Depending on your personal preference, you may need a light jacket. You'll get quiet weather at least. Temperatures will be in the upper 60s on your way in and low 60s on your way out. Keep the fair weather coming please.
Tuesday
Look for a mix of clouds and some sun tomorrow. As the Northeast gets walloped with what I think is their biggest winter storm of the season, we'll get clipped by a weak disturbance. I wouldn't say that showers are likely tomorrow, as the air mass overhead is still pretty dry in the wake of yesterday's front. Just don't be shocked to see some raindrops. But I wouldn't alter outdoor plans. Temperatures will probably struggle a bit, with morning lows in the 50s and daytime highs mainly in the 60s, perhaps 70 or so southwest of Houston.
Wednesday
No trouble here. Wednesday will be arguably the nicest day of the week, with plenty of sun expected, morning lows in the 50s, and highs in the low-70s, along with comfy humidity.
End of the week
If you have not solidified your plans for the week and want to play the weather for outdoors-y activities, keep a close eye on Thursday and Friday. While most of Thursday may end up being fine, there's still a decent chance at some showers or thunderstorms by late in the day, especially north and west of Houston. Friday looks even dicier with a period of showers and storms likely as a pretty strong cold front pushes in.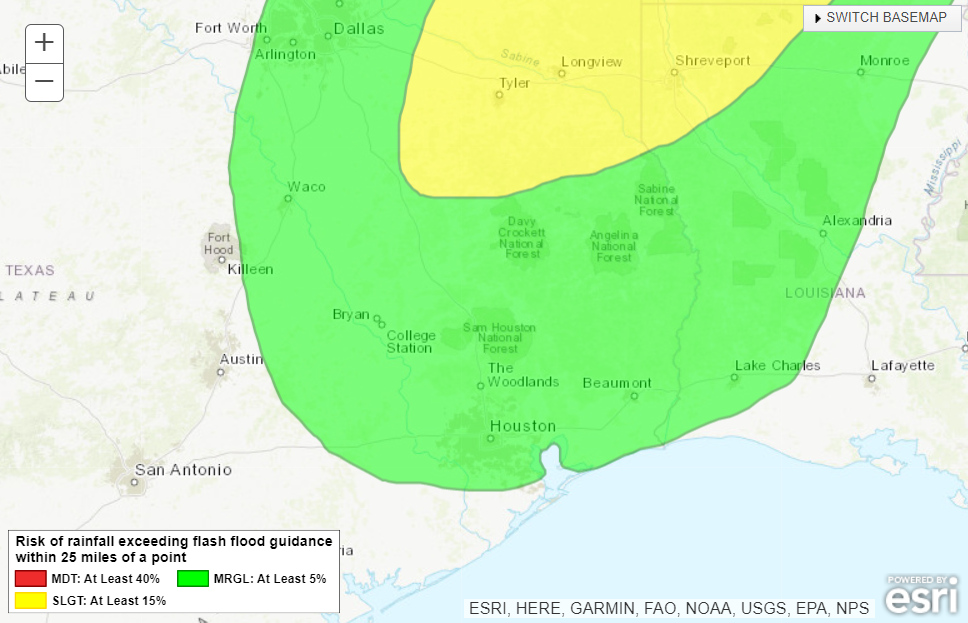 Some of the storms late Thursday and Friday could be on the stronger side, but the highest odds of severe weather and heavier rainfall are north of our area. Still, we'll watch this through the week to see how it evolves.
Temperatures will surge on Thursday, perhaps approaching 80 degrees again before Friday's front cuts things down heading into the weekend. As advertised, it does appear we are heading into a period of much cooler weather for the weekend into early next week. In fact, high temperatures on Saturday may not even reach 60 degrees!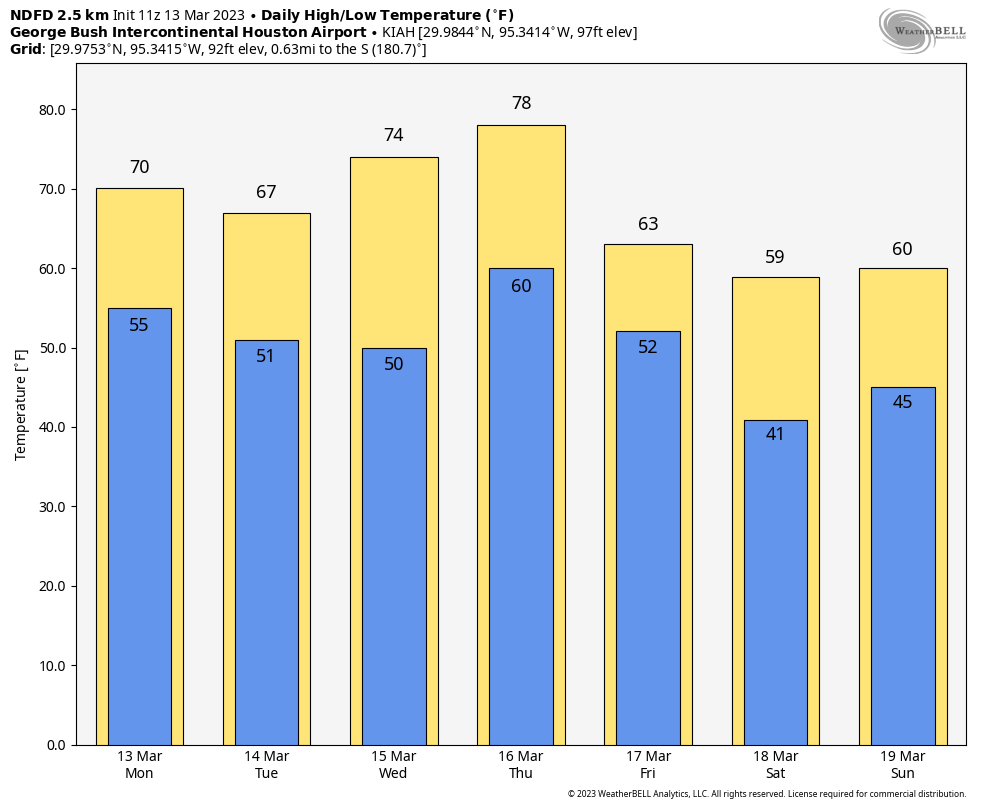 We will probably warm up again into mid or late next week, but the amplitude and duration of that warming will probably be somewhat less intense than we've had so far this early spring.