After our brief fling with the remnants of spring last week, we are now approaching June and the end of "Early summer," as I described in an earlier post. This brings us to "Mid summer," which I define as the period of time when highs run from 90 to 95 degrees, and nights are sultry, but you know it could still get worse. Now that we're here, I wanted to set some expectations for those of you who are relatively new to Houston, or just have forgotten what to expect.
Heat
The next four months will be hot, with the heat generally peaking from late July through early September. Houston can reach 100 degrees, but due to the region's proximity to the Gulf of Mexico and our high humidity, most summertime days remain in the mid-90s. (It's not a dry heat, it's a wet heat). On average, Houston sees about six 100-degree days during a given year. Summertime temperatures will vary from the low-80s to upper-90s based upon the extent of cloud cover, and whether it rains during the afternoon hours. One thing we won't have much relief from, at all, is muggy nights with lows ranging from the low 70s to about 80 degrees. Our first real "fall" front typically does not arrive before mid- to late-September.
Drought
This is not something we've had to worry about for awhile in Houston—our last significant, prolonged drought came in 2011—but if you've lived through a drought you know the desperation of waiting to see even a small amount of rain fall from the sky. We are not predicting that Houston will see a drought this summer, but it's certainly possible. About two thirds of Texas is presently in a "severe" drought, with nearly half of the state in an "extreme" drought. This is not a good posture for us heading into the hottest months of the year.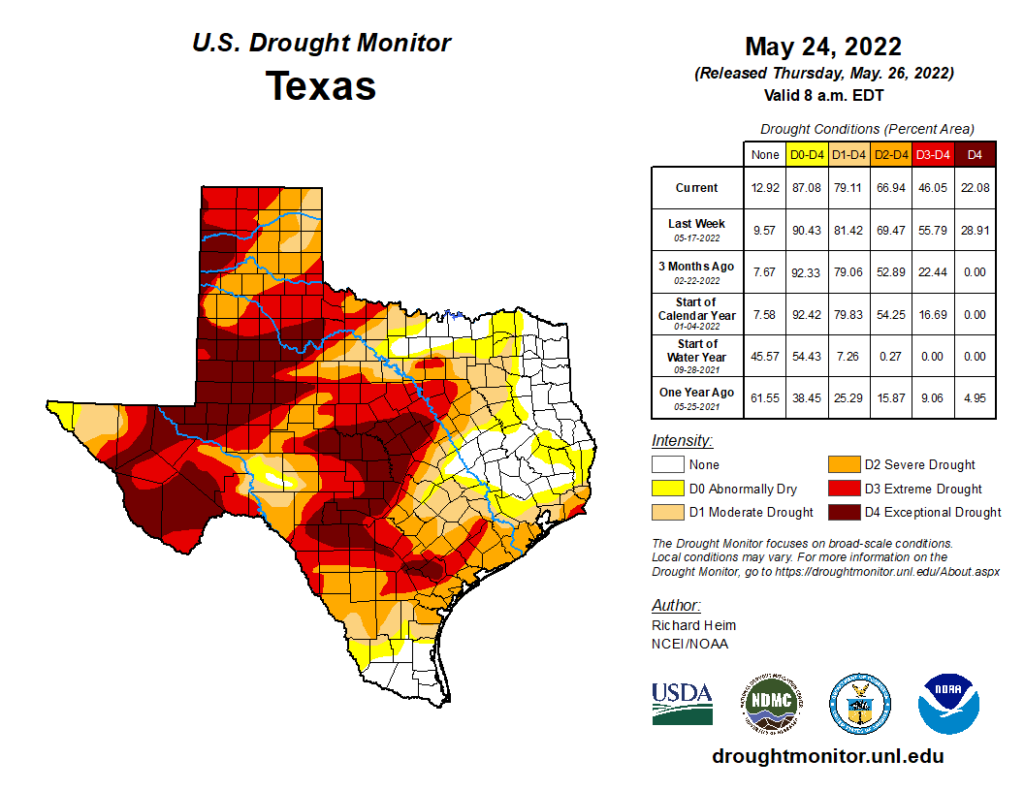 Hurricane season
Although hurricane season begins on June 1 and ends of November 30, it's a little bit more complicated than that for Texas. While we can certainly experience tropical storms and even hurricanes in June and early July, typically the season really does not get going for us until late July. And then, historically, weather patterns generally push storms away from Texas by the end of September. So for most years, we really only worry a lot about tropical weather during an eight- or nine-week period from late July through late September.
Still, you should be making your preparations for hurricane season now. That means understanding your vulnerabilities to storm surge (see an interactive map, by hurricane category), your vulnerability to inland flooding (see interactive map), and your tolerance to losing power for one, two, or more weeks (if you're considering a whole-home generator, here's what the process is like). Our partner, Reliant, has some good storm preparation resources as well. Now is the time to decide under what circumstances you would evacuate, where you would go, and what you would bring in the event of a hurricane.
Hurricane season can be a stressful time, and it's one of the main reasons that Space City Weather exists. If you want to track every tropical wave, there are certainly places to do that on the Internet. But the vast majority of these systems will not have any meaningful impact on Texas. Matt and I view our job as helping you to separate the important weather stuff from the noise. (And there is a lot of noise out there). Anyway, we will be with you every step of the way this summer.
Tuesday
Today will see partly to mostly sunny skies, with highs in the low 90s. Like on Memorial Day, there is a 10 to 15 percent chance of a brief, passing shower. Winds will be out of the south or southeast, at about 10 mph, with higher gusts during the afternoon hours. Low temperatures tonight will again only fall into the upper 70s for most areas.
Wednesday
A similar day to Tuesday, although I would bump rain chances up to maybe 20 percent. Any showers will again likely be driven by the sea breeze, with shower chances peaking during the afternoon and early evening hours. Lows will again be sticky on Wednesday night.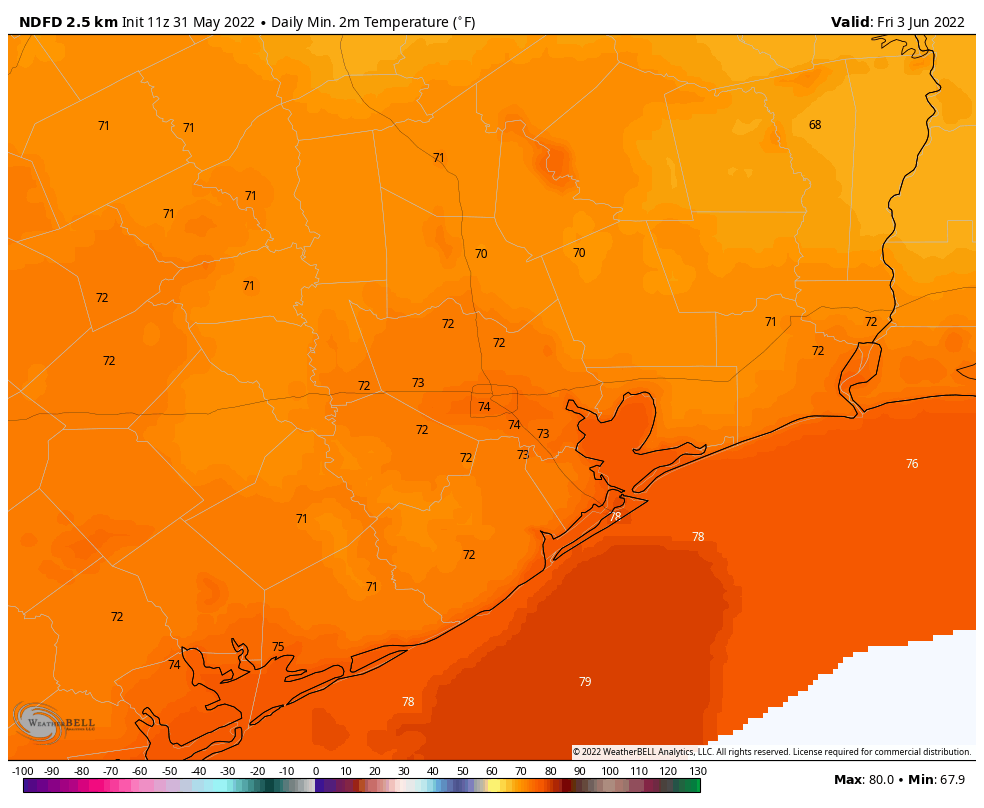 Thursday and Friday
A dying front will push into the region on Thursday, and this will primarily serve to elevate rain chances to perhaps 30 percent for both days. Showers will be pretty spotty, but a few areas could briefly see a downpour. Highs will be around 90 degrees both days, with a smidgen of drier air helping to push overnight lows down to around 70 degrees for far inland areas, and perhaps the low 70s for Houston itself.
Saturday and Sunday
As high pressure builds back into the region this weekend, we'll see mostly sunny skies and temperatures in the low- to possibly mid-90s. Winds should generally be out of the south at about 10 mph. This hot and sunny trend should persist into the early part of next week.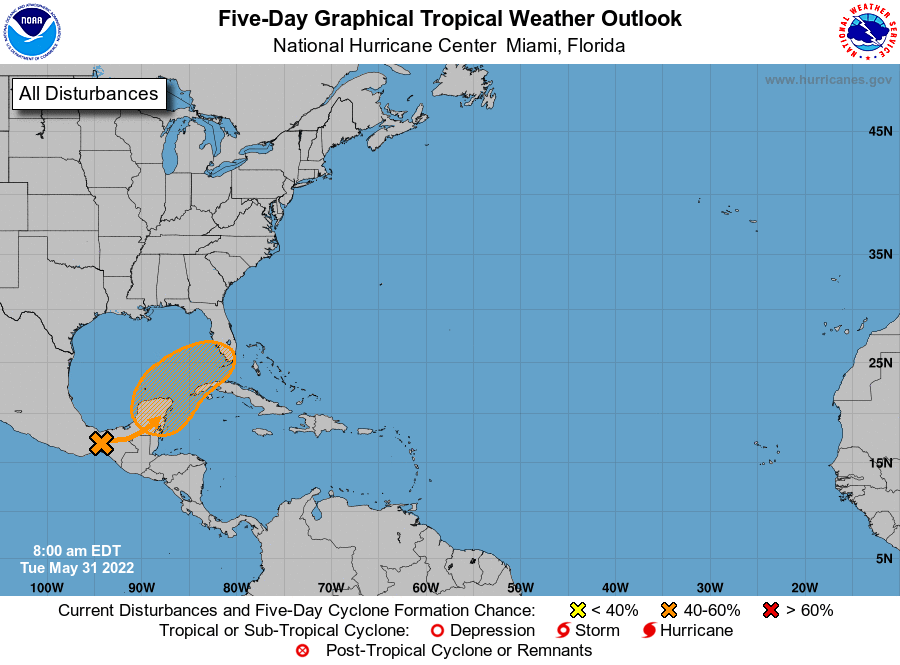 Tropics
Hurricane Agatha, the first storm in the Eastern Pacific basin this year, made landfall in Mexico, and is bringing heavy rains to the southern part of that country. The remains of Agatha will likely reemerge into the southern Gulf of Mexico or northern Caribbean Sea later this week, possibly regenerating into a tropical storm. If it does so, it would take on the name "Alex." This system poses no threat to Texas, but it could definitely make for a wet weekend in the southern half of Florida this weekend, with perhaps 5 to 10 inches of rainfall.