Good morning. The major weather story in the United States continues to have nothing to do with Houston. Now-Tropical Storm Ian has continued its devastating trek across central Florida overnight, bringing strong winds and deluging rainfall to areas such as Orlando, and knocking out power to one-quarter of the state. Ian's center will soon emerge over the southwestern Atlantic Ocean, allowing the storm to make a second landfall into South Carolina on Friday. Yesterday, on Ars Technica, I wrote about why this is the kind of storm that gives me nightmares as a forecaster.
Houston, and much of Texas, lie on the backside of Ian's massive circulation. This means we're going to see a continued flow of dry air through the weekend, bringing us warm days in the upper 80s, and lows near 60 for much of Houston, with nights in the 50s for inland areas. For this time of year, this is a potent and prolonged front.
Thursday
Look for highs today in the upper 80s with sunny skies. Winds will be light, out of the northeast at 5 to 10 mph. Low temperatures tonight will drop to 60 degrees in Houston, and a few areas near Conroe and points further inland may drop all the way to 50 degrees beneath clear skies. It has not been this chilly in Houston since at least early April.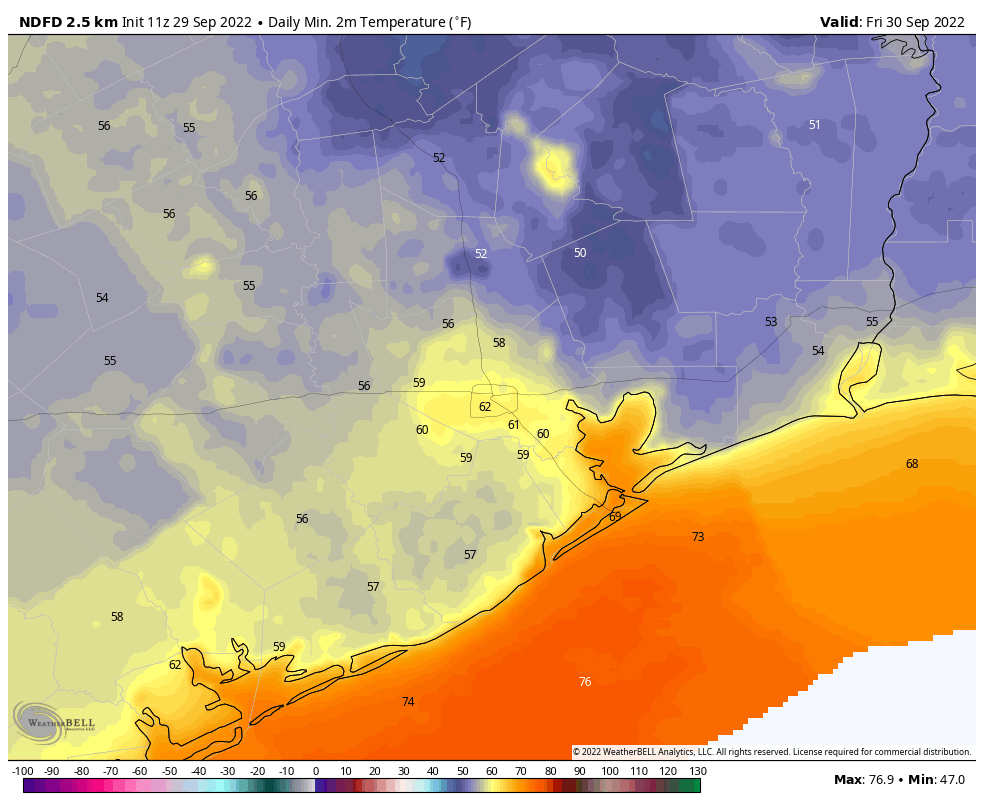 Friday
Basically, the same marvelous day and night as Thursday.
Saturday and Sunday
The air mass will start to modify slightly this weekend, but our air is still going to remain plenty dry for this time of year. Look for highs in the mid- to upper-80s, and nights in the low 60s. The weather should be spectacular for our first-ever Fall Day celebration, which will take place from 10 am to noon. Come by and say hello to Matt, myself, Maria, Dwight, and Lee, enjoy plenty of activities for adults and kids, and walk around the beautiful Houston Botanic Garden. It's free, and just our way of welcoming fall-like weather back to Houston after a long summer. If you're so inclined, you can RSVP here. So far we've had a great response!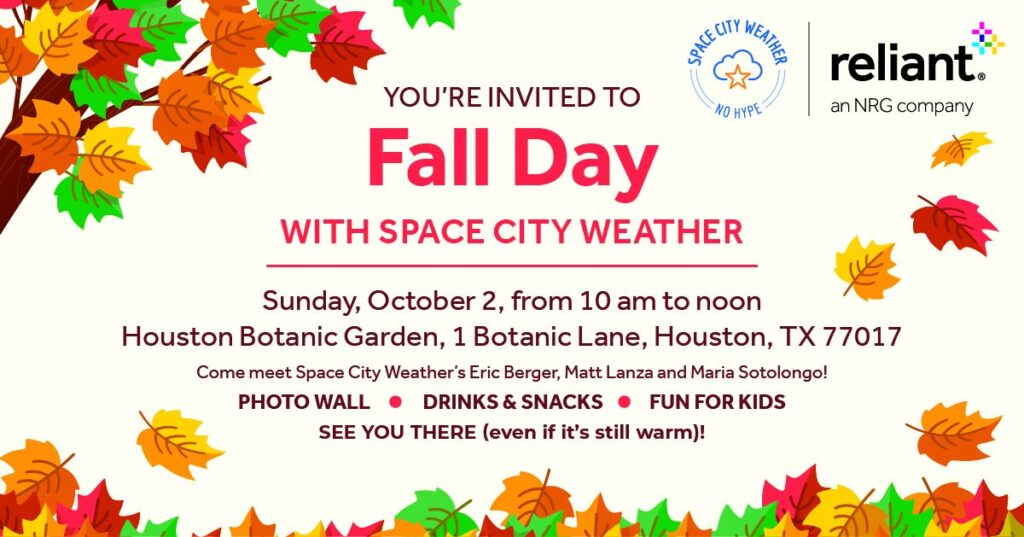 Next week
Conditions starting by Monday or Tuesday of next week will feel somewhere between summer and fall in Houston, with highs generally about 90 degrees, lows in the upper 60s, and partly to mostly sunny skies. The air, however, will be drier than it usually is during summer, so it won't be oppressively humid during the days. Mornings and evenings should be reasonably pleasant outside. Another front is possible in about 10 days times, give or take.
Is it ever going to rain again?
Some parts of Houston have not recorded meaningful rainfall in nearly four weeks. The region's main weather monitoring sites, Bush Intercontinental, Hobby Airport, and Galveston, are all nearly 4 inches below normal on rainfall this month. Unfortunately, that's not going to change during the last couple of days of September, or the first week of October. Our next real chance of rain probably will not come until the October 8 to 10 time frame, so not this weekend, but the following one. And even then rainfall is far from a certainty. This is not a great place to be, as La Niña is expected to persist through this winter, which tends to bring drier conditions in Texas, including the greater Houston region.