How sweet it is! Relief has arrived. Stepping outside this morning is more a pleasure than a chore. Yesterday's cold front is now offshore, and we're firmly entrenched in a pleasant and cooling air mass. That sets up what should be a great weekend.
Today through Monday
With the front through and dry northerly winds ongoing, expect a delightful Friday. Sunshine will dominate with highs in the mid to upper 70s. We're skirting an interesting, albeit random record today. Tomorrow would tie the latest we've ever recorded our first 80° or cooler high temperature for the season. That means we'll miss the record by one day today. I doubt anyone will complain.
So with that in mind, the rest of the weekend looks pretty solid. After we see lows in the low to mid 50s tonight (and some 40s away from the city and the coast),we'll have another winner of a day Saturday. Expect more sunshine and highs in the mid to upper 70s again. Heading to Rice to see the Owls take on Prairie View A&M? It looks great.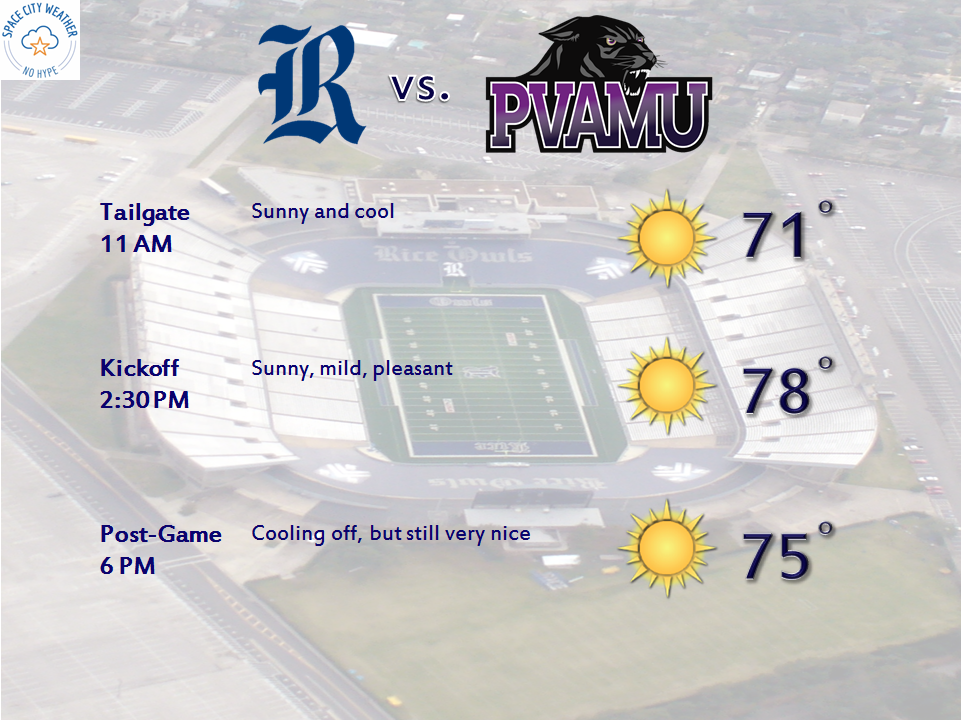 Sunday looks good also. Expect a start in the 50s again, followed by even more sunshine. I do think some high clouds will slip through on Sunday, but it shouldn't be anything too serious. Temps will max out around or a few ticks above 80° on Sunday afternoon.
Next Week
The weather pattern next week looks fairly stable over Texas. We'll be back into more of a typical early fall type pattern, with a ridge overhead. Average temperatures drop about 2 degrees from this week to next week though, so even if we see a stretch of weather 10-15 degrees above normal again, we'll have some relief with a lower "ceiling" of how hot it can get.
So as Eric mentioned yesterday, it will begin to get tough to get to 90° here anymore. Sure, it could happen, but it will be difficult. I guess it's the small victories in life, right? Either way, expect solid mid 80s, a couple days in the upper 80s perhaps, and lows in the upper 60s to around 70°. We'll see sun and clouds, but probably not a lot of rain chances. So let's enjoy the next few days. There will be more to come eventually.