Good morning. For the upcoming period when we expect Houston to see better rain chances, Wednesday afternoon through Saturday, we're now within the forecast range of high resolution models. This is important, because these models are better able to resolve the convective processes that produce rainfall. Typically, therefore, they tend to provide us with better insight into the timing, duration, and extent of rainfall.
If you recall, in our earlier posts this week, we spoke about accumulations of 0.5 to to 1 inch of rain, but based upon the latest modeling it now appears likely that many locations will receive more than this. Generally, that should be an excellent thing, because so much of the region remains in an exceptional or extreme drought.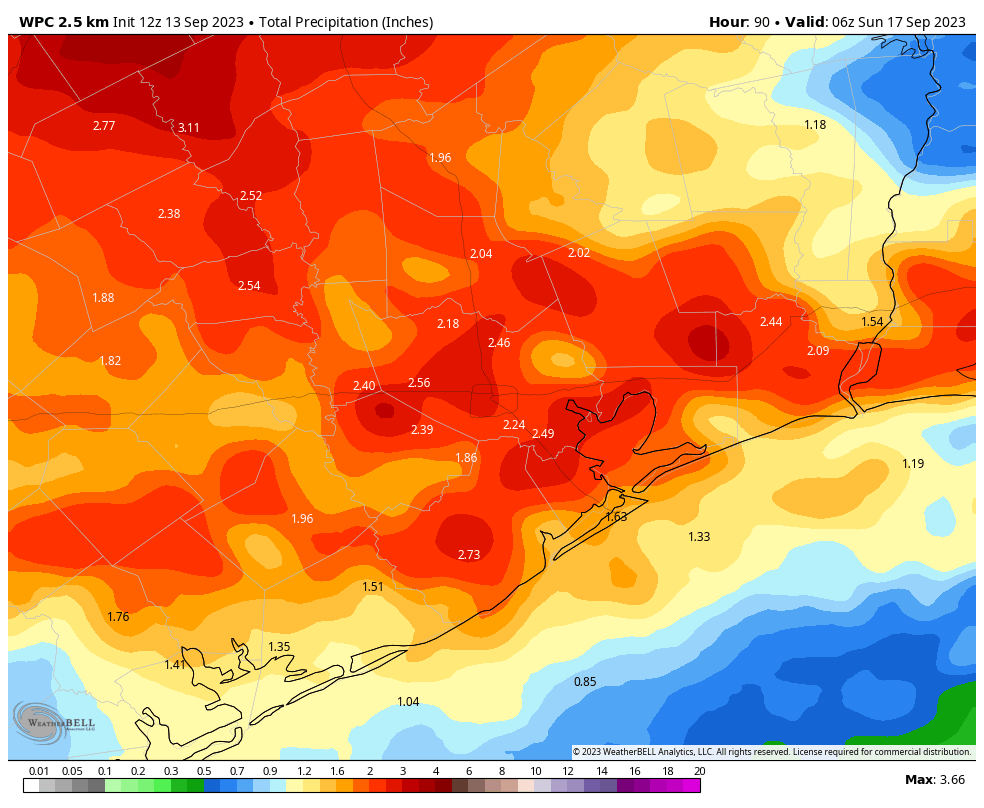 So how much rainfall are we talking about? Well, it's still too early to have great confidence, because our best high resolution models are still only looking out to Friday, not all the way through the high-rainfall chance period. But based upon the latest data, the current expectation is that much of the area will receive 1.5 to 3.0 inches through Saturday.
All of this is being driven by the absence of high pressure, and a weak front drifting toward the area that will help perturb the atmosphere. Our confidence in some of the fine details remains uncertain, but overall the pattern is supportive of widespread, on-and-off rainfall. We cannot rule out some flooding, but conditions are not optimal for very heavy, sustained rainfall, so I don't expect significant issues on area roadways.
Wednesday
Today should be the last day that the region sees high temperatures in the mid-90s for a little while. Expect highs, generally, in the range of 93 to 97 degrees, with partly sunny skies. Rain chances are low today before the late afternoon and evening hours, at which point the favored locations will be between Interstate 10 and the coast. Rain chances will persist into the overnight hours, albeit with lesser coverage. Winds will be light, generally from the northwest. Lows tonight will drop into the upper 70s.
Thursday and Friday
It still appears that these days will offer the best rain chance for the entire metro area, likely around 70 percent. Skies on both days should be partly to mostly cloudy, and this should help to limit highs to around 90 to 92 degrees. Both days should see widespread, intermittent showers. Winds will be light, from the northeast. Rain chances will be less overnight, but still non-zero.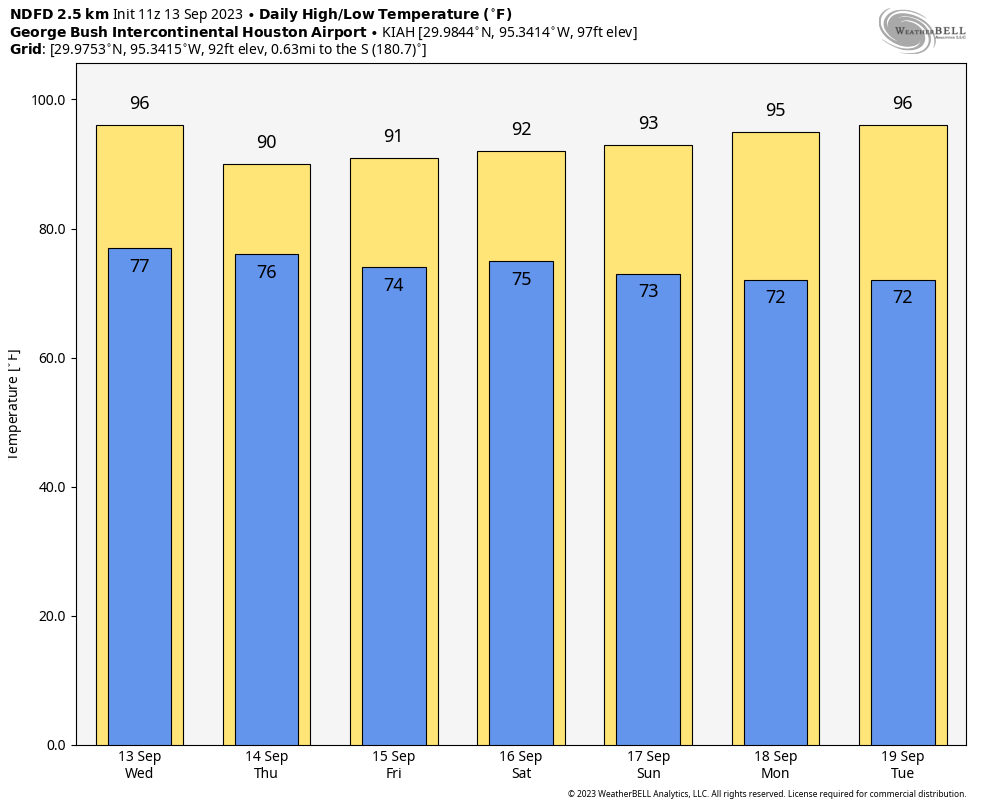 Saturday and Sunday
The first half of the weekend will see a continued chance of rain, with highs again in the low 90s. However, by Sunday morning we should start to see the influence of a weak front that will bring drier air into the region and largely end our rain chances. Highs on Sunday will probably be in the low 90s, with overnight lows dropping pleasantly into the low 70s.
Next week
With the influx of drier air, we're likely to see highs in the mid-90s on Monday and Tuesday. However, humidity will be slightly lower, with nights a bit cooler. The front's influence will dissipate pretty quickly, however. Therefore, most of next week probably will see highs in the low- to mid-90s, with some slight rain chances maybe returning by Wednesday or Thursday. Still no sign of a strong fall cool front yet, I'm afraid. We're still at least 10 days out from that.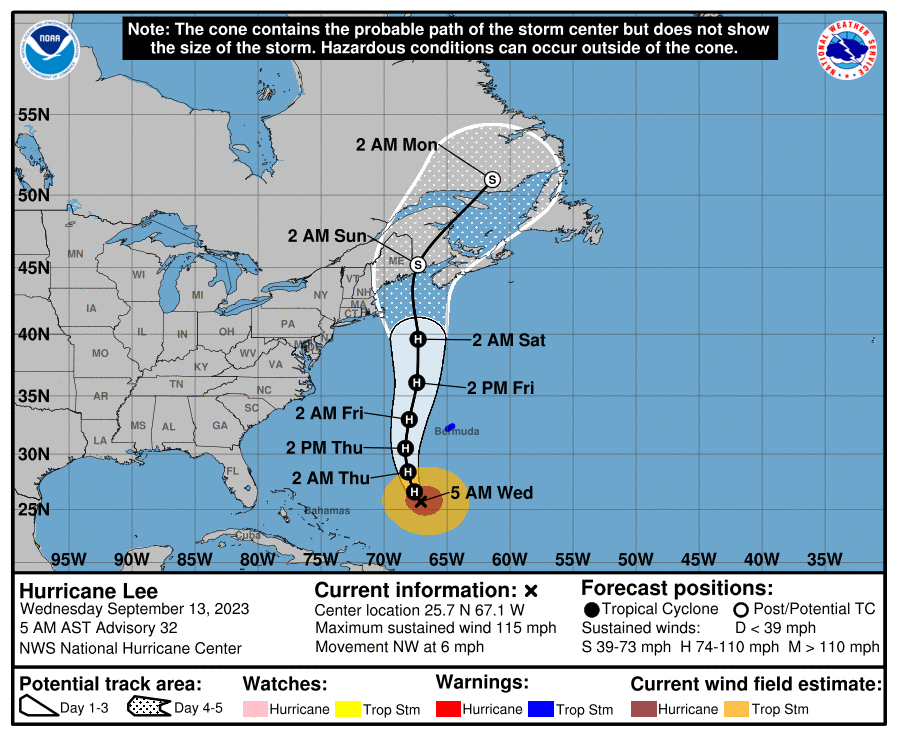 Tropics
The good news is that the Gulf of Mexico is completely quiet, and likely to remain so for at least the next week or 10 days. Wind shear is really ripping out there, and that's lovely to see in September, especially with sea surface temperatures so warm. Hurricane Lee, however, is increasingly a concern for New England and Nova Scotia. We'll continue to have full details on Lee, and all the rest of the Atlantic basin, on our sister site The Eyewall.