If you've read this site carefully over the last 24 hours, you'll recall that I've been discussing a scenario I'm calling the "Euro special." (See, for example, here and here). Under this scenario, Harvey makes landfall along the central Texas coast, dithers around for a day or two, and then moves eastward, back over the Gulf of Mexico. During its latest run the GFS model latched onto this scenario, bringing Harvey back into the Gulf, before the system eventually moves north-northeast toward Houston or Beaumont, getting drawn toward a trough of low pressure in the Midwestern United States.
As of their most recent update, the professional hurricane forecasters at the National Hurricane Center have bought into this scenario, with some caution. "At this time it is too early to say whether the center will definitely re-emerge over the northwestern Gulf of Mexico," Robbie Berg wrote in the 10am discussion. Here's the track they went with: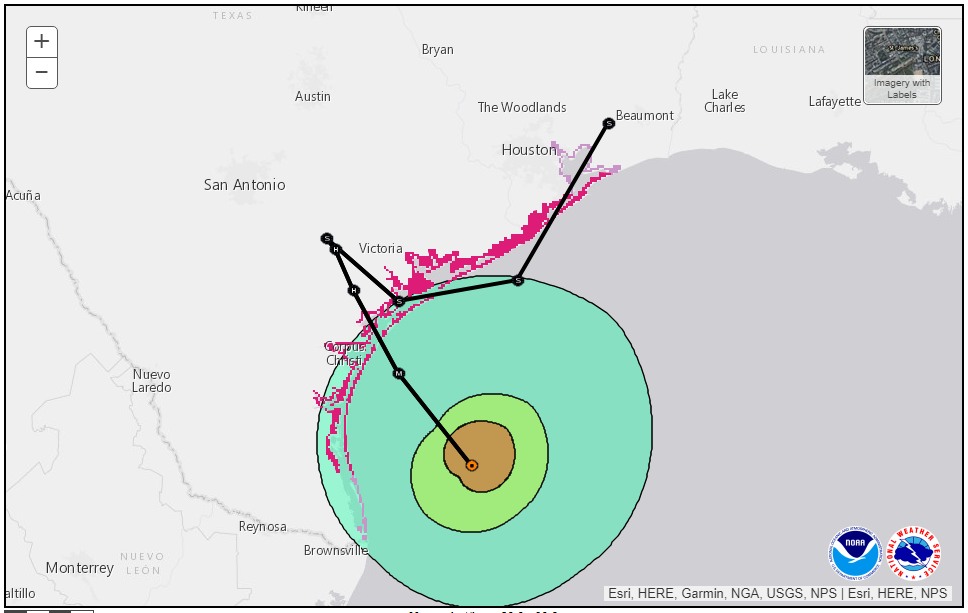 Some thoughts
Such a track raises a number of unpleasant possibilities. In the interest of a free and frank discussion, you'll have to indulge some speculation with this post. But this is a mature audience that seems to appreciate honesty. So here goes.

The first thing to understand is that there remains a ton of uncertainty with the track forecast after about 24 to 36 hours. There remains a pretty good chance that Harvey doesn't make it back to the Gulf. And if it does, will Harvey meander around south Texas for two days before moving back toward the Gulf? This would weaken it considerably. And the exact "secondary" landfall point will have big implications too in terms of winds. (Finally, there's a slim hope that Harvey cloud move offshore, and keep going far enough east such that it presents less of a rainfall threat to Houston. A slim hope.)
What we can say for sure is that a major rainfall event is almost certainly still in the cards for the greater Houston area from Harvey. All of the timing continues to suggest the really heavy precipitation will kick in later on Saturday or Sunday, so you still have some time to make preparations. But what happens after that, if the storm follows the hurricane center's track, and moves up the coast Monday and Tuesday? As you probably know, a hurricane's counter-clockwise motion increases the wind speed on the storm's right side, and pushes water into the shoreline. This is demonstrated by the generic graphic below.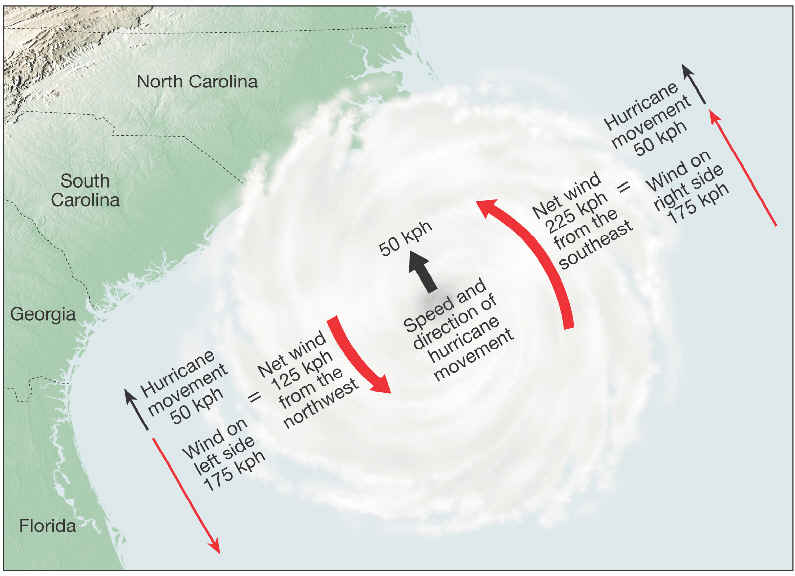 Unfortunately, because of this, we could be in a situation on Monday and Tuesday where a storm offshore and moving up the Texas coast from Corpus Christi—even if it is "only" a tropical storm—could be pushing a few feet of storm surge into Galveston Bay. At the same time, Houston's many bayous will likely be staggering under tropical rainfall, trying to drain water into the bay, and out into the Gulf of Mexico. Needless to say this would exacerbate inland flooding issues.
This is not to say that will happen with Harvey, but it's very likely to occur if Harvey follows the path predicted this morning by the National Hurricane Center. Fortunately, as I mentioned earlier, the post-landfall track for Harvey remains far from certain, so it's entirely possible this ugly scenario won't play out. But it's something we're watching closely here, and just as we don't try to hype things, we don't sugarcoat them either.
We'll have a comprehensive update on Harvey later this afternoon, after the 12z forecast models come out. For now, all of the precautions and forecasts we wrote about this morning stand: A powerful hurricane will hit central Texas coast early Saturday, but major problems (i.e. flooding rains) are unlikely in Houston before Saturday night or Sunday. Inland flooding—potentially widespread and extreme—remains our biggest concern for Houston.
Posted by Eric at 11:05am CT on Friday