Good Saturday morning! We'll be with you here all weekend on Space City Weather to track the progress of Tropical Storm Beta, and its effects on Houston, Texas, and Louisiana. Broadly speaking our forecast has not changed a whole lot. For now, on our Flood Scale, we are still calling for a Stage 2 flood for areas south of Interstate 10, and a Stage 1 flood for areas north of Interstate 10.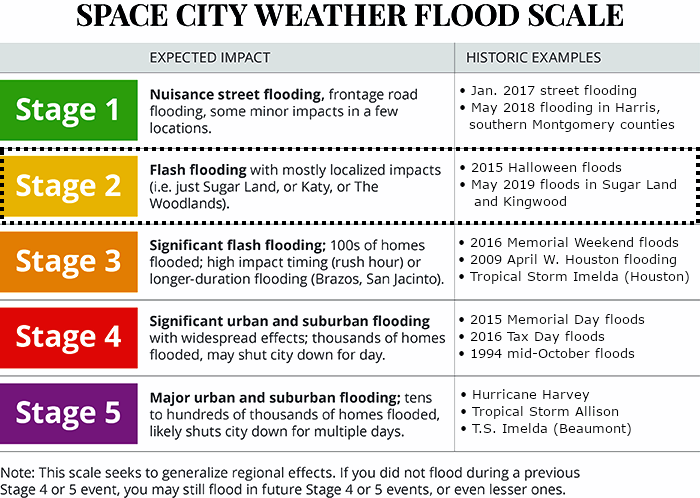 With this system we are most concerned about the potential for heavy rainfall next week, and then rising seas along the coast due to a prolonged period of winds from the east-northeast. Probably the most important thing we can tell you this morning is that there is still a lot of uncertainty in the track forecast for Beta, and where the storm's heaviest rains will fall. We suspect this storm will have some surprises in store.
Track
As anticipated, Tropical Storm Beta has moved north overnight, and now lies nearly 300 miles due east of the mouth of the Rio Grande River. Pretty soon we expect the storm will run into a ridge of high pressure and take a westward turn, gradually moving toward Texas. We are reasonably confident that the storm will then approach the Texas coast somewhere between Corpus Christi and Matagorda Bay on Monday, potentially as a strong tropical storm or a Category 1 hurricane. Through Monday this track should keep most of the heaviest rainfall just along, or off the coast. So far, so good.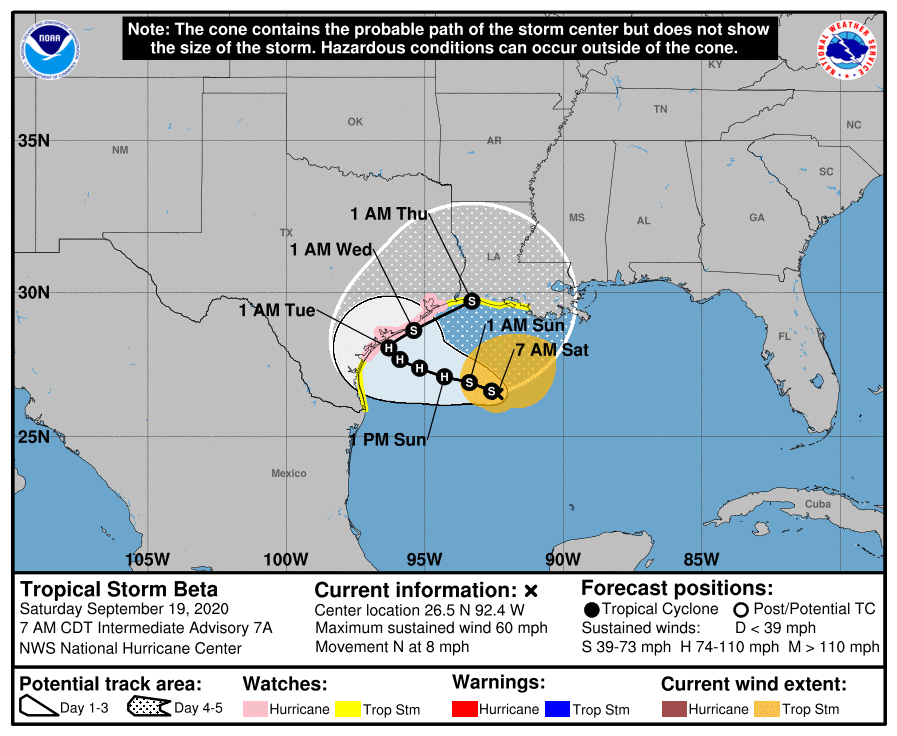 The problem is that, after this point, we're not really sure what will happen. The National Hurricane Center's official track brings the storm to the northeast on Tuesday, along the Texas coast, as weakening high pressure allows for an exit. However, it also seems possible the storm could move 50, or even 100 miles inland before making this turn, or remain 100 miles offshore. I know what you're thinking, slow-moving storm, landfall near Corpus, moving inland—Eric, that sure sounds a lot like Hurricane Harvey. Well, I'll agree, but there are some key differences here. Most significantly, Beta lacks Harvey's organization, and will be fighting dry air as it moves toward Texas. This may help to limit inland rainfall. Moreover, the storm really should move away by Tuesday or Wednesday, so we are probably not looking at a four- or five-day heavy rainfall event.
Rainfall
So how much is it going to rain next week? The global models have trended slightly downward in terms of rainfall accumulation during recent runs, and I think a good general expectation is 2 to 8 inches across much of the Houston metro area, with coastal areas potentially seeing 6 to 12 inches between later Sunday and Thursday. That much rain over four days is manageable, so our concerns are very high rainfall rates—which tropical storms produce—and higher than anticipated totals. We can't rule out some 20-inch bullseyes, but so far there's not much support for this in our best models. I think the bottom line is that we need to prepare for heavy rainfall through Wednesday or so of next week, and the possibility of flash flooding. But it may not come to that.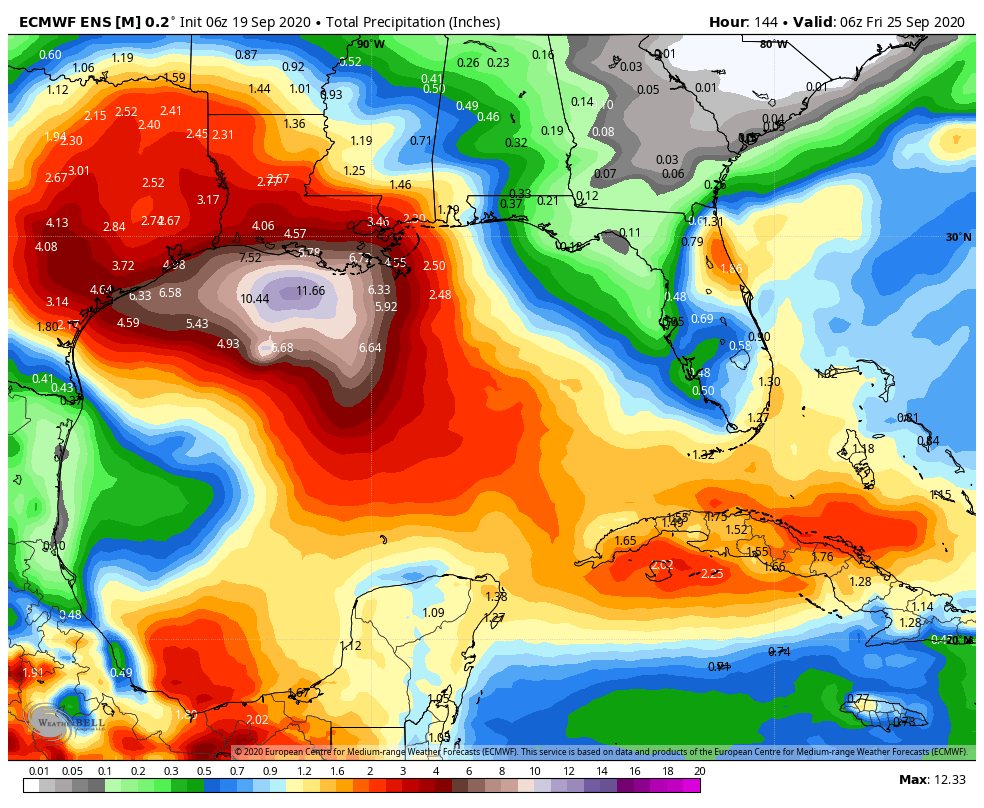 Storm surge
The other issue we're going to face is storm surge as Beta produces strong easterly winds over the area. For now, Hurricane Laura's water levels, plus one or two feet, is probably a good guide for what to expect from Beta along Galveston Island, Bolivar Peninsula, and Galveston Bay. However, this part of the forecast remains very much subject to change, given Beta's track and intensity.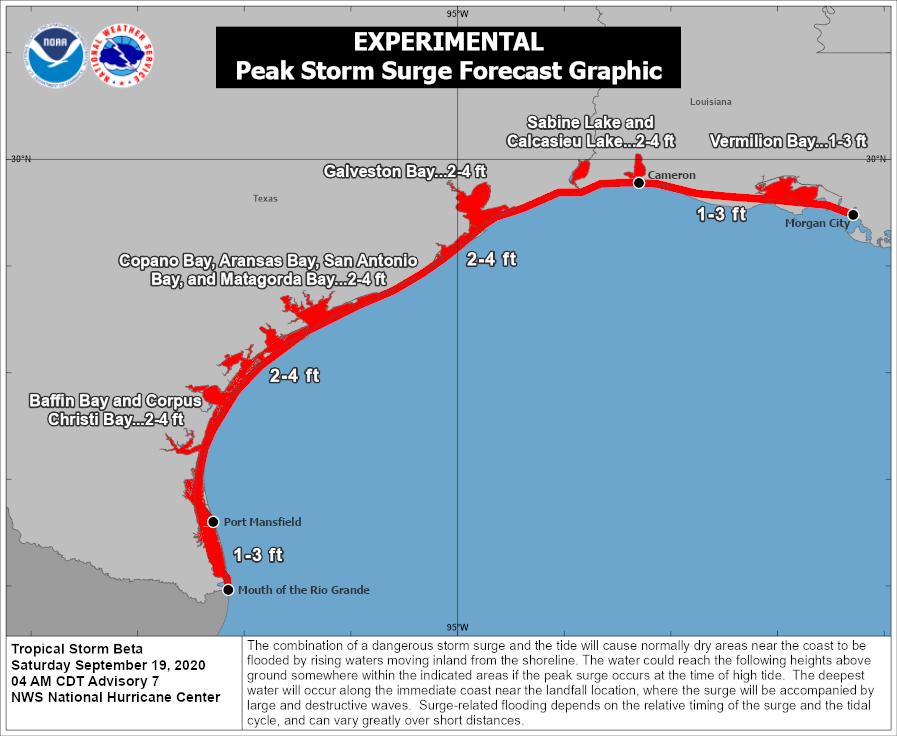 Winds
Winds will begin to increase across the area on Sunday and Monday, and there is a 30 to 40 percent chance that the Houston metro area will see tropical-storm force winds next week, with higher chances along the coast. This forecast, too, is very dependent on track and intensity so winds are a work in progress. But right now the expectation is that wind should not be too disruptive in terms of power outages across Houston.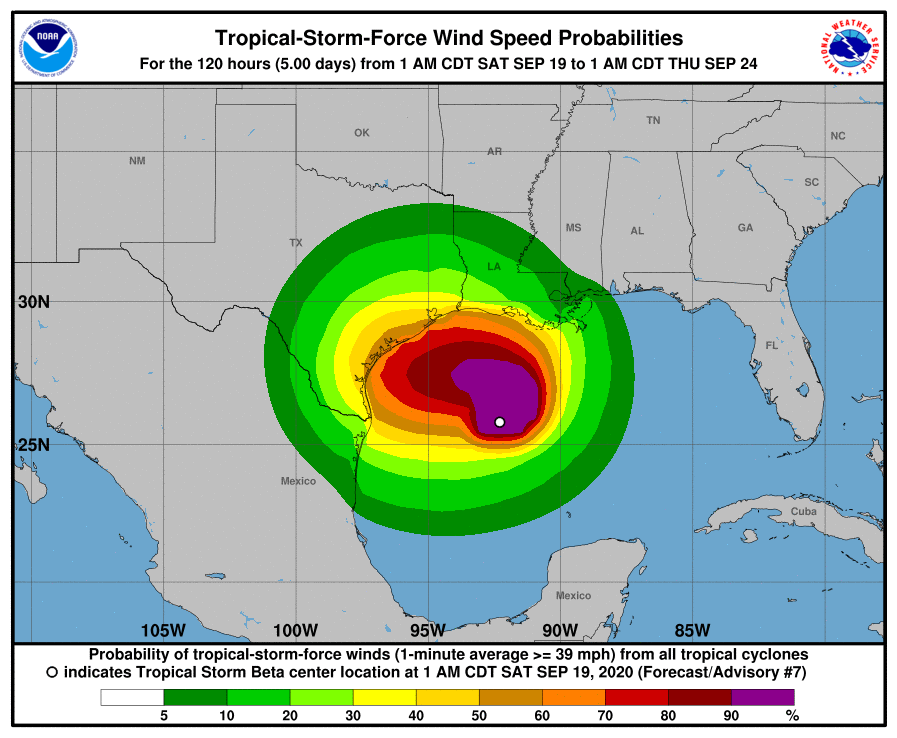 Our next update will be posted no later than 2pm CT today.