Good morning everyone. Tropical Storm Hanna formed last night, and it wasted no time gradually getting itself organized. As this has been happening, Hanna's forecast track has continued to shift south, taking most of the significant impacts expected from the storm out of the Houston area. A lack of significant impacts doesn't mean we'll have zero impacts, however, so we'll break down what to expect here and farther south in Texas as well.
Now
As of 5:30 this morning, Hanna was over the Gulf, about 300 miles east-southeast of Corpus Christi. Hanna was moving slowly but steadily just north of due west, around 10 mph or so. Maximum sustained winds were estimated to be 40 mph, but a reconnaissance aircraft from NOAA is headed into the storm to see if that hasn't increased somewhat. Based on Hanna's satellite presentation, we can assume it probably has strengthened a bit.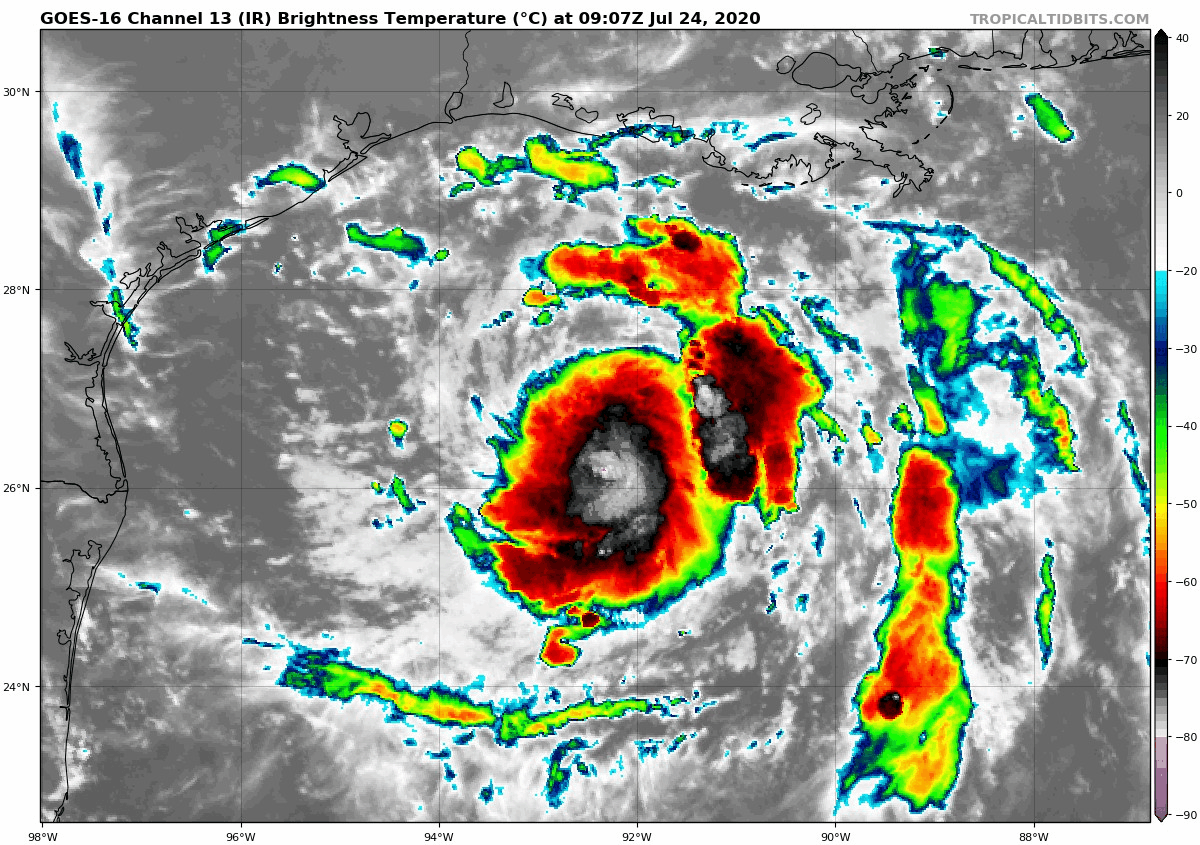 You can see a robust area of thunderstorms near the center of the storm. If you want to lodge a meteorological complaint about Hanna, it would be that the vast majority of thunderstorms are displaced to the south and east of the center of the storm. In other words, despite the pretty serious look on satellite, the storm does suffer a bit from a lack of symmetry that could indicate that while it's strengthening, it may not be taking off like a rocket. It is likely still feeling a bit of wind shear, especially on its eastern fringe that is holding it back a little. Still, this is not an unhealthy storm and forecasts of strengthening up through landfall will likely come to pass.
The current National Hurricane Center forecast tracks Hanna toward the coast, arriving tomorrow midday somewhere between about Corpus Christi and South Padre Island, likely close to Baffin Bay.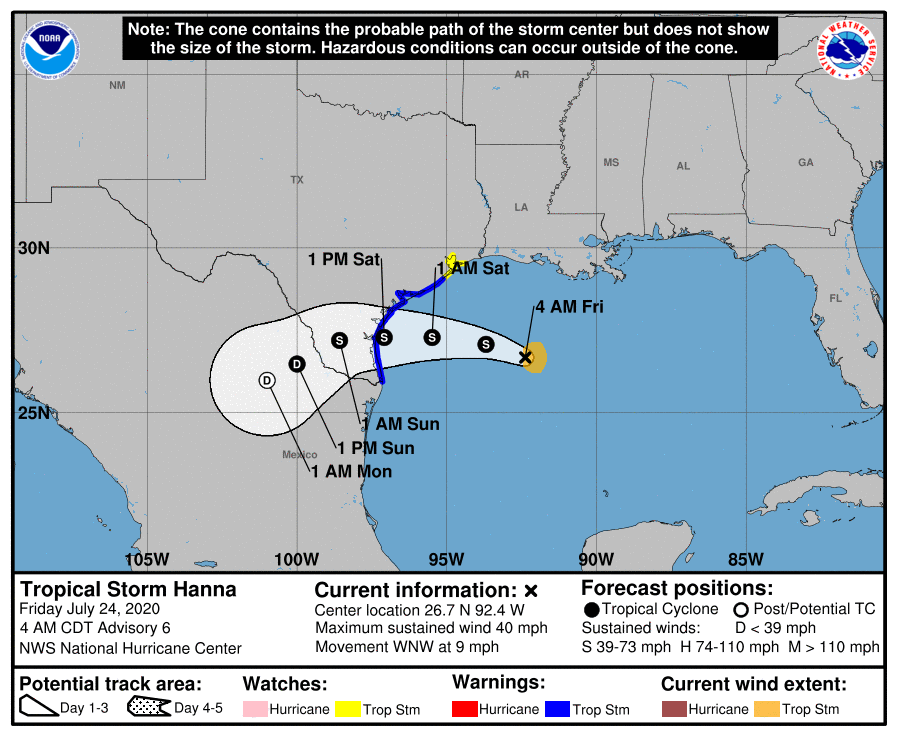 This will direct the most significant tropical impacts south of Matagorda Bay. Hanna keeps moving west and then southwest into Mexico, where it should dissipate on Sunday night or Monday.
Quick overview of what to expect for the Houston area
Here's a quick "user's guide" for what to expect in the Greater Houston area.
Rain: Isolated storms Friday, scattered storms Saturday, more numerous storms Sunday and maybe Monday. Rain totals of 1 to 2 inches on average, with higher amounts possible anywhere, but especially the farther south you go, possibly in excess of 3 or 4 inches in Matagorda. Lesser amounts possible north.
Flooding: Some street flooding is possible with any downpours, as is always the case in our area. Significant, widespread street or bayou flooding is not expected.
Wind: You should not expect winds to get much past 15 to 20 mph in the Houston area. Tropical storm conditions should be confined to the coast, with gusts up to 30 to 35 mph in Galveston and perhaps a bit stronger toward Freeport and the Matagorda Bay region.
Tidal & marine impacts: We expect tides to run about 1 to 3 feet higher than normal for Galveston and maybe a tinge higher toward Matagorda Bay. Minor overwash or tidal flooding is possible. Rip currents will be strong, so please use extreme caution. Waves are expect to be about 4 to 6 feet, maybe higher farther south.
Severe weather: Brief spin ups are possible in thunderstorms, especially as you get close to the coast, where a waterspout or two could occur.
Details for the Houston area
For today, we would anticipate isolated to perhaps scattered showers and storms. Expect a general trend of storms near the coast this morning, spreading inland this afternoon. Some locally heavy downpours are possible, but today should not be much worse than a typical summer day.
As Hanna approaches the south Texas coast tomorrow, expect the potential for steadier, heavier rain south of Houston. This would include Galveston, but we would especially include far southern Brazoria, Matagorda, and Jackson Counties. Tropical Storm Warnings are hoisted from San Luis Pass southward, so those areas are the ones most likely to also see tropical storm conditions. Showers and storms to the north of there will be mostly scattered on Saturday. In other words, some of us will see some heavy downpours, others may not see much of anything. The chance of heavier rain is obviously higher the farther south you go in the area.
The Houston area's best chance at more numerous showers and storms and heavier rain will probably come Saturday night and Sunday as a surge of moisture comes in off the Gulf and out of Louisiana. That may continue off and on into Monday as well. By Tuesday and Wednesday, we should slowly return to a more typical summer pattern, with hotter weather.
When all is said and done, we expect probably 1 to 2 inches of rain on average in the Houston area, with a skew toward higher amounts south of the city and lower amounts to the north.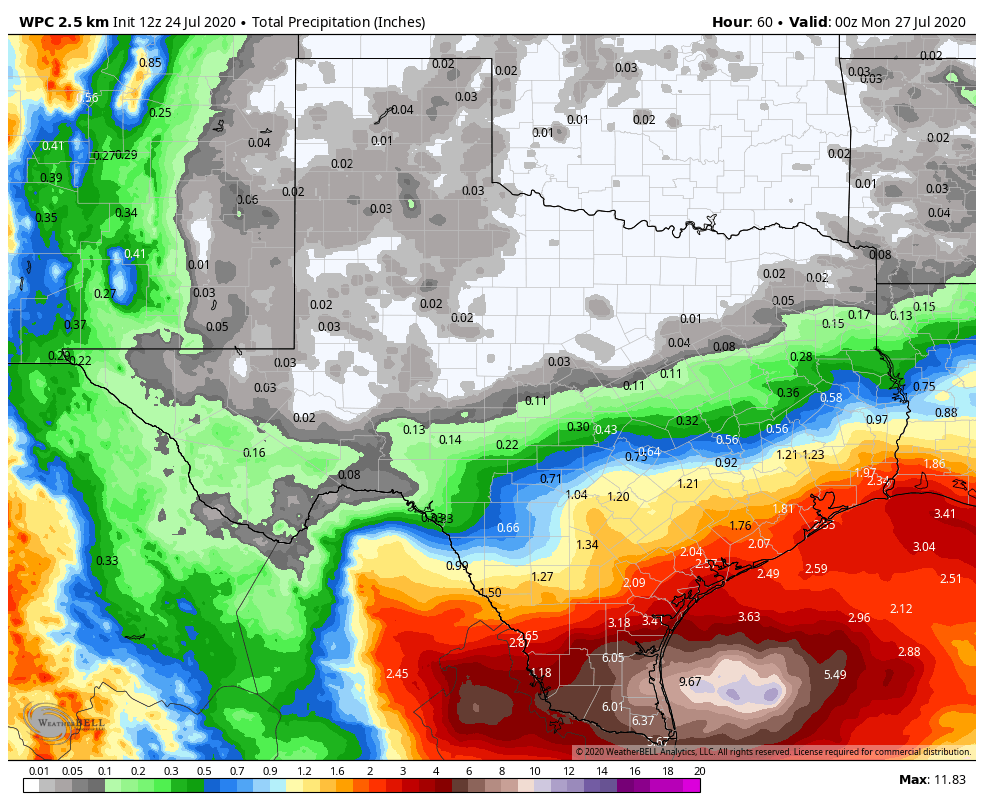 However, depending on exactly how storms set up on Sunday, we could see as much as 2 to 4 inches of rain in spots, with the highest likelihood of this being south of I-10 and on the south and east sides of US-59/I-69.

Impacts south of the Houston area
As noted, we expect that Hanna will make landfall somewhere near Baffin Bay, south of Corpus Christi. This would deliver the most significant impacts to the area south of Corpus Christi Bay and Port Aransas. Hanna is expected to make landfall as a strong tropical storm, with maximum winds of 65 mph. There will be some strong winds probably in the Corpus Christi area, on the order of 50 to 55 mph at Port Aransas and 45 to 50 mph for Corpus Christi proper, with some higher gusts likely at any location down that way.
Rainfall totals in excess of 6 to 10 inches will be possible for the area between Corpus Christi and the Rio Grande Valley. Some flooding is a possibility down that way, which is unfortunate given the status of the COVID-19 situation in that area. The hope is that as the system approaches Mexico, it will fall apart rapidly, mitigating some of the problems in that area.
Beyond Hanna
Gonzalo continues to struggle this morning, and it is expected to fall apart in the Caribbean. A system behind Gonzalo is likely to develop next week. It's too early to say what is expected from that system, but we will monitor it over the coming days.