This afternoon we're issuing our first "flood scale" forecast for the Gulf disturbance, which is increasingly likely to move into Texas this weekend as a tropical depression or weak tropical storm. We are calling for a "Stage 2" flood event for coastal counties in the greater Houston area—Brazoria, Galveston, and Chambers as well as southeastern Harris County (i.e. the Clear Lake area). For inland areas we think this will be a Stage 1 event. As with all tropical weather, of course, this forecast is subject to change. (Read more about the scale, and why we created it).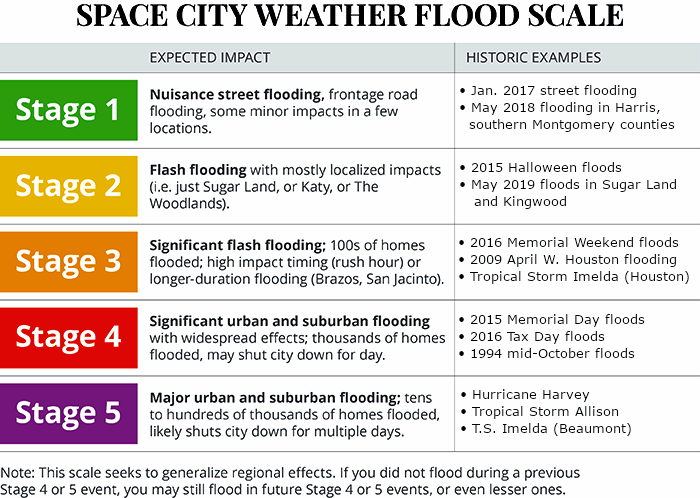 Now let's explain how we came to this forecast.
Satellite appearance
Let's begin with the system itself, which at present is about due south of the border between Alabama and Mississippi, and moving nearly due west. The storm's organization has improved today, adding westerly winds, which is a precursor to developing an overall circulation. Trends favor additional organization and we probably will see this named a depression or Tropical Storm Hanna later today or on Thursday. We expected this, but do not anticipate further strengthening to, say, a hurricane. Theoretically this is possible, but does not seem likely given the storm's interaction with dry air, among other factors.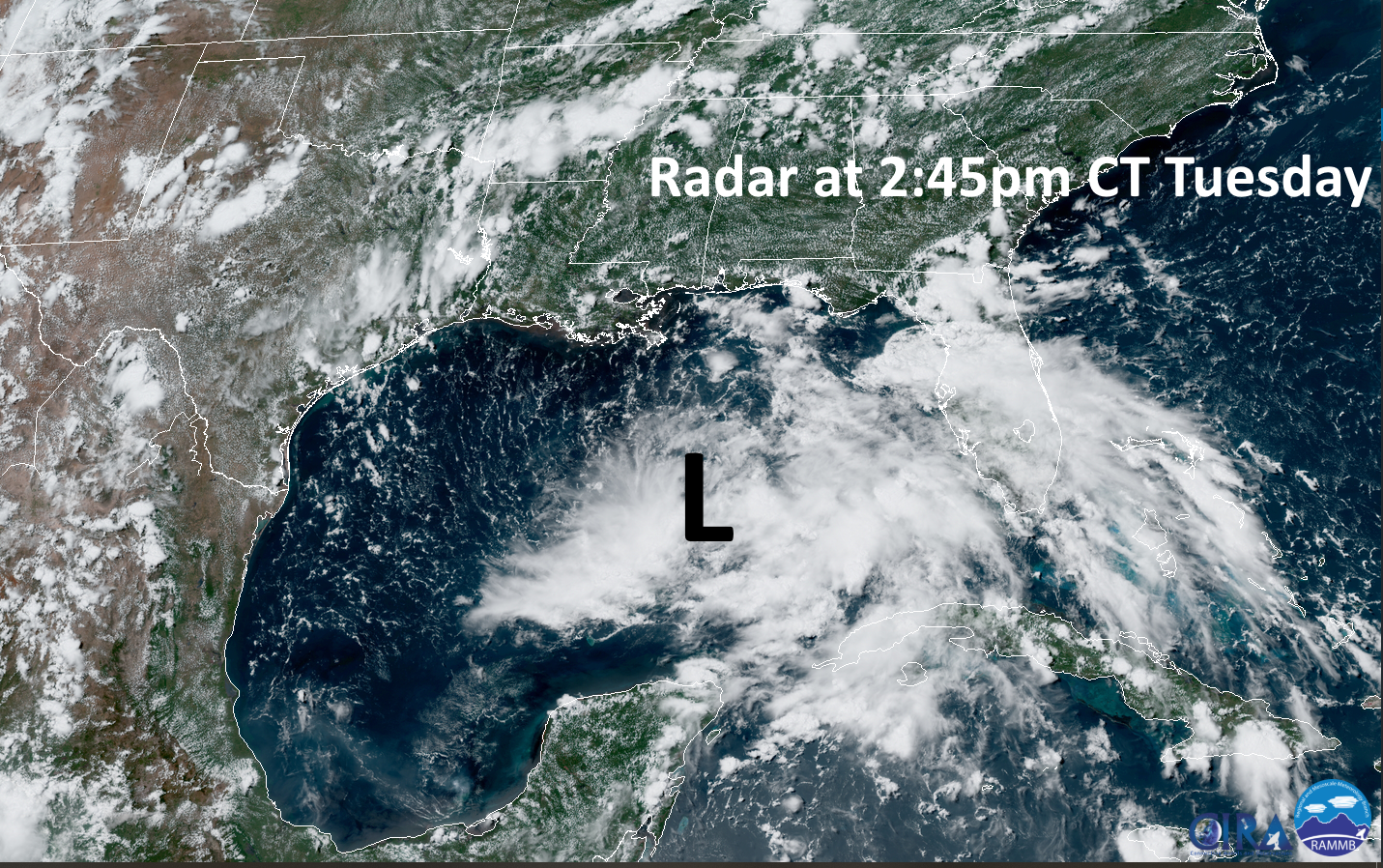 Track
The storm increasingly seems likely to move toward the central or southern Texas coast. The preponderance of ensemble members of the European and GFS models predict such a track. Certainly, without a well established center of low pressure it is important to not give too much credence to these predictions. But as we are perhaps just two or three days away from a Texas landfall, and there is good consistency in the track forecast, our confidence level in the track is moderate.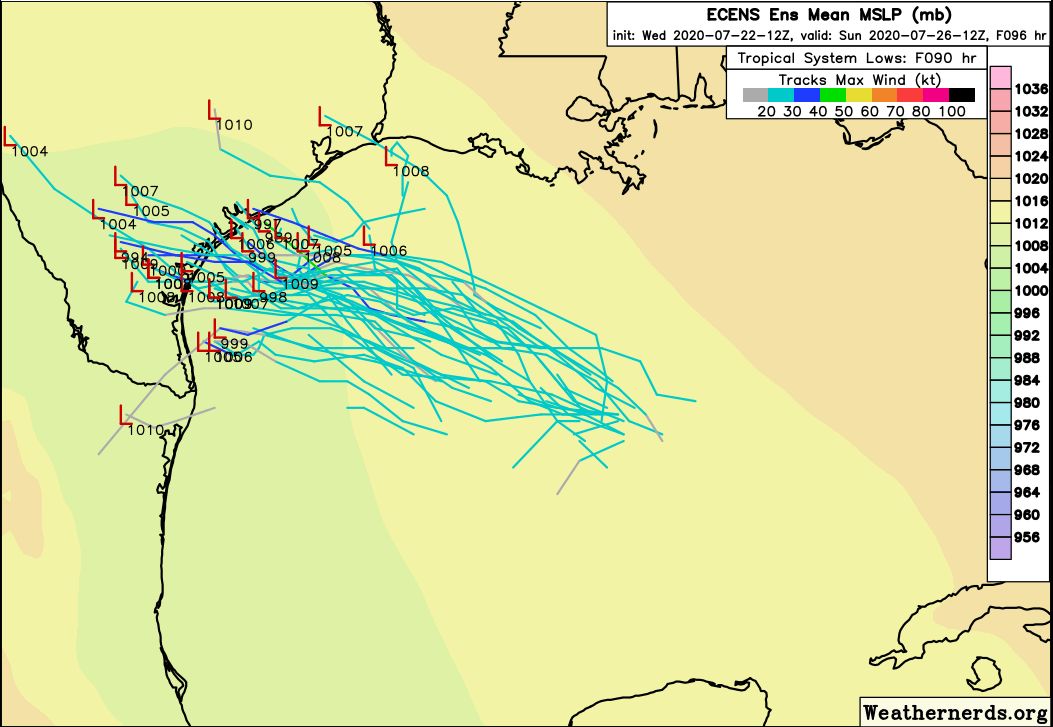 Rainfall
Unfortunately, knowing the track of a tropical system does not confer meteorological superpowers when it comes to trying to forecast rainfall totals. We believe the heaviest rains will be to the north of the storm's center, but the "where" is difficult to say.
Some of the forecasting models we commonly use are starting to predict rainfall "bullseyes" of 10 inches for hardest hit areas, particularly along the coast. (This seems pretty reasonable for a tropical system like this). However, we do not have confidence in whether these highest totals will come in Corpus Christi, Galveston, or Port Arthur. It is because of this potential for 10 inches of rain in the Houston area that we are issuing a Stage 2 warning for coastal areas. We still think much of the greater Houston region will see 2 to 4 inches of rain over a couple of days, which is totally manageable.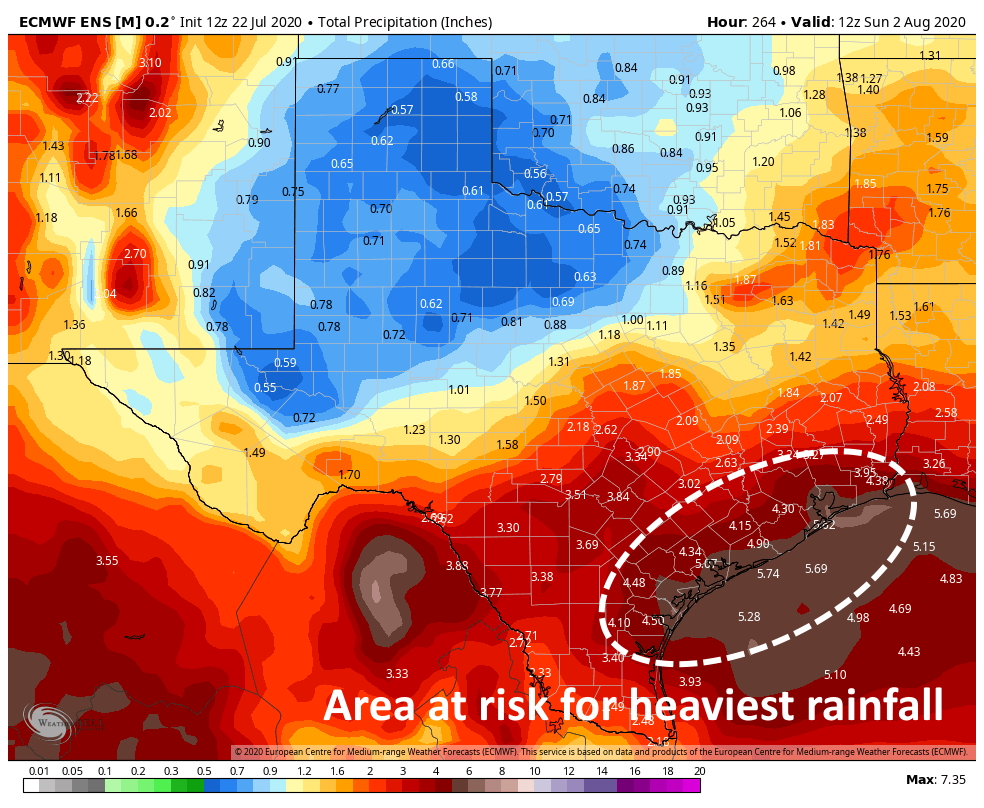 Beyond this system
The National Hurricane Center may upgrade Tropical Storm Gonzalo to hurricane status tomorrow as it approaches the southern Caribbean Sea. Right now we have relatively low concerns about Gonzalo becoming a threat to the Gulf of Mexico. We will of course continue to watch it, but advise you to not lose any sleep over it. Beyond Gonzalo the tropics are going to remain active.