Good morning. This post will focus on Tropical Depression 8, because after today it will strongly influence our region's weather through the weekend. Overall, our forecast for this tropical system has not changed a whole lot from yesterday: We are predicting a Stage 2 flood event for coastal counties (plus southeastern Harris County), and a Stage 1 event for inland areas of the Houston region. In short, for most, this probably will be a wet weekend, but not a wholly disruptive one. But as always with tropical weather we're going to watch this one closely.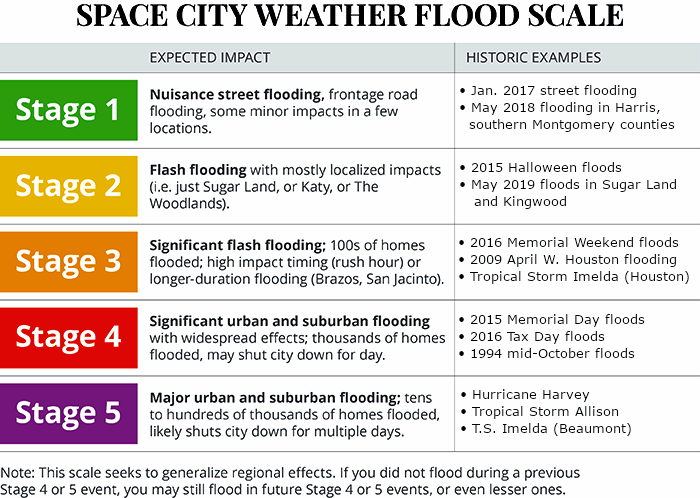 Thursday
After several wet days, with parts of the area such as Clear Lake and Pasadena picking up 5 to 7 inches of rainfall, today should bring partly sunny skies and some time to dry out swampy yards. Rain chances are probably below 20 percent for most, with warm afternoon sunshine helping to dry soils out and pushing highs into the mid-90s. This will be hottest day until at least early next week. Winds will be light, out of the east to northeast.
Friday
The forecast for Friday morning is similar, with low chances of rain through at least the morning hours and perhaps into the afternoon as well. However, starting around sunrise or shortly thereafter, we're likely to see winds pick up out of the east to northeast at about 15 mph. Rain chances pick up during the evening and overnight hours as the outer bands of the tropical system reach our area. After that, our weather is largely dependent upon the tropical system's track and the vagaries of its structure.

Tropical Depression 8
This system remains poorly organized this morning, with the center displaced from most of the convection. However, the depression still has about two days to get organized, and if it can get a good spin going there won't be much to stop it with low shear, warm waters, and fairly moist air at the mid-levels of the atmosphere. The official forecast calls for an intensity of 45 mph sustained winds at landfall, making for a weak Tropical Storm Hanna—but I'd characterize this as fairly low confidence. We could see anything from a depression to a strong tropical storm or even a moderate hurricane.
In terms of track, we have more confidence, with the system likely moving into Texas between Brownsville to the south, and Matagorda Bay to the north. Unless the system undergoes rapid intensification, the primary threat to Texas will be rainfall, and that can be expected anywhere along the coast.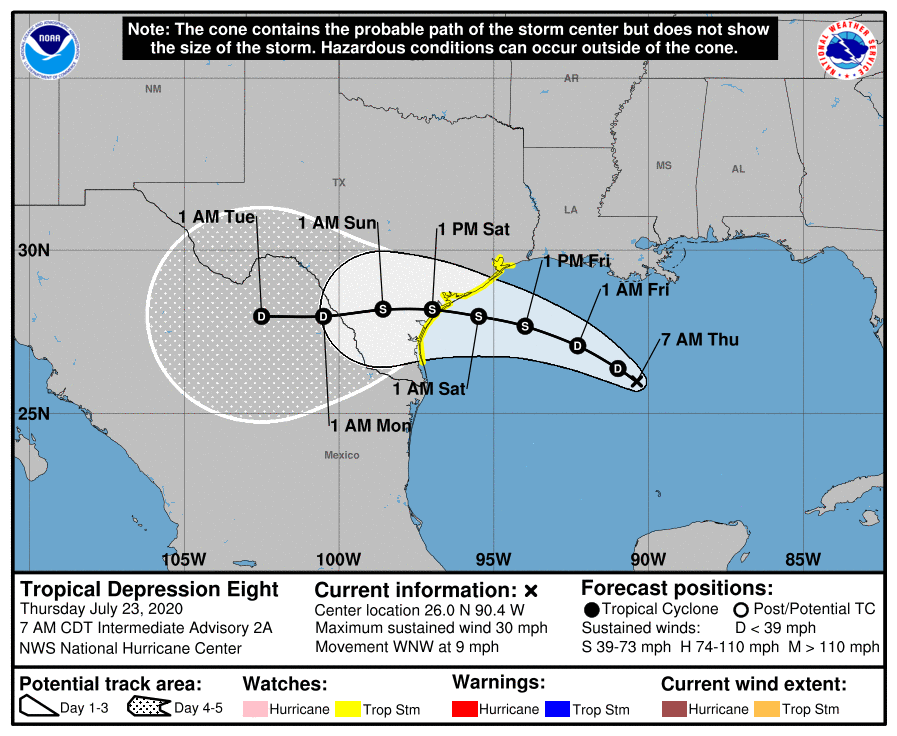 Our general expectation remains 2 to 4 inches for inland areas of Houston, with 4 to 6 inches possible along the coast from Matagorda through Port Arthur. This is entirely manageable, especially if spread out from Friday night through Sunday. However, the problem with tropical rainfall is that it can come in bunches, with high rainfall rates that quickly lead to street flooding, or worse. The potential for this, and the possibility of rainfall bullseyes of 10 inches or more, prompted us to call for a Stage 2 event for the coast.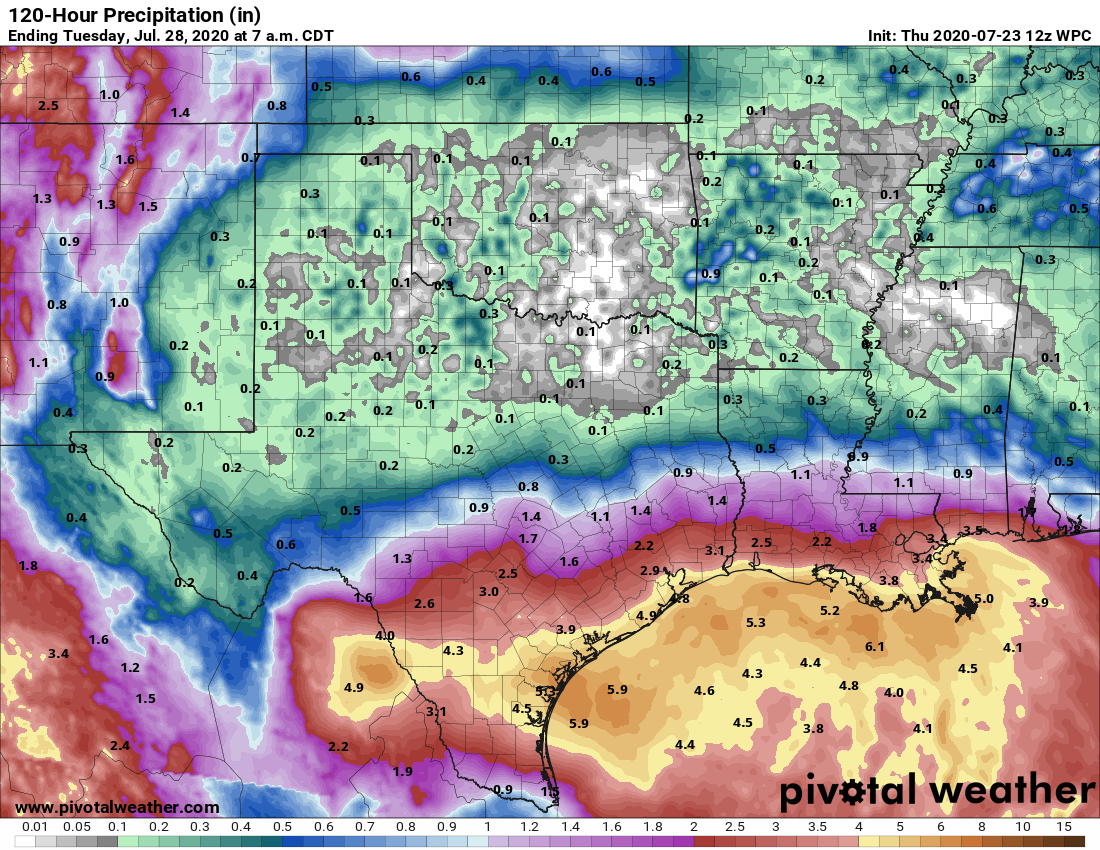 The big picture is this: The tropical system coming to Texas is a potential rainmaker, but it should continue to move west after landfall, helping to clear it from the area by the end of the weekend. Generally, then, we are not too concerned about this weekend's potential for widespread flooding. This is far from the most threatening tropical storm we've seen, or may yet see this hurricane season. So we're watching the system, and so should you. But don't be too worried at this point. We'll have more later today.