Well, the good news is that the weather should be fine today for travel in the greater Houston region, and throughout much of Texas. The bad news is that the forecast for Thanksgiving Day, night, and into Friday is not great. The big picture is that by Thursday morning rain chances will be on the rise, and we expect to see a storm system move in during the afternoon hours. Additional showers are possible overnight, and throughout the day on Friday. Unfortunately, now it looks like conditions really won't clear out until Friday night or Saturday morning.
Wednesday
Today should be mostly sunny—yes, really—offering a short break from our rainy pattern. These mostly clear skies will allow high temperatures to warm into the upper 60s. As winds turn to come from the southeast, you'll notice pretty rapidly increasing humidity levels. Along with this increased atmospheric moisture, clouds will build this evening over the area. Overnight lows probably will only drop to around 60 degrees.
From Wednesday night through Friday we're going to experience a prolonged period of high rain chances. Why, you may ask, will we see rainfall even after a cold front moves into the region on Thursday evening? The answer is that an area of low pressure system will break off from the main westerly pattern in the atmosphere. This "cutoff low" will then more or less meander over Texas for a couple of days, spurring intermittent rainfall from Thursday morning through Friday night, before moving off.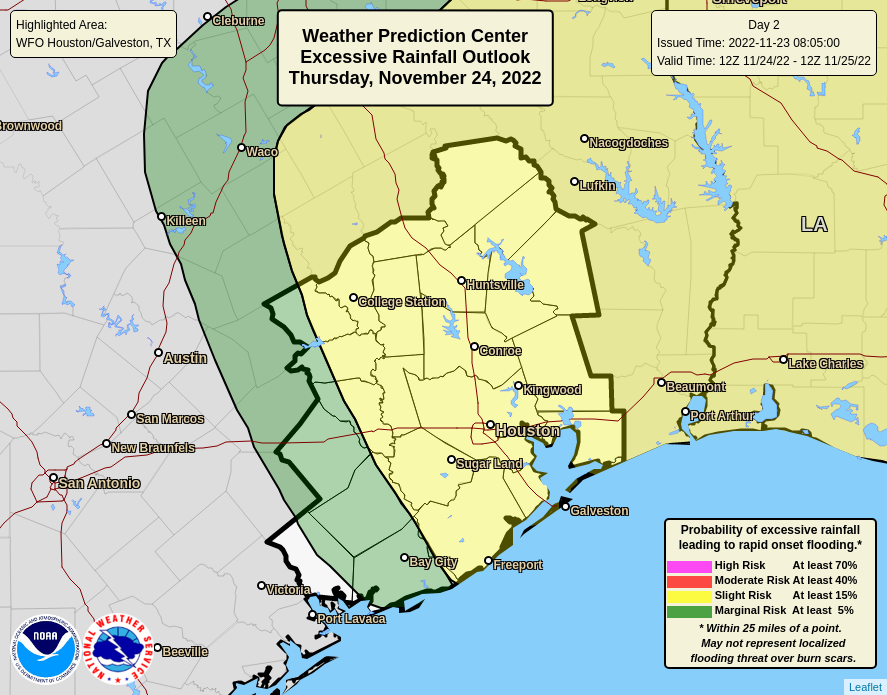 Thursday
The start of the Thanksgiving holiday will be warmish, in the 60s, with muggy air. We're going to see at least some scattered showers during the morning hours, but there's a chance you'll avoid rain until the afternoon. However, after that time I expect a more organized mass of showers and thunderstorms to move into much of the region, bringing as much as 1 to 2 inches of rainfall. While this will be unpleasant, I don't think it will cause any real flooding issues. There is also the potential for some more severe weather, including damaging winds, but I think heavy rainfall and lightning is the primary threat. You most definitely need a fallback plan for any outdoor activities or gatherings on Thanksgiving. Look for highs in the low 70s, dropping into the 50s overnight as cooler air from the front moves in.
Friday
Eventually, drier air should move into the mid-levels of the atmosphere and bring an end to rain chances. But it now looks like that will not happen until Friday evening. So much of the day on Friday will be subject to (mostly) light or moderate rain showers. Chances are probably 60 or 70 percent. Highs will be in the low 60s. Rain chances drop Friday night, although not entirely, as lows sink into the 40s.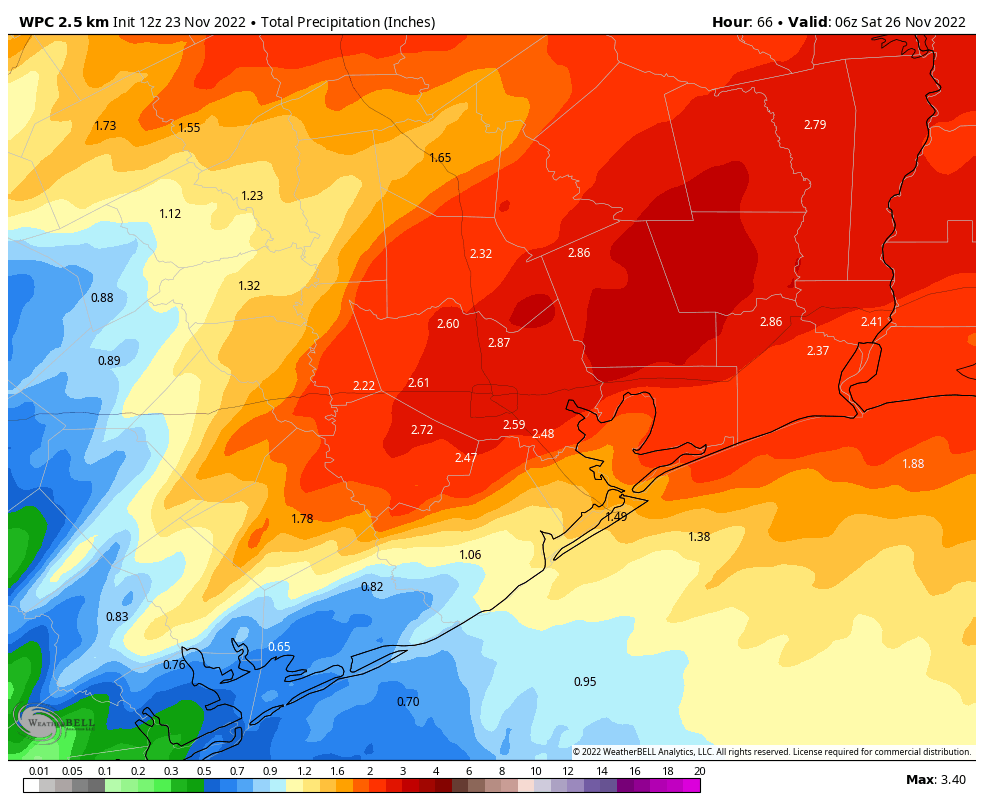 Saturday and Sunday
The weekend still looks solidly pleasant, with ample sunny skies. Highs on Saturday will be in the low 60s, and rising to around 70 degrees on Sunday.
Next week
We will see a warming trend next week, with temperatures rising into the upper 70s, or possibly even 80 degrees, by Tuesday. After that it seems likely that another front will push into the region. Some showers may be possible with this front, but the forecast is pretty fuzzy.
Fundraiser
You still have time to help out Space City Weather! We are in the midst of our annual three-week fundraiser, selling merchandise and accepting donations to fund everything we do here. To support our efforts, you can buy Space City Weather merchandise here, or donate by clicking "I'd like to make a donantion" only. Thank you!