We realize that after surviving last week's extraordinary heat you are probably reading this in hopes of seeing some hope of respite on the horizon. To make a long story short, there's very little of that of this week. We're sorry.
As for the heat last week, it truly was quite a bit beyond normal. The average high temperature was 98 degrees across the city, and it now seems certain that we're going to beat an ugly record. Longtime residents will probably remember the summer of 2011 in Houston. I recall it because, during the month of August, every single day but one recorded a high temperature of 100 degrees or above. Anyway, June of 2011 was extremely hot that year as well, with an average temperature (that's the daily high and low, divided by two) of 86.2 degrees. Well, my friends, through Sunday we're averaging 86.5 degrees for this month. And the next 10 days look considerably hotter, so we're going to smash the temperature record for June in 2011. No, I don't know if that means this August will be like August 2011. It's possible, but not a certainty.
If all of this depresses you, we're here to help. We're going to create a top 10 list reasons why this year's heat and drought is actually kind of a good thing. I realize that finding 10 reasons is going to be a struggle, so I'd like your help. If you have suggestions, please leave a comment here, on Facebook, Instagram, Twitter, or send an email.
Monday
High pressure remains the dominant factor in our weather, and high temperatures today should reach 100 degrees for most locations away from the coast. However, there is a slight chance—perhaps 10 to 20 percent—of showers developing along the sea breeze later today. Winds will be light, out of the east-southeast at 5 to 10 mph. Lows tonight may not drop below 80 degrees for most locations.
Tuesday
Conditions will be a couple of degrees cooler on Tuesday, as there may be a few clouds. Rain chances will probably jump to 20 to 30 percent, and this looks to be the day with the best option for rain for the next week. Look for highs in the mid- to upper-90s.
Wednesday, Thursday, and Friday
Heat really builds over the region, beneath the ridge of high pressure. Wednesday may stay in the upper 90s, but Thursday and Friday should see temperatures reach triple digits beneath sunny skies. Hot, hot, hot.
Saturday and Sunday
The heat wave looks to peak this weekend, with temperature readings between 100 to 105 degrees for most locations. It's going to be brutal.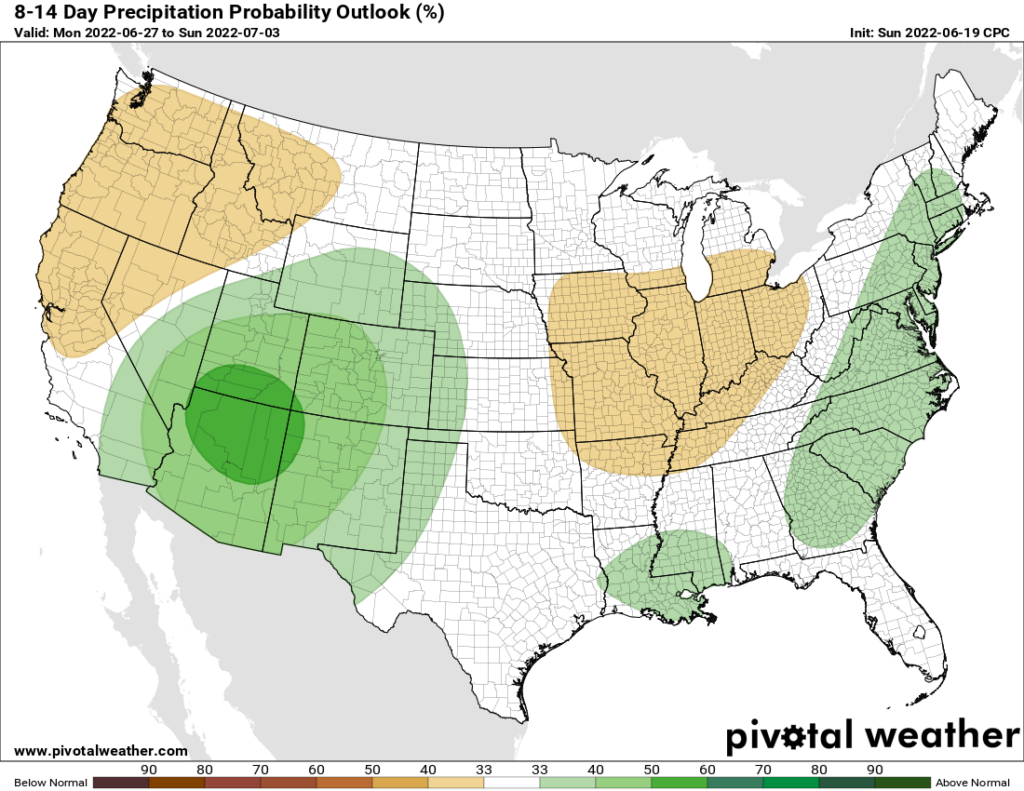 Next week
The models are fairly consistent in showing the high pressure ridge breaking down about a week from now, and temperatures dropping back into the mid-90s with some better rain chances by next Tuesday or Wednesday. That is a hopeful sign, but because this is forecast to happen 7 or 8 days from now, it is far from something we can take to the bank, I'm afraid.