Schools are closing for Tuesday, and given what we know about the forecast, that seems a sensible precaution. Already, the National Weather Service has issued a winter storm warning for the entire metro area along and north of Interstate 10, and this effectively means there is a significant potential for snow and ice accumulation.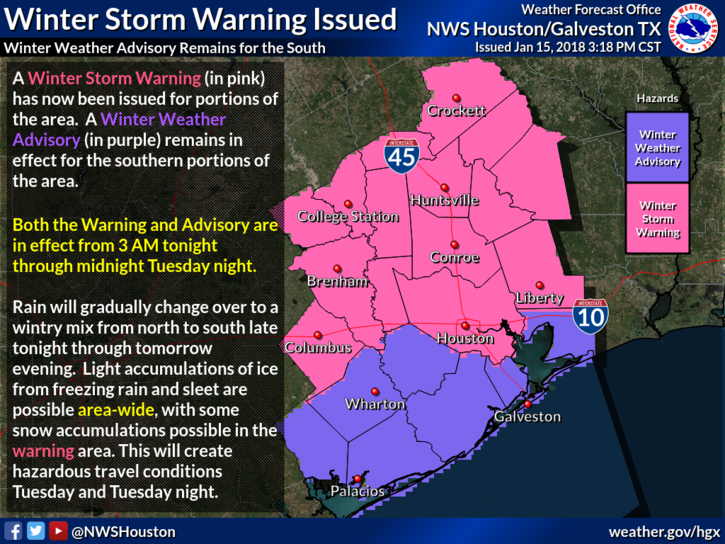 Basically, a mess is coming. The cold front arriving between midnight and sunrise on Tuesday seems to be a little bit colder than advertised, and this means that a freezing line should move through Houston earlier than expected, perhaps within an hour or two of sunrise. And that means the potential for freezing rain—the worst of all kinds of winter precipitation because it makes roadways incredibly slippery even with slight accumulations—will move into Houston around the same time.
Road crews are treating freeways and other major arteries with a salt-based solution that lowers the freezing temperature of water and could help some, but under the present forecast we can still expect some bridges and overpasses to freeze, in addition to untreated roads. In short, if you don't have to get up and drive to work on Tuesday morning, don't. If you run a business, please consider giving your employees the day off. It is by no means certain that some or many Houston roadways will be icy Tuesday morning or midday, but at this point there's a pretty good chance.
The precipitation, some of which may transition from freezing rain to sleet or snow later on Tuesday across Houston, should end by the afternoon or evening hours. But with temperatures remaining below freezing, and depending on how much rain falls, roads may not improve much after the precipitation stops during the evening and overnight hours.
We will have a comprehensive update by 6am CT on Tuesday.