After an oh-so-very-long summer we are continuing to make progress toward fall in the Houston area. The region's cold front remains on track for Monday, and the only question at this time appears to be how strong it will be. Looking a bit further ahead, a second front appears likely by the end of next week, signalling that we truly are moving into a fall-like pattern.
Thursday
Alas, summer will hold on for a while longer. Thursday should be mostly hot and sunny with high temperatures in the low 90s. We can't entirely rule out some isolated to scattered showers, but most of the region will indeed be dry. It's going to be another muggy night, where most of the region fails to drop out of the upper 70s. Yeah, we're tired of those kinds of nights, too.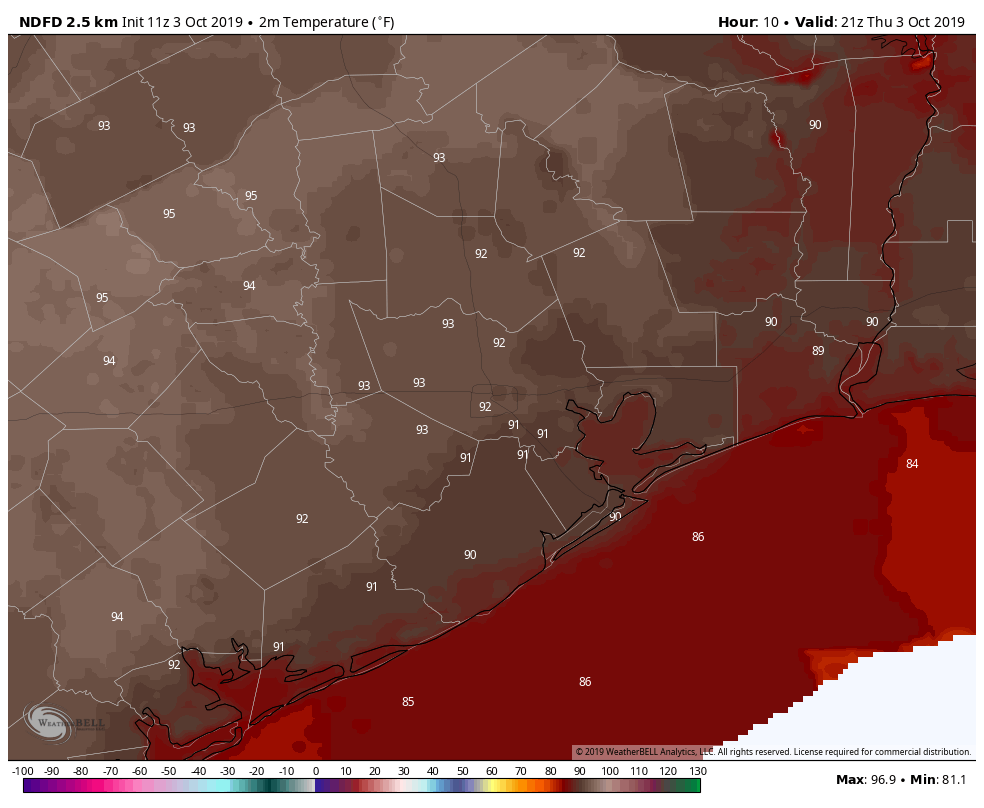 Friday
A similar story will play out on Friday, although rain chances may step up to about 20 percent by the evening hours as a cold front stalls out well north of Houston. Look for high temperatures again in the low 90s.
Saturday and Sunday
It should be a hot and mostly sunny weekend for the Houston metro area. On the plus side, if you were looking for one more really warm beach or pool weekend—and the last 4,382 this summer haven't been enough—you're in luck. It's going to be warm, with highs generally in the 90 to 93-degree range. Nights may be a shade cooler than we've seen, with some slightly drier air backing into the region. Rain chances will be near zero until Sunday night.

Monday
Cold front day! Forecast models generally agree on a front reaching Houston on Monday, which should make for a breezy day with say a 20 to 40 percent chance of rain showers as the front pushes through. The GFS model has backed off on the strength of the front, to some extent, but most other models are holding pretty strong. At this point I think we can expect lows in the 50s for areas north of Houston, low 60s in the city, and perhaps a bit warmer near the coast. That remains subject to change, but we're still pretty confident that it's going to feel great.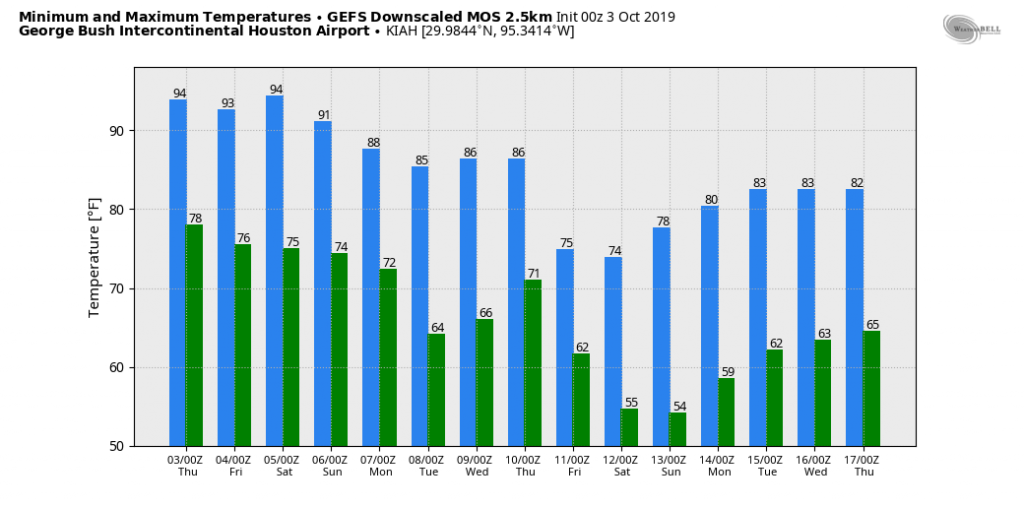 Next week
Tuesday night looks like the "coldest" for next week, with a gradual warming trend heading into the weekend. The general pattern looks like we may see some rain maybe on Friday before a stronger front arrives by next Friday or Saturday.
Tropics?
Nah, we're not worried about the yellow blob.