Good morning. A complex of showers and thunderstorms to the west of Houston associated with a large convective system appears to be fading this morning, and I don't think it will impinge too much on our region today. That's not to say rain chances will be zero. Overall, however, we should continue to see warm, mostly sunny and not-too muggy weather for the next several days.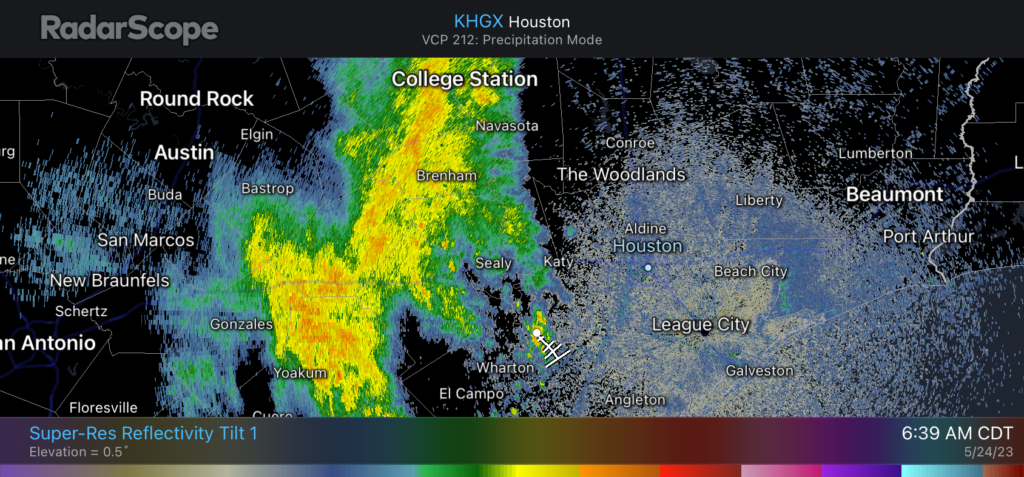 Wednesday
Today will bring partly sunny skies, with highs around 90 degrees, and light northeasterly winds. This morning areas to the west of Houston, including Katy and Cypress, will see a chance of thunderstorms and briefly strong winds due to the storm complex over central Texas. These storms should wind down this morning. Later this afternoon, with daytime heating, I expect some additional shower and thunderstorm development through the early evening hours, although this should be fairly scattered across Houston. Lows will drop to around 70 degrees.
Thursday
Skies should be mostly sunny on Thursday, with high temperatures again bouncing around 90 degrees. With daytime heating there will be about a 10 percent chance of isolated showers and thunderstorms during the afternoon hours.
Friday
Look for mostly sunny skies and highs around 90 degrees.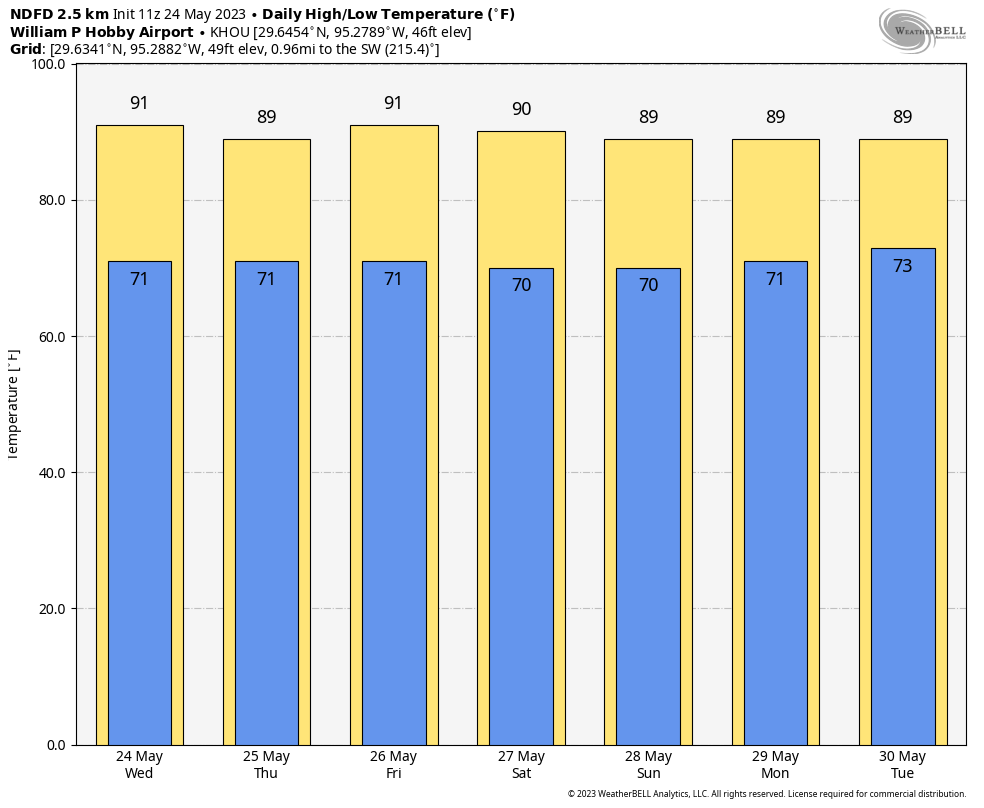 Memorial Day Weekend
Saturday and Sunday, at this point, look like carbon copies of one another. With high pressure in place we can expect a pair of partly to mostly sunny days with high temperatures around 90 degrees, and overnight lows around 70 degrees, plus or minus depending on how far inland you are. With dewpoints in the 60s, the air will feel less sticky than it normally does during the summer, so that will be nice.
Memorial Day should bring more of the same, albeit with a few more clouds and a chance of isolated showers and thunderstorms during the afternoon with daytime heating.
Next week
As the onshore flow reestablishes itself, we'll see increasing humidity, but daytime temperatures should remain in the upper 80s to 90 degree range. A moistening atmosphere will make for somewhat better rain chances, so for now I'll ballpark in a daily 30 percent chance during the afternoon hours.