I'm back—and I bring some good news. First of all I want to thank Matt for holding down the fort while I grabbed some vacation. It was nice to unplug for awhile. But now I've returned, and I've come with much more promising rain chances and relief from the heat.
Yes, some areas of Houston received a very good dousing last week, particularly central Houston. But most of the area has seen 1.0 inch of rain or less during the month of July, at a time when temperatures have consistently been in the mid- to upper-90s. (This leads to a very high pan evaporation rate, meaning soils dry out very quickly). So some rain is welcome, both for our trees and green spaces, but also to moderate daytime temperatures. And some is coming.
This weekend
The sprawling high pressure system that's been anchored over the south-central United States, including much of Texas, is moving off to the west. But there's likely going to be a modest capping inversion today and Sunday, and moisture levels aren't the highest, so I think we're only going to see some scattered rain showers this weekend, primarily during the afternoon hours. Rain chances are best to the east of Interstate 45. Lacking widespread rain, most areas will likely see highs in the mid-90s.
Monday and Tuesday
By Monday we're likely to see atmospheric moisture levels climb above 2.3 inches of precipitable water—which is very good for rain chances.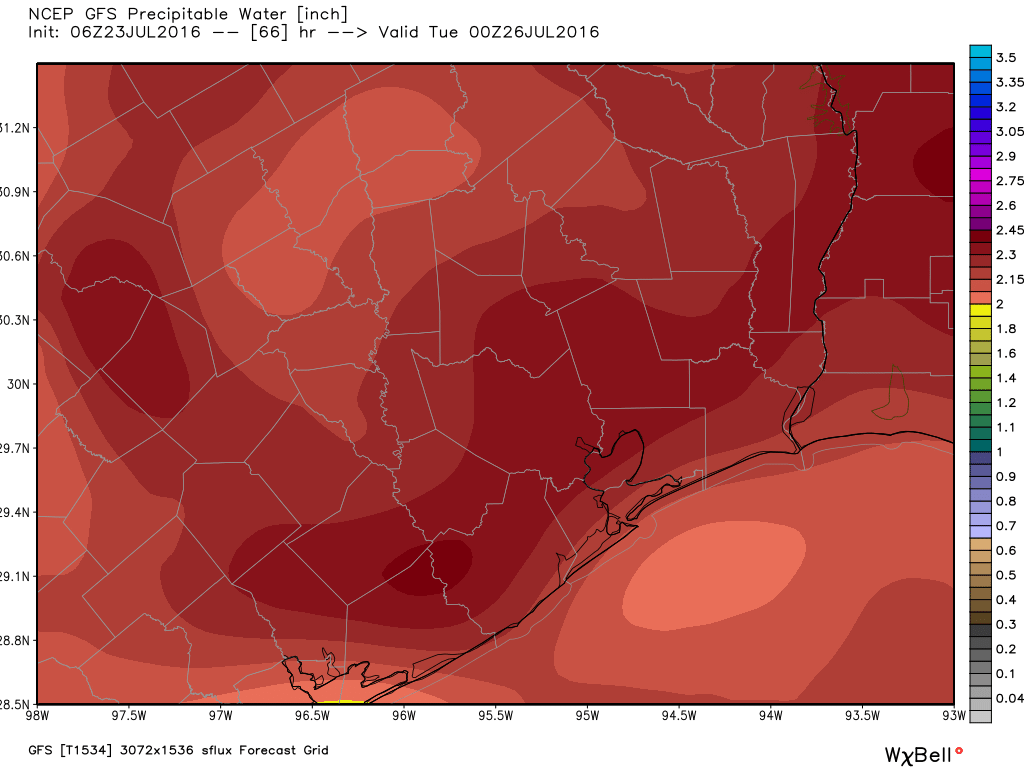 This, along with some low pressure moving into the area from the Gulf of Mexico should be enough to bring some fairly widespread rain showers into the metro area. I think much of Houston can probably hope for 0.5 to 1.0 inch of rain, and there's the potential for heavier, more localized rain showers. Clouds and intermittent rain should hold high temperatures for both of these days to the low 90s, if not 90 degrees.
Wednesday and beyond
Pressures appear to rise beginning Wednesday, but it doesn't look as though we're going to see dominant high pressure. This should hopefully keep daytime temperatures in the low 90s, with at least some scattered rain showers most days.
Posted by Eric on Saturday at 6:55am CT