It's much warmer this morning across the Houston area, as humidity and higher temperatures return and will stay for a while. This southerly flow in combination with a weak, stalled cold front will lead to some pretty healthy rain chances later today, tonight, and Wednesday morning. It's nothing we're too concerned about, but it could put a damper on some Halloween escapades this evening.
Halloween and tonight
One of my least favorite things about fall weather in Houston is the stalling front—a cool front with just enough oomph to make it into the Houston area, but essentially stalls or fizzles out near the coast. This creates favorable conditions for rain (and sometimes thunderstorms) but no lasting cooling. Alas, that is what we will see today, as moisture moves back in from the Gulf of Mexico and meets the unstable air from the front.
I think we're going to see mostly light to moderate, scattered rain showers for this morning, with the added possibility of a few scattered thunderstorms this afternoon. Rain chances increase this evening—right around trick-or-treating time—and then really pick up later tonight and into Wednesday morning. For the most part I'd guess we're looking at 1.5 to 2.5 inches of rainfall, but areas near the stalled front where heavier showers develop could see 4 or more inches over time. I don't think we're looking at flood concerns, because the rainfall rates don't look particularly intense, but some areas could see steady rainfall for a number of hours that adds up.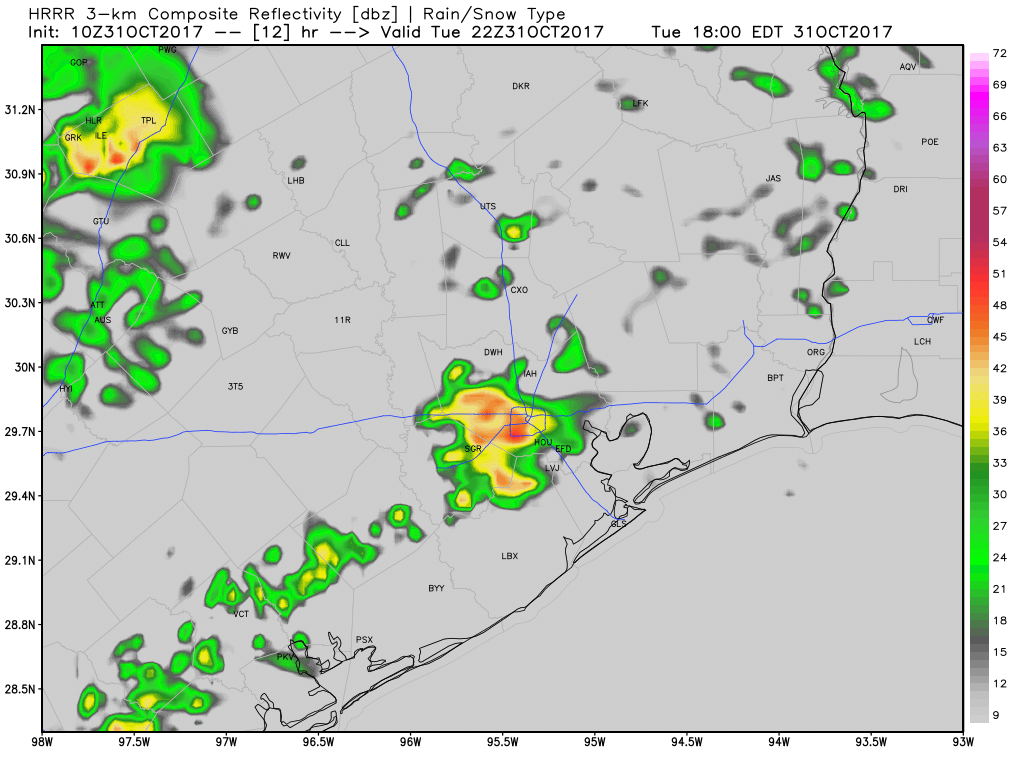 My hope is that most neighborhoods can get enough dry time this evening between 6 and 8pm for trick or treating (no guarantees on that, sorry) and that we're all inside celebrating an Astros World Series victory after the widespread, heavier rain arrives.