Good morning. Houston's summer-lite weather will continue for most of this week, with warm days and nights. Rain chances will be low for most of the week, given the presence of high pressure. We're still waiting for that first cool front. As you can see from our cold front graphic below, anything after October 7th would set a record for the latest first fall front since the official monitoring station was moved to Houston's Intercontinental Airport in 1969. A front appears to be in the cards "soon," perhaps even by that date. More on that below.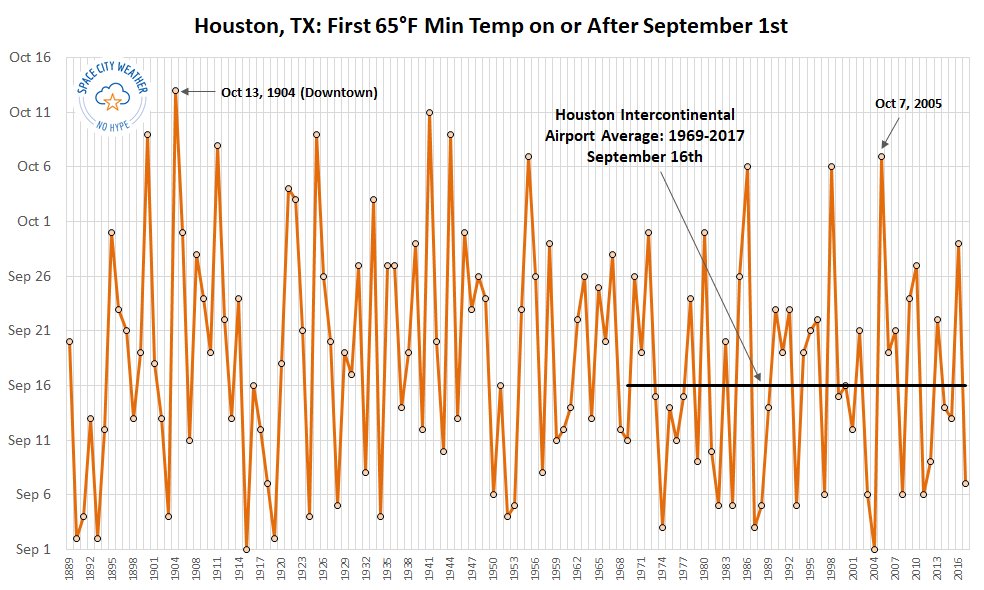 Monday
Atmospheric moisture levels are fairly high over the Coastal Bend area of Texas this morning, so areas near and around Matagorda Bay could see some rain storms today. But most of the Houston metro area, including Harris and surrounding counties, should remain dry today. Expect partly sunny skies, with high temperatures in the low 90s.
Tuesday and Wednesday
More of the same, as high pressure over the southern United States expands eastward a little bit. We can't entirely rule out some streamer showers, but again these should be mostly dry (which is not to say not humid) days. Highs around 90 degrees for most, with warmer temperatures possible for well inland areas.