Good morning. After a fine, sunny weekend we will have continued sunshine through Christmas Day before some clouds and eventually some light rain returns toward the end of this week. Truth be told conditions this week look pretty mild, so unless something changes dramatically Matt and I are going to take Christmas Eve and Christmas Day off. We'll be back on Thursday.
Monday
The only real weather concern we have for the first couple of days this week is some minor fog in the mornings. Aside from that, look for exceptional weather today, with highs in the upper 60s and mostly sunny skies. Winds will be light, so really there should be nothing to mar outdoors activities. Low temperatures tonight will fall into low 40s north of Houston, mid- to upper-40s in the city, and low 50s closer to the coast.
Tuesday
Look for more mostly sunny weather, with highs of around 70 degrees. Winds will be very light. This should be another exceptional day.
Christmas Day
Lows should start out around 50 degrees for most on Christmas morning, with a few clouds as the influence of high pressure begins to wane. However, we still expect mostly sunny skies throughout the afternoon hours, with lows on Christmas night dropping into the 50s.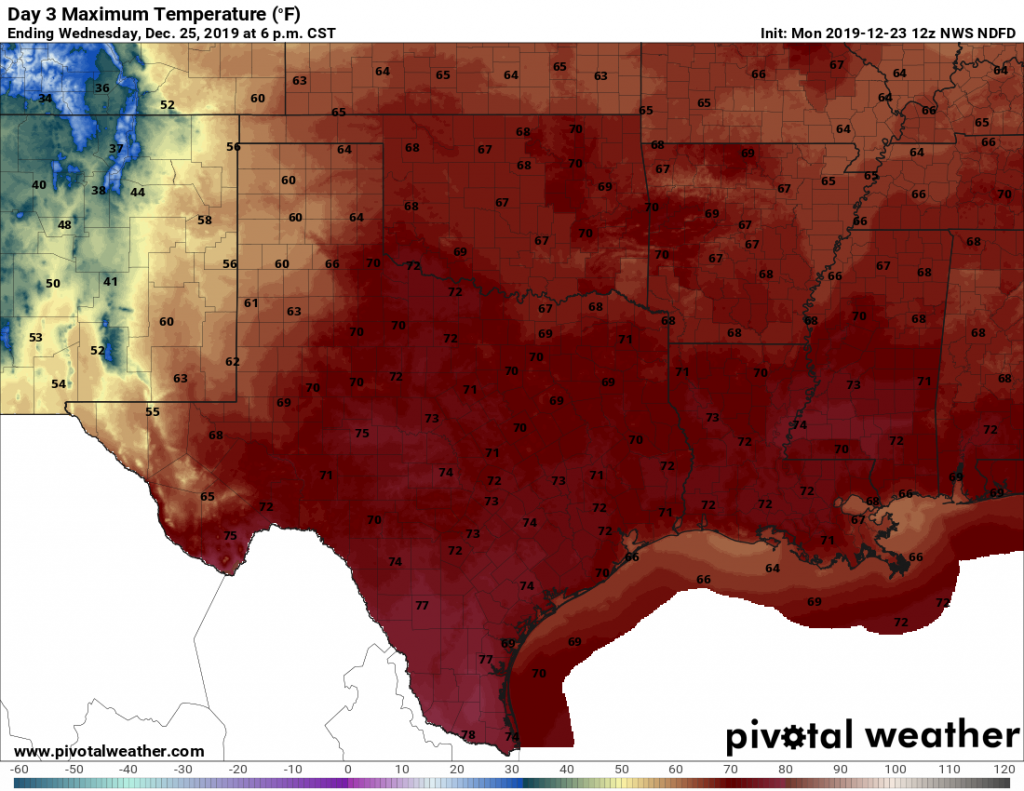 Thursday through the weekend
After a long string of weekends with at least one mostly sunny day, it looks like we may break the streak this weekend. Beginning on Thursday, we should see the return of mostly cloudy skies, and this probably will persist through Sunday. The details of the forecast for the end of the week are hazy, but we can probably expect highs in the 70s, with lows in the upper 50s and 60s. Rain chances will pick up to around 40 percent by Saturday and Sunday, but for now accumulations look slight, well below one-half inch. A weak front will probably move through at some point to provide moderately cooler weather.
New Year's Eve
Our very early New Year's Eve forecast calls for temperatures in the 40s as the New Year moves into Houston. Right now there is no strong signal for rain, so hopefully the festivities are dry. We'll have to see.
Merry Christmas and Happy Holidays to all of our readers!