In summertime, few things are coveted more in Houston than a cold front, and as we flip the calendar from July to August, we're going to get just that. Now, don't get too excited. It is not really going to translate into opening the windows and letting the gloriousness flow.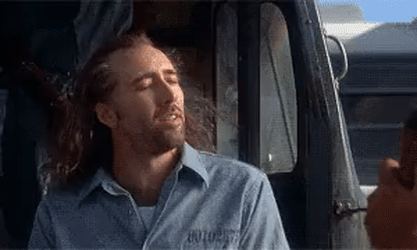 Rather, this will probably bring us some rain chances, perhaps some strong storms today, and maybe a tinge less humidity than we've had late this week. But beyond that? Not much. We never really, truly cool off. Let's go through the details
Today & tonight
For the most part, today looks fine. Expect a mix of sun and clouds, along with very hot weather. Look for mid-90s and high humidity. Rain chances in Houston and points south should be confined to primarily just a passing downpour. During the afternoon, we expect showers and storms to fire up between Dallas and Huntsville. Those storms will drop into the northern third of the metro area by late afternoon, with places like Conroe or The Woodlands or northwest Harris County standing the best chance at storms before 5 to 7 PM or so.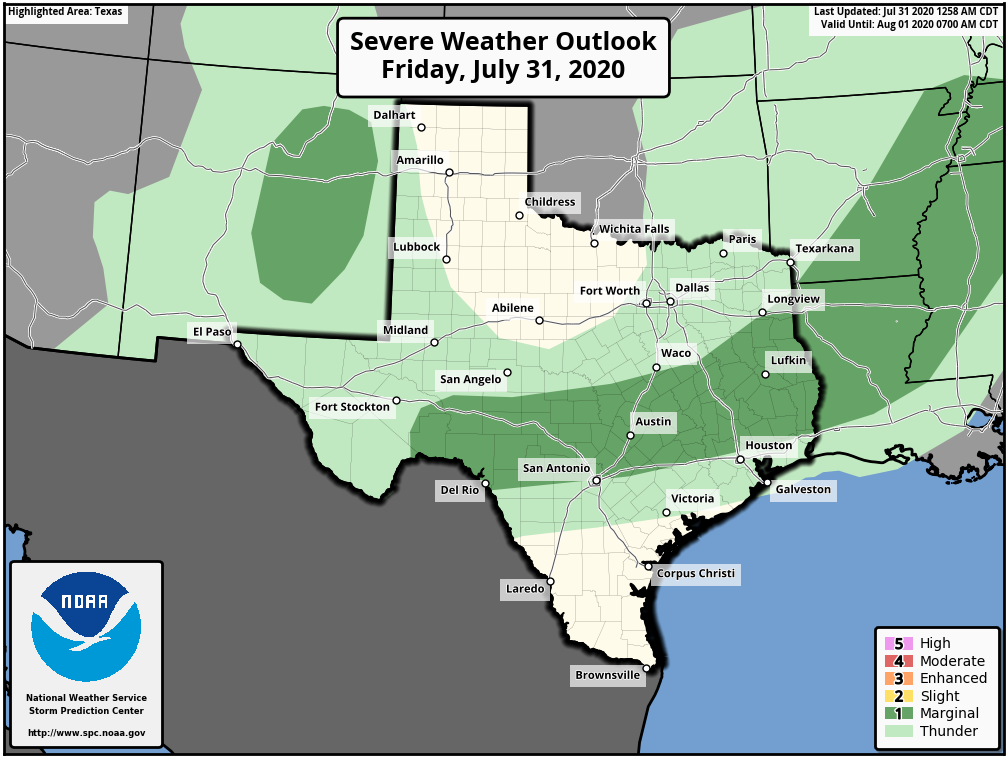 Storms today do have the potential to be strong to severe, but we don't expect widespread severe weather or anything like that.Strong, gusty winds and hail would be the main risks from the strongest storms.
The front will slip into metro Houston tonight. The strongest storms should begin to ease up a bit after sunset, but we wouldn't be shocked to see some noisy storms with locally heavy rain moving through the I-10 corridor and just south through late evening and toward midnight. We should see storms generally dissipate after midnight, but if they were to continue going, it would areas south of Houston most likely to see them.
Saturday
With showers and storms generally expected to diminish overnight, we think Saturday will start mostly quiet. However, if there are some morning showers or rumbles of thunder, they would likely be close to the coast or well south of Houston toward Matagorda Bay.
I have to be honest here: Given recent model performance of late, there is still see some uncertainty in exactly how things may transpire tomorrow. But in general, look for some additional showers and storms to fire up along what is left of the cold front south of Houston (Brazoria, Matagorda, Wharton, and Jackson Counties most likely) before it dissipates. Additionally, there could be some storms that fire to the west of Houston Saturday afternoon, perhaps near the Katy area north toward Waller and Grimes Counties.For the city of Houston and points north, much of tomorrow could be a quiet and fairly pleasant summer day. But I would not place rain chances at zero. Highs will be in the low-90s with morning lows in the 70s.
Sunday
Sunday's forecast is a bit tricky as well. The front should have basically lost any definition and fallen apart by Saturday night and Sunday morning. But there will likely still be enough of a "trigger" for thunderstorms around. However, with atmospheric moisture generally on the wane, we suspect Sunday's storm coverage and rainfall intensity will be less than we see on Saturday. All that said, I would probably take a more pessimistic stance on Sunday than what models are explicitly showing right now (which isn't very much in the way of rain). So let's expect scattered storms and hope for better on Sunday.
Sunday's high will top off in the low-90s with storms, mid-90s with only a handful of them, and we'll see morning lows in the 70s.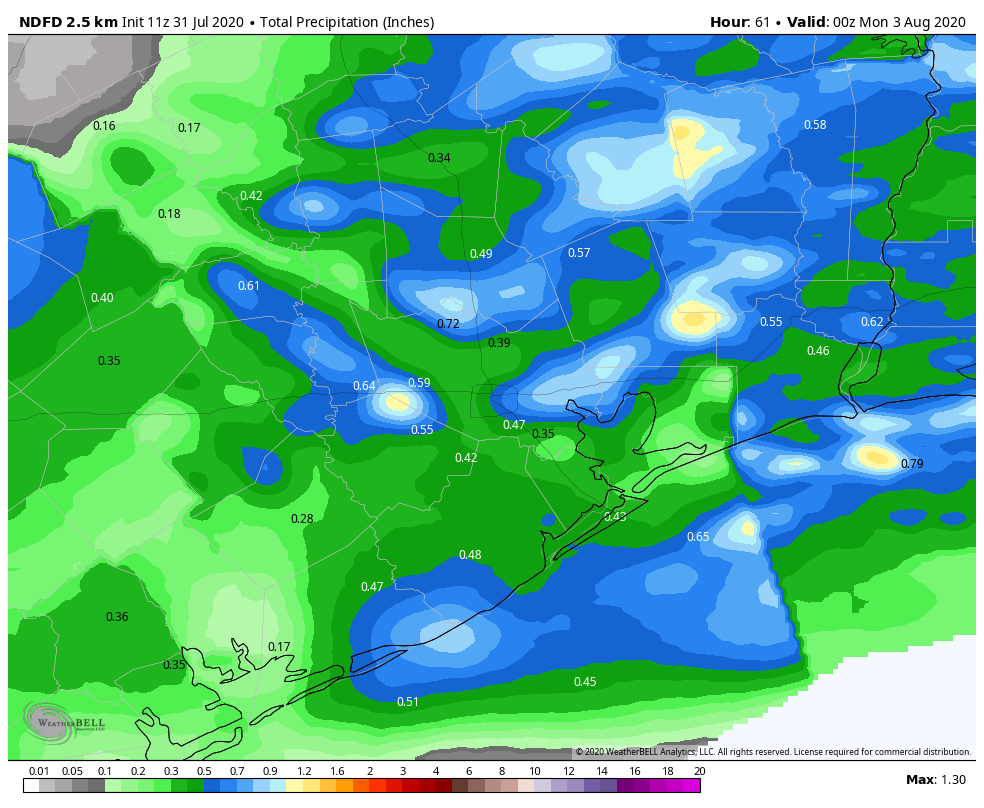 Total rainfall this weekend? Some may see locally heavy rain that could add up to an inch or two or even more. Others may not see much of any rain at all. And still more of us will see something in between, closer to a tenth or quarter-inch. The map above should just give you a rough idea of where the heaviest rain could fall.